Sun, 19 Mar 2023
Taking Games Seriously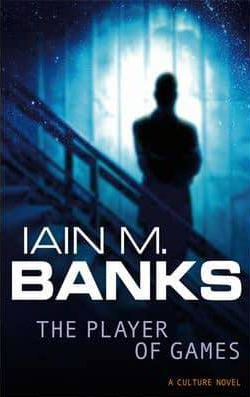 Player of Games
by Iain M. Banks
Score: 4/5
Second time lucky? The last time I read Player of Games I was underwhelmed. I thought the book was okay but a little dull, perhaps a bit hard to understand and lacking in action. Over the years since, however, I keep on coming across people online who consider this book a favourite, and perhaps the best "Culture" novel he wrote. So, an impetus to give it another chance. As is increasingly clear to me, the reaction you have to a book is very dependent on when you read it.
So now I am very glad I came back to the novel because I really liked it this time. I'd forgotten almost all of the story so it felt fresh. It is not action packed, akthough it has some and is a bit more "cerebral" perhaps. The story's about a complicated game: a "game" a society uses as a part of its organising principles. So we learn about cruelty, hierarchy, equality and politics through a cast of very different, and not always very likeable, characters. This is typical Banks, as is the "Culture" culture and humour, including a malicious drone. Things are not always what they seem but we get a satisfying, dare I say, happy ending?
I think I would now consider myself a "booster" of this book.
Thu, 26 May 2022
Matter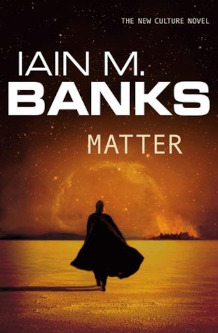 Matter
By Iain M. Banks
Score: 4/5
Well, this was the last of Banks' Culture novels I had to read. Now I've read it and really enjoyed it so I'm sad about that.
A quick overview : The story's about a coup in a royal house on a shellworld planet, one of a number in the galaxy created aeons ago for an unknown reason by an unknown race of aliens (there is speculation). The coup takes place in an industrialising but still fairly primitive society on one of the "levels" that exist on the artificial world. This happens during a war with the next level down. We follow a prince of the fallen house and his man-servant as they search for help recovering the throne from the world's manager species, then up the chain to the management's "mentors" and beyond them to the "involved" races. The levels travelled are literal (up the "shells") as well as figurative: civilisational and technological advancement. It might not be a coincidence that an archaeological dig is uncovering something very ancient, unexpected and dangerous on the newly conquered level below.
It is a bit of a tour de force, seeing the fresh wonder of the superior technology as it gets more and more magical. Luckily, the prince has a sister, long ago apprenticed to a Culture ambassador and sent off-world for a higher education. She has many of the usual Special Circumstances agent improvements. It is all a lot of fun following it all.
In a sign of a good book, I would have liked to have known a little about the aftermath of it all. I also missed that the book had a few appendices until I got to the end. In many respects this is one of Banks' best Culture novels and it covers a lot of what's special with them. The unbelievably high technology (post singularity), the odd, interesting and often very flawed, alien species, the dynamics of a post-scarcity economy (no money needed) and the repartee (usually between an intelligent robot and human SC agent).
I will have to read some of them again I think.
Fri, 29 Jan 2021
Into The Expanse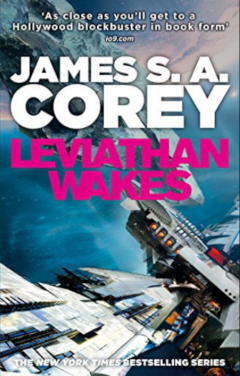 Score: 5/5
I've just finished reading the penultimate book of the "expanse" series: this is book number eight, with the last book to be published later this year. I have read the eight books over the course of the last year but tried to pace my reading speed a lot because the books have been so good. It is not often you read a book that's hard to put down, and even rarer for a whole series of books and they have been consistently excellent.
I have to give full marks to "James S. A. Corey": actually the joint pen name of authors Daniel Abraham and Ty Franck. A very high standard of writing across the series, with a very well thought through future world and plot alongside well developed characters. The character development becomes the strong core of the series and you end up believing and caring about them. They have certainly been though a lot over the years described! Space travel time scales are not played down.
So for now I am waiting for the final book. I have seen the first season of the TV show "The Expanse" a few years ago and thought it was good. I have not seen any of the later seasons but I see they have also been highly rated, perhaps even getting better over time. They are on Amazon Prime so I might take a look sometime. I've always thought a good book is (almost always) better than the film though.
Sun, 13 Dec 2020
Seveneves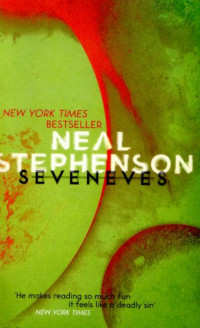 Seveneves
By Neal Stephenson
Score: 4/5
I've had Neal Stephenson's door-stop sized novel on my shelf for a few years now but never managed to get around to reading it. It's a big book and that meant weighing up the big investment of time. This is a hangover if being disappointed in the past with some of his work (e.g. the "Baroque Cycle" trilogy); but I loved his older stuff and the novel Anathem from 2008.
Seveneves is about the end of the world. An "agent" of unknown type causes the Moon to explode into large fragments that hang around in orbit initially. However, they start banging into each other and people realise that these pieces will soon start falling onto earth and rain down destruction as they fragment: an exponential process. A two year grace period before the "hard rain" falls lets the world plan and execute a massive effort to get enough people and materiel into orbit to save human civilisation.
Stephenson uses this catastrophe to create a big story about the politics and science behind such a huge undertaking as this. He always loves the science aspect and Sevensves is a hard science-fiction novel. As such, he mainly concentrates on the physics and engineering parts but, since we need to ensure the survival of the species, also touches on the genetic. So, orbital mechanics, propulsion systems, robotics plus DNA and medical science. Big rocks and asteroid mining. The book is very good on just how dangerous space is to humans. Some people are slightly upset that the book splits towards the end and transports us into the far future (5000 years) to see the end of the planetary destruction and what comes after. I liked this (long) finale and the fact he didn't split the story into two books.
Although a lot of bad things happen here, the message is still one of ingenuity and hope. When he can reign himself in, Stephenson is an excellent writer.
Sun, 27 Jan 2019
Golden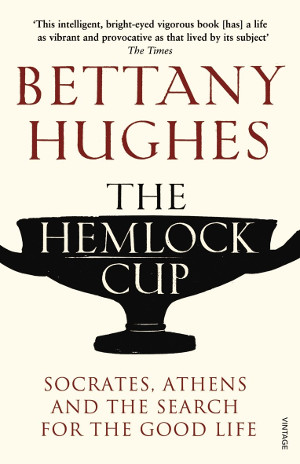 The Hemlock Cup
By Bettany Hughes
Score: 5/5
Bettany Hughes has written an excellent book about the tumultous, calamitous and glorious Athenian 5th Century BC "Golden Age". The age of Socrates, Euripides, the Parthenon, the Persian invasion and defeat by the Athenian and Spartan alliance, the flowering of new intellectual fields and the new experiment in "people power": demokratia.
What gives Hughes' book its power though is the way she doesn't shy away from describing the dark side of the Athenian century; and the dark side was terrible indeed.
I learned a lot reading this book and that has really enhanced my understanding of this period and place in our history.
Sat, 31 Mar 2018
Building the Terrorist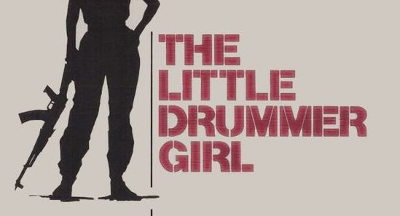 The Little Drummer Girl
By John Le Carré
Score: 5/5
The secret world is of itself attractive. Simply by turning on its axis, it can draw the weakly anchored to its centre.
Stepping away from the British secret intelligence agencies and into the world of the Israeli/Palestinian conflict, Le Carré creates a beautifuly crafted story about the hunt for a bomb maker blowing up jews in Europe. I've read that some people don't think Le Carré can write female characters but this book shows that as false. Charlie is a perfectly crafted and realised lead, a left-wing actress who has flirted with a few more extreme wings of the movement, although more a fellow traveller than someone of true conviction. You can hate her and her superficial justifications on one page and love her vulnerability on another. As usual, there are wonderful set pieces and exceptional characterisation. The "interview" she is given before accepting the job (an interrogation really) is a marvellous piece of sustained, taut writing.
We are not speaking of some enchanted forest. When the lights go down on the stage, it will be night-time in the street. When the actors laugh they will be happy, and when they weep they will very likely be bereaved and broken-hearted. And if they get hurt - and they will, Charlie - they will surely not be in a position, when the curtain falls, to jump up and run for the last bus home. There's no squeamish pulling back from the harsher scenes, no days off sick. It's peak performance all the way down the line.
Through Charlie, Le Carré also produces a peak performance.
Tue, 06 Feb 2018
Three Body Problem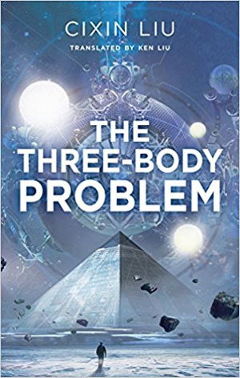 The Three Body Problem
The Dark Forest
Death's End
By Cixin Liu
Score: 4/5
I really enjoyed this science-fiction trilogy by Chinese author Cixin Liu. It's full of amazing ideas in physics, maths, space, cosmology and philosophy. As a novel, it is sometimes a little clunky, especially the characters, who are often very thin, but the dazzling speculation keeps everything moving. The first book of the trilogy, The Three Body Problem, was good enough to convince me to pick up the next in the series, although I procrastinated. Unusually, I thought the second and third books were better. I let the Chinese names wash over me occasionally, knowing I would get used to them, and went along for the ride.
These books are definitely a bit "science nerdy" in (quite a few) parts, but if you like science and cosmology, that's a plus point. This is first contact with aliens and the consequences for Earth over the following decades and centuries: the aliens are invading, are on their way and have managed to sabotage Earth's scientific progress in order to make conquest straightforward. It turns out that the crux of the book is that the universe is not only full of life but that everyone is keeping their heads down. It is a very dangerous place (a "Dark Forest"). Not an entirely new concept but told well, and with a Chinese spin that's fresh. There are a lot of unexpected and wild twists, and slightly fresher perspectives.
It's entertainment but also educational as well, and might kindle an adult or adolescent interest in science and technology. If you like the idea of wondering what multi-decade human hibernation would be like, a fourth-dimensional space, the ultimate type of prisoner's dilemma on board a space warship or just how "magic" advanced technology might be, this is the book for you.
I am now looking forward to reading a book of his short stories: The Wandering Earth.
From a Wired article :
When Cixin Liu's The Three-Body Problem was published in English in 2015, it became the first Chinese sci-fi novel to win a Hugo award. President Obama took it on holiday. Mark Zuckerberg recommended it on Facebook. Yet even as his reputation spread, Liu, 53, continued to work in a power plant in Shanxi Province.
Sat, 27 Jan 2018
The First Night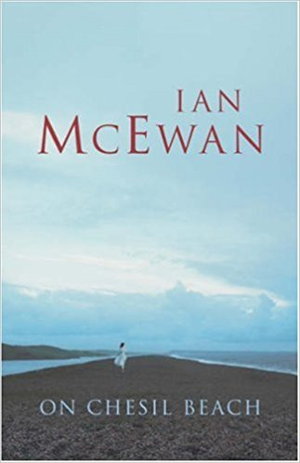 On Chesil Beach
By Ian McEwan
Score: 4/5
A typically well written book by McEwan but a very uncomfortable read. A frank exploration of the wedding night gone wrong. You cannot trust cover quotes in general, but on a McEwan book, a little more perhaps and the quote from the Independent on Sunday is "Wonderful ... Exquisite ... Devastating", which sets the tone.
Very powerful but also dreadful, in that I can't say I enjoyed reading it because it was so painful. Love can drive people to do the craziest things, as can physical desire and both are very powerful emotions that can overwhelm everything. How can one person know what another truly feels, if they don't say?
Mon, 15 Jan 2018
The Shadow of the Past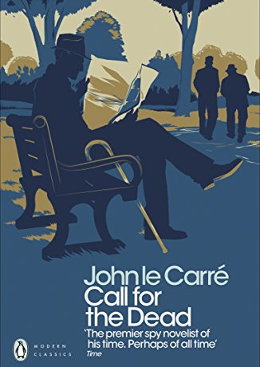 Call for the Dead
By John le Carré
Score: 4/5
This short novel is from 1961 and the first of le Carré's spy books, and the first to feature his recurring character George Smiley. The novel concerns the apparent suicide of a Foreign Office worker after a brief interview by Smiley himself. The fall-out from this leads to deeper problems, including the uncovering of a spy.
Like all the le Carré's books I've read recently, I enjoyed all of this. A lot of the background to Smiley is here, as well as incidents and people mentioned or met in later books. Some scenes, like the teasing out of information at the Repertory Theatre by the policeman Mendel (another great character himself) are absolutely wonderful. Le Carré is masterful when writing minor characters and how they speak and act (it's quite amusing as well). Helpfully, Smiley takes his time to sit and painstakingly list the facts as known at one point, so we also know where we are again. A whodunnit and detective book as much as a spy novel and another great read.
Thu, 11 Jan 2018
Arachnophilia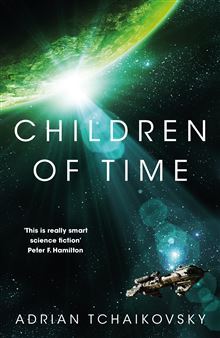 Children of Time
By Adrian Tchaikovsky
Score: 5/5
I was not far into this book before realising how good it promised to be and it did not disappoint.
One of the best books, let alone best "science-fiction" books, I've read. A story that spans a couple of thousand years, interrupted every now and then for the humans as they wake from suspension aboard their "ark" ship in deep space, and check up on things, or make their plans. Time is also a central character when you travel interstellar distances, with the possibility of generations being born and dying, sleepers aging at vastly different rates depending on their wakefulness and activity and lots of changes occurring. Both aboard a spaceship and on a planet.
Tchaikovsky's written a novel that really gripped from the start, in surprising ways. A novel that was exciting, thought provoking and beautiful, with more than one moment leaving me feeling astonished. This is really good. The ending itself was wonderful and inspired. Books like this come along rarely and I think I could easily recommend it to everyone, even the arachnophobes.
Sun, 31 Dec 2017
A Little Darkness in the Background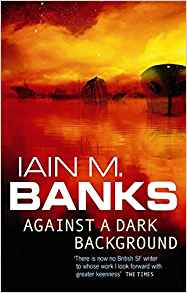 Against a Dark Background
By Iain M. Banks
Score: 3/5
A Banks science-fiction novel but not set in the Culture universe. An aristocrat and her team of ex-military adventurers chase a mysterious book that leads to an even more mysterious, and almost mythical, "Lazy Gun" (the last of eight). Not as stupid as it might sound when laid out like that because being Iain M. Banks it still has much style and some substance. Even if it is not one of his best in my opinion.
Basically a fairly fast paced quest, with action and explosions a-plenty, and a lot of to-and-fro team bonding and banter. Some of it is very good, and there are also good set piece fights and other situations, but the whole never quite gels for me. The ending, even as action packed as it was, disappointed and was somewhat expected. In many ways, the lead character is set up to be extremely unsympathetic: an aristocrat capable of cold and off-hand cruelty. But Banks pushes you to root for her and her gang, and she is written much more sympathetically later on. If you know Banks' politics and worldview, this is slightly odd perhaps.
An accessible Banks book then, but not one of his best or most interesting.
Thu, 21 Dec 2017
The Spy Who Came in from the Cold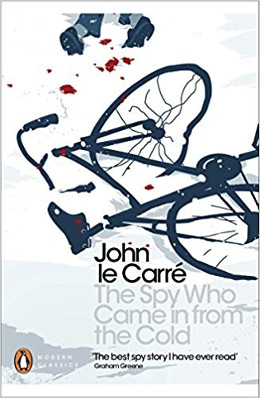 The Spy who Came in from the Cold
By John le Carré
Score: 5/5
The Spy Who Came in from the Cold was le Carré's breakthrough novel of 1963, the one that made his name. When written, the Cold War had well and truly hardened into a very unforgiving and brutal form, albeit one that never got to the point of hot war between the major blocs. The Second World War and its aftermath was a fresh memory and the cynicism that a large number of the population of America and Europe subscribe to today had not yet manifested itself. So a book like this, an unsettlingly harsh look at the reality of the spy "game", was bound to cause a stir. Far from a James Bond world, we have troubling moral equivalence between the methods sometimes used by both sides.
A strong plot and great characterisation is the core of the book. Alec Leamas, the jaded British spy trying to do a last job and destroy his East German nemesis, is beautifully put together, as are his foils, such as the Jewish communist interrogator Leamas learns to somewhat admire. There's a horrible sinking feeling in the pit of your stomach as you know the way the final scene will go. But twists and turns are still to come, even if the sinking feeling never goes away, and there's a final emptiness at the end. A really great novel.
Tue, 12 Dec 2017
Rolling the Dice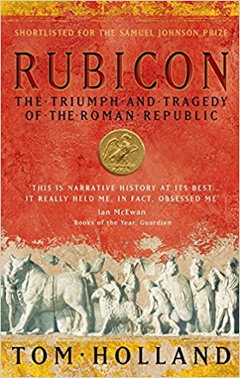 Rubicon
By Tom Holland
Score: 5/5
The late Roman Republic had no shortage of great people and large talents, a usually constant competition to amass the most money and prestige, elbowing out the competition, and in some cases, getting them exiled (or killed). This period of ancient history has held a fascination for a lot of writers and historians over the years and it is easy to see why. The personalities and exploits are often so outrageous that it is quite amazing that they happened over the course of barely fifty years. In a good writer's hands, these stories are still exciting, and sometimes appalling. There is also a lot to recognise from our own times.
Luckily, Tom Holland is a very good writer and historian and has written a superb history book, one of the best I've read. I can thoroughly recommend this, even to those who might be averse to "history". This is the opposite of dry.
Fri, 01 Dec 2017
Buried Giant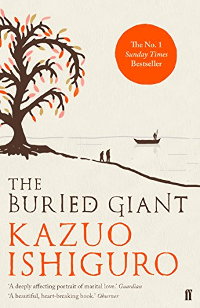 The Buried Giant
By Kazuo Ishiguro
Score: 1/5
I have wanted to read something by Ishiguro for a while and saw The Buried Giant for sale cheaply in a charity shop. This was about two weeks before the world learned that he had won the Nobel Prize for Literature.
Unfortunately, I found this book to be terribly dull and written in a very flat and boring way. Some sort of "fable", I started to wonder if it was aimed at children, or young adults. I kept on expecting something more to happen and be explained, perhaps a deeper significance to the novel. For this reason I pushed on and forced myself to finish it, but the ending was also a big disappointment. No doubt the Booker Prize winning Remains of the Day is better and I still plan on reading that. But avoid this one.
Tue, 28 Nov 2017
Tinker Tailor Soldier Spy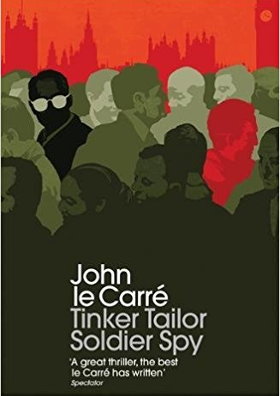 Tinker Tailor Soldier Spy
By John Le Carre
Score: 5/5
Another book I suddenly had an urge to read, and an author I want to read more of.
This is a real slow-burn of a book. Piece by piece, we build up a history of a cohort in the secretive world of the intelligence service. From their pre-war student lives to their war experience and then the post-war Cold War. Something is not quite right; an indication of a mole inside the organisation and the task of George Smiley is to dig the mole out. And this is what he turns himself to do: in a slow and methodical way he gathers evidence and starts to build a picture of the enemy and their accomplice inside the gates.
Le Carre has a great ear for the dialogue and patterns of speech and the characters are beautifully written. All the various code names and colour of life in the Circus alongside the 1970's colour of life in London as well. It's a rare book I start to try and postpone finishing, but I started to put the climax off as I approached the end. One of my favourite books.
Famously, Alec Guinness played George Smiley in the BBC's adaptation of the book, and it has also been re-made as a feature film recently/ I have not seen any of these but might try to. At least the Alec Guinness version, who I can picture as Smiley much more readily than Gary Oldman.
Sat, 04 Nov 2017
Winds of War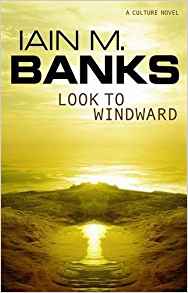 Look to Windward
By Iain M. Banks
Score: 4/5
I read this a few weeks ago now but not managed to post about it. This was another very good Culture novel; one of the best I've read. Banks seems to get better as he wrote the series.
This book covers pain and loss of war, and the morality of revenge. All told from a very Banks viewpoint, with characters not always all they seem and technology of the "magic" variety (so high it seems like magic, per Arthur C Clarke's famous quote). A wonderful addition to the Culture universe with a beautiful and bittersweet resolution.
Wed, 01 Nov 2017
Goodbye Robert Graves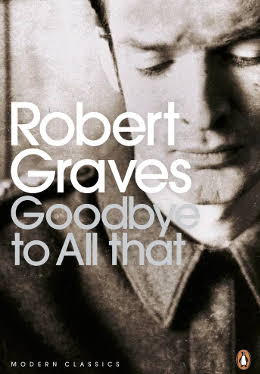 Goodbye to All That
By Robert Graves
Score: 4/5
An autobiography written at the age of 34 is slightly unusual, although it does not seem to stop the modern celebrity or TV star. Graves had weightier reasons however: surviving the slaughter in the trenches of the First World War.
I read his translations and rewriting of the Greek Myths a long time ago, and have also attempted to get through his White Goddess, but have never read or attempted his most famous works, the I, Claudius novels. Graves always considered himself a poet foremost, and describes his meeting and friendship with Sassoon here. He became very dispirited and somewhat bitter about the war, and who could blame him? This appalling event still casts a long shadow, and can even make me angry today. His background, class, education and whole milieu is from another age, long gone now and worth lamenting, at least in part. An interesting and original thinker and writer.
Tue, 29 Aug 2017
Uncultured Places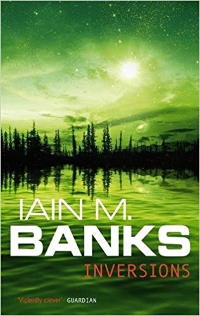 Inversions
By Iain M. Banks
Score: 3/5
I've been enjoying a few Banks books this year, including a re-read of Excession, also reading The Hydrogen Sonata and Surface Detail. All three books were excellent. Inversions is hardly a Culture novel at all: a very Medieval level world with equivalent superstitions, warfare, justice system (rudimentary, including torture) and extremely basic science and medicine. Almost a standard issue murder, plot, intrigue and war waging novel from the European Middle Ages; except that there is something a bit different about the Doctor, and possibly the Bodyguard as well. Hints that they are not quite what they seem, and things that remain only hints right to the end.
I liked the book but was glad it was not much longer. Interest was held by wanting to know who the Doctor really is, and are your suspicions confirmed? I suspect this one would be a disappointment to many of Banks' Culture fans but one I'll give him a pass on.
Wed, 16 Aug 2017
Bring Out the Dead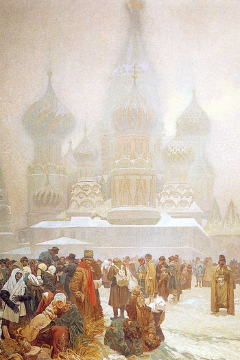 Dead Souls
By Nikolai Gogol
Score: 4/5
You can download the ebook here.
Nikolai Gogol wrote this before 1842, and before the emancipation of the serfs by Tzar Alexander II. The souls referred to are those of the serfs, chattel of the landowners; bought, sold, mortgaged.
Paul Ivanovitch Chichikov travels around Russia trying to make money with a clever, but slightly odious, scheme he thought up. Visiting landowners, he cajoles them to part with their "dead souls", that is serfs who have died but still exist on the rolls from the last census: thus still attracting taxes. Hopefully enticing people to part with them for nothing or a minimal fee, he hopes to use these names to enable himself to buy an estate in the future, using them as some form of "collateral" for a mortgage. Yes, slightly off, perhaps not quite legal. The law can be "flexible" in Russia though, and this would, in effect, enable a cheap loan and a foot up the greasy pole.
The novel is great fun and often funny. Chichikov's a form of lovable rogue, a thinks of himself as a "gentleman" but not averse to some underhand dealings. His interactions with the various 19th Century Russians he comes across is often lively, as is the sometimes comedy interlude of life from his servants' perspective. Gogol even lets the horses and dogs have an opinion occasionally and is obviously laughing at some of the absurdity of his creation.
This version was translated by D. J. Hogarth in 1916 (according to Wikipedia) and is now in the public domain. It was a good read and the Standard EBooks version is well produced (a good project). The slight disappointment is that the novel is missing the ending, and also a little fragmentary later on. Generally, we get most of it but a shame to lose out on some of the story. We are actually lucky to have what we have: Gogol never finished it, and in fact tried to destroy it!
Sun, 13 Aug 2017
Everything is its Own Reward
In hard times, beauty can seem frivolous - but take it away, and
all you're left with ...... is hard times.
I first came across Paul Madonna's book Everything is its Own Reward when I picked it up to browse in Gosh Comics, maybe six months ago. A really beautifully produced hardback book of whole page pen and ink drawings of San Francisco and surroundings. I picked it up again at the weekend, remembered looking at it before and once again loved it: so decided to buy it.
Madonna wrote and drew the series All Over Coffee in the San Francisco Chronicle for twelve years. He has a real talent for observing and drawing the urban landscape.
If you click the pictures below you go to his web site store. Click the pictures there to see a larger version.