Tue, 28 Mar 2023
Still Here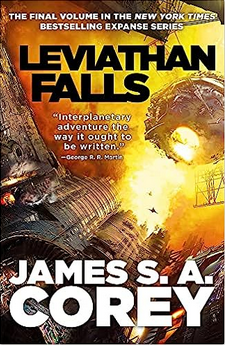 Leviathan Falls
by James S. A. Corey
Score: 5/5
As written on the frontispiece of the last in the series :
Nine books later and you're still here, so this one's for you.
Nine books is very impressive. They're chunky as well, but the biggest deal is how consistently good they are. And nine books later I get to the end of The Expanse and close the final book, Leviathan Falls. I've waited a long time for the last book to appear: the paperback version seemed to take forever to get released.
This has been the best action/adventure series I have read, consistently good and usually great. The series started well and stayed that way: if anything, it got better. Quite a believable future mapped out by the two authors, Daniel Abraham and Ty Franck ("Corey" is a pen name), with the solar system politics and fighting looking a bit parochial as the story expanded into a huge galaxy spanning collection of worlds.
In the end though, what made these novels special were the characters, who we get to know, understand and love. With the vast distances involved, the characters age and by the final few books, they're decades older, and showing it. We've grown besides them.
It's always hard finishing a book you love reading and even if the end is somewhat bitter-sweet, Leviathan Falls does not disappoint.
Sun, 19 Mar 2023
Taking Games Seriously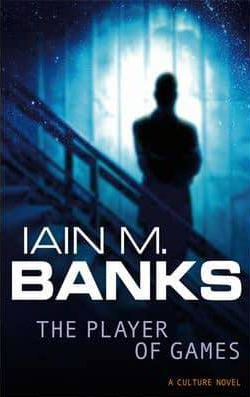 Player of Games
by Iain M. Banks
Score: 4/5
Second time lucky? The last time I read Player of Games I was underwhelmed. I thought the book was okay but a little dull, perhaps a bit hard to understand and lacking in action. Over the years since, however, I keep on coming across people online who consider this book a favourite, and perhaps the best "Culture" novel he wrote. So, an impetus to give it another chance. As is increasingly clear to me, the reaction you have to a book is very dependent on when you read it.
So now I am very glad I came back to the novel because I really liked it this time. I'd forgotten almost all of the story so it felt fresh. It is not action packed, akthough it has some and is a bit more "cerebral" perhaps. The story's about a complicated game: a "game" a society uses as a part of its organising principles. So we learn about cruelty, hierarchy, equality and politics through a cast of very different, and not always very likeable, characters. This is typical Banks, as is the "Culture" culture and humour, including a malicious drone. Things are not always what they seem but we get a satisfying, dare I say, happy ending?
I think I would now consider myself a "booster" of this book.
Sat, 04 Mar 2023
Garage Classic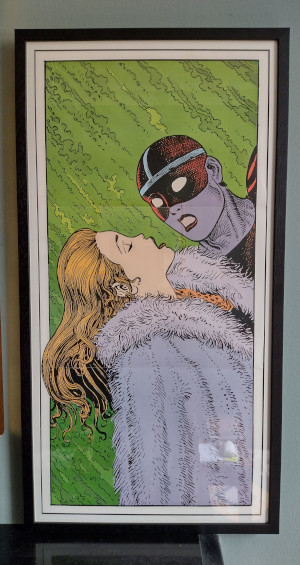 Going through some of my old comics and comic books, I came across a hardback French edition of Moebius' Le Garage Hermétique, the first version in colour. A true classic of French bande dessiné and a strip I first came across in the American Heavy Metal magazine in the late 1970's. This colour version was published by Les Humanoïdes Associés in October 1988.
Inside is a colour poster insert: a blow-up of one of the most striking panels in the strip. I had completely forgotten about his but what a wonderful surprise to rediscover. It is revealed that it was a woman under that hat all along, not a man!
This is not something to leave hidden away inside a book anymore. It deserves a frame and to be hanging on a wall. RIP Jean Giraud a.k.a. Moebius.
Tue, 06 Sep 2022
Inverleith Sunrise Process
I often take photographs of work in progress for my own interest and sometimes think to blog about it. So, in the interests of full disclosure, here is the first of a few occasional posts about paintings and the steps I used to create them.
Firstly, a picture of the sun coming up through trees in Inverleith Park, Edinburgh, with the New Town and castle in the distance. A beautiful golden sunrise on a cold day. I'm happy with the result.
A 50x60cm linen canvas, painting in oils.