Tue, 15 Dec 2020
Farewell to a Master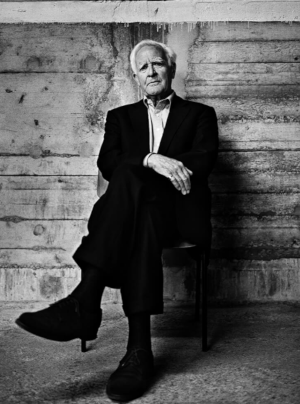 Very sad to hear of the death of John le Carré; I had just bought three of his novels at a charity shop. If I ever see any books of his going cheaply and I have not read them, I always buy.
I was late to come to him as an author, only picking up and reading The Spy Who Came in from the Cold a few years ago. Since then, I've read quite a few but am lucky to still have many left to read for the first time. Le Carré is one of those authors that makes you realise the difference in quality between the merely pedestrian and the masterful.
I read his memoir recently, The Pigeon Tunnel, and what an amazing selection of stories from his interesting life. This includes some amusing anecdotes about Liz Taylor and Richard Burton during the making of the film. Le Carré's set pieces were always absolutely beautifully put together and could be mesmerising. Wonderful dialog, believeable characters.
Thank goodness he left us so many books to read! Goodbye David Cornwell.
Sun, 13 Dec 2020
Seveneves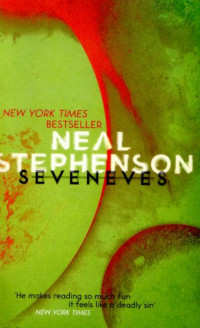 Seveneves
By Neal Stephenson
Score: 4/5
I've had Neal Stephenson's door-stop sized novel on my shelf for a few years now but never managed to get around to reading it. It's a big book and that meant weighing up the big investment of time. This is a hangover if being disappointed in the past with some of his work (e.g. the "Baroque Cycle" trilogy); but I loved his older stuff and the novel Anathem from 2008.
Seveneves is about the end of the world. An "agent" of unknown type causes the Moon to explode into large fragments that hang around in orbit initially. However, they start banging into each other and people realise that these pieces will soon start falling onto earth and rain down destruction as they fragment: an exponential process. A two year grace period before the "hard rain" falls lets the world plan and execute a massive effort to get enough people and materiel into orbit to save human civilisation.
Stephenson uses this catastrophe to create a big story about the politics and science behind such a huge undertaking as this. He always loves the science aspect and Sevensves is a hard science-fiction novel. As such, he mainly concentrates on the physics and engineering parts but, since we need to ensure the survival of the species, also touches on the genetic. So, orbital mechanics, propulsion systems, robotics plus DNA and medical science. Big rocks and asteroid mining. The book is very good on just how dangerous space is to humans. Some people are slightly upset that the book splits towards the end and transports us into the far future (5000 years) to see the end of the planetary destruction and what comes after. I liked this (long) finale and the fact he didn't split the story into two books.
Although a lot of bad things happen here, the message is still one of ingenuity and hope. When he can reign himself in, Stephenson is an excellent writer.
Tue, 03 Nov 2020
Late Autumn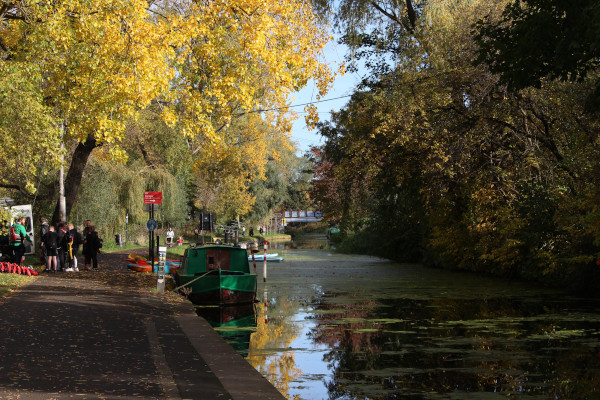 At the moment, it's raining. It does this a lot in Scotland. This is late autumn if I'm being optimistic but probably fairer to say winter now. With a week of rain and gales stripping the trees much barer of their leaves, it's starting to look like winter again. It's been such a great year that people are already starting to look forward to 2022.
My oil painting energy diminished somewhat over summer, although I did a few and then some larger paintings. Having seen a bad trough of motivation hit a couple of months ago, I managed to pull things together a bit and complete a picture I'm very happy with. I'm about to finish another. It feels like a bit of a slog just now; it's not only writers that get a block. They come and go though, like the gales.
One thing I have discovered this year is that I can easily listen to a podcast whilst painting and not be distracted. I've a lot of podcasts downloaded from the BBC (mostly), including plays, dramas and book readings. These are things I've grabbed over the years but put aside for a "rainy day". Luckily, there have been quite a few rainy days this year.
Some of the things I've listened to include :
MR James stories, some read by Michael Hordern. I love these classic ghost stories.
William Gibson's Neuromancer and Burning Chrome. BBC dramatisations, done well.
Zen and the Art of Motorcycle Maintenance. A BBC dramatisation of the book. I read it years ago but it was half forgotten. Quality.
Robert Louis Stevenson's The Bottle Imp - a short story dramatised.
Whisky Galore - BBC dramatisation
Darkness at Noon - BBC dramatisation of Arthur Koestler's novel about Stalin's Soviet Union
BBC dramatisation of Dracula in two parts
Arthur C Clarke's Rendevous with Rama
I, Claudius - Graves dramatised over six parts.
Understand - Ted Chiang's short story dramatised. The author of "Arrival", a favourite story of mine.
The State of the Art - Iain M Banks short story dramatised.
A Canticle for Leibowitz by Walter M Miller Jr. A dramatisation by NPR in 15 parts. Great cast, beautifully produced radio. A book I really liked.
There have been others and all have been good: this is what the BBC does so well. Luckily there is a large back catalogue because these are hard times for media producers.
As well as Eliot's Silas Marner and Middlemarch, I still have War and Peace to listen to and that's a great reason to start planning a big painting!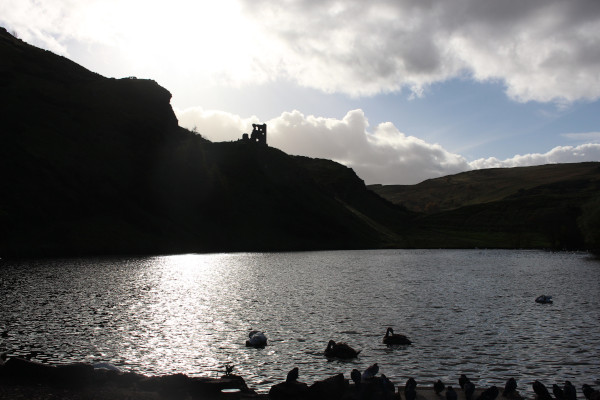 Sat, 27 Jun 2020
Park in Summer
Another slight one completed a while ago. An overwhelming sense of green-ness on a sunny day in the park. I am working on a bigger painting but very slowly. In Edinburgh, summer comes and goes ever few days.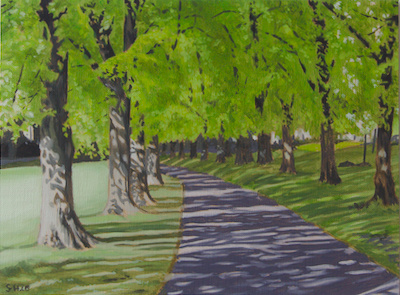 Wed, 10 Jun 2020
On The Beach
A slight one but at least completed and presentable.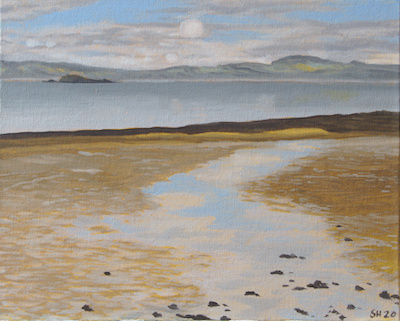 Sat, 06 Jun 2020
Murky Water Sunny Tree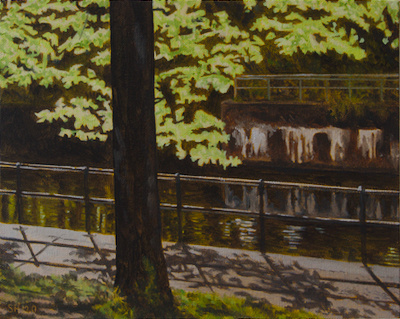 Figurative Art Fair 2020
Art show from the Mall Galleries, an online only Figurative Art Fair from the Federation of British Artists. It pains me that I can't see this in real life now, even without the current virus situation (without a long train trip) but virtual is better than nothing. Something for everyone I think, not all "figurative" (very little maybe, oddly). Some terrible, some lovely. Worth a few moments to have a page through the works.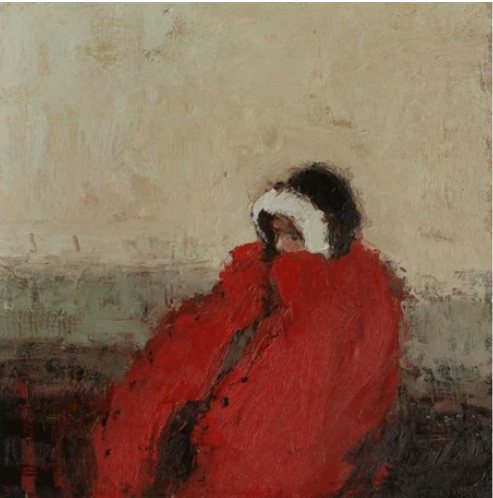 Thu, 04 Jun 2020
Near Cramond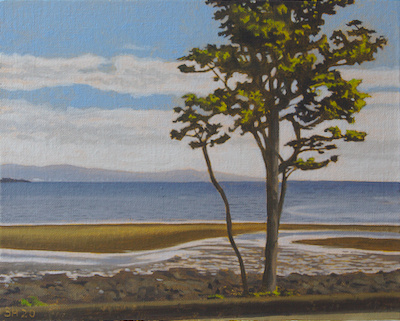 You don't see "100% Extra Free" boxes of blueberries in the supermarket now, which is a shame (although I had to struggle to get through them). On the other hand, summer is here. But the news is still bad. A never-ending supply as I've noticed before.
My posts have dropped off a bit and my artistic endeavour has also taken a hit. Such is life sometimes. I've had a lean period with my painting for two weeks really, with a so-so picture, preceded by a couple of abandoned works. It's not the end of the world and occasionally it's necessary to take a step back, wait and rebuild motivation. You can't force inspiration and there's no point worrying about it.
I still have quite a few paintings completed over the last few weeks to show, and even from last year. Maybe some not as worth the display. But I'll leave that judgement open for now.
Here's one I did a few weeks ago. I've spent a lot more time biking and walking, discovering some of Edinburgh's paths and parks. It's easy to forget Edinburgh is on the coast, with a northern as well as an eastern aspect. This picture is somewhere along the northern coast from Silverknowes to Cramond.
Thu, 28 May 2020
Neon Greens
Below is a screen capture from a short YouTube video, an interview with David Hockney. The video's only about 4 minutes long and he's talking about the state of his art and the world. As usual, good sense and humour from him.
I don't think I can get such bright, almost neon, colour in my painting! Mine aren't backlit though.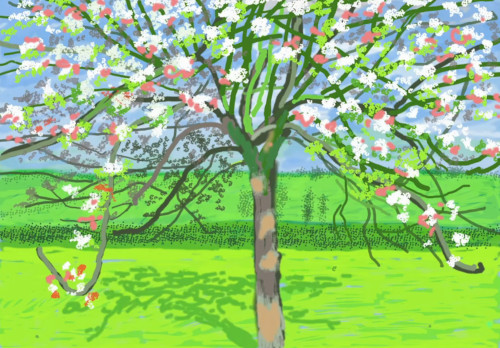 He speaks of a philosopher he saw talking on television: the news comes on and he's asked how he can be optimistic with news like this? He replies, well, that's television. Bad news sells. So he's asked, what's the good news then? And he replies ... the arrival of spring. Hockney chuckles and it's a typical Hockney observation (about "observation" itself).
he says, of course nobody notices spring arriving usually but in the past, everyone noticed. In 2020, I think many more people started noticing as well. And now it's summer. End in sight of the "crisis"? At least the beginning of the end.
Wed, 13 May 2020
Cast Shadows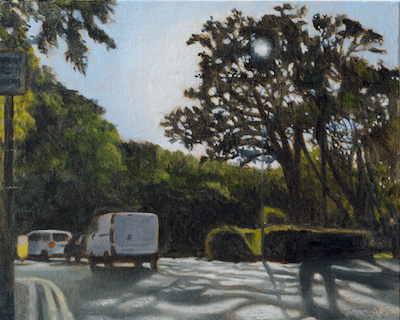 Above: Queensferry and Learmonth Shadows, oil, 8x10", April 15 2020
I painted this a few weeks ago, the "hook" being the light through the large tree casting a great mosaic of a shadow on the road. Not a particularly complicated picture and it came out fairly well. Unlike some other paintings recently though. In fact, a week or so ago I was having a lot of trouble sitting down and getting anything done. Some days are like that, and it can definitely cast a bit of a depressing shadow itself. Very frustrating. Luckily, I managed to break the spell last week. Hopefully for a while.
Wed, 06 May 2020
BP 2020 Offline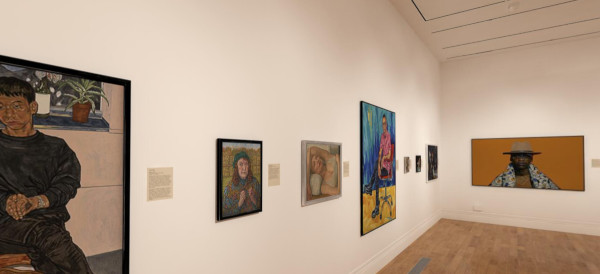 The National Portrait Gallery in London are hosting the BP Portrait Award show online this year and have created a virtual gallery in the web browser. I had a poke around and it works very well, although I think I heard my laptop fans start to spin a bit faster. A "virtual" gallery like this is not bad at all but no substitute for real life. I'll be having a "stroll" around it and checking out the pictures, almost as usual. The painting just in the above frame to the left is the 2020 winner.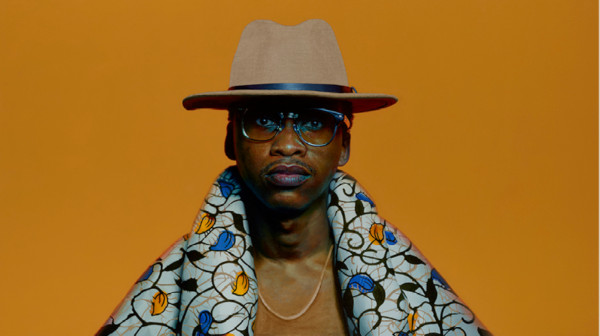 I hope the London gallery does the virtual display like this every year. I was very disappointed that 2019 was the last year the BP Portrait Award exhibition would be shown in Edinburgh. The Scottish National Portrait Gallery decided they did not want to host anything sponsored by BP, an oil company. I'm opposed to that decision and feel a loss. I bet a lot of people do. Edinburgh's loss.
May Gardening
Four years ago, the Royal Academy had an exhibition I reported on called Painting the Modern Garden ("Monet to Matisse"). I enjoyed it immensely (I think I went twice): the RA know how to put on a great show. The Monet water lilies in the last room were like being before an altar. Quite magical.
The Academy have just put their film of the exhibition on YouTube. Beautifully produced and full of colour as you would expect. This is worth putting up on a big screen and sitting back to wallow in: much art and beautiful plants.
Mon, 04 May 2020
And Another Fresh View
From the same day as the previous work. I liked the view a lot and did another small oil painting of the view of the city over Inverleith Park pond.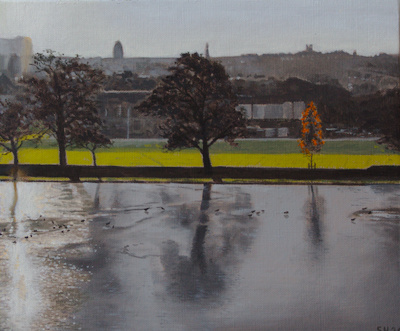 Sun, 03 May 2020
A Fresh Morning
This is a study I painted in December 2019, based on a reference photograph from earlier in the month. A lovely cold and fresh morning, frost on the ground. The pond was mainly frozen and birds were standing around on the ice. It came out well I think :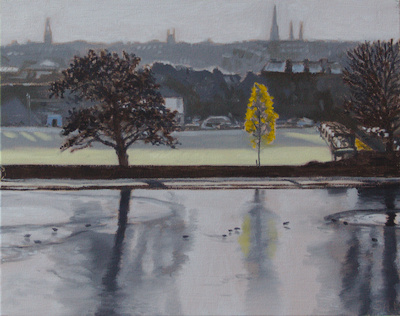 Fri, 01 May 2020
Portraits 2020
No visits to the Mall Galleries this year either! This is the gallery I think I miss the most. This year's Royal Society of Portrait Painters exhibition is on and we've all got the email alert. Great paintings, online only. It really does pay to take some time to have a look through them.
Darren Butcher's painting shown below could be called caricature rather than portrait. Does it matter though? Very well painted anyway and there's an Expressions Two as well. In fact, there are a lot of new artists in the show this year, as well as the usual ones I remember and love.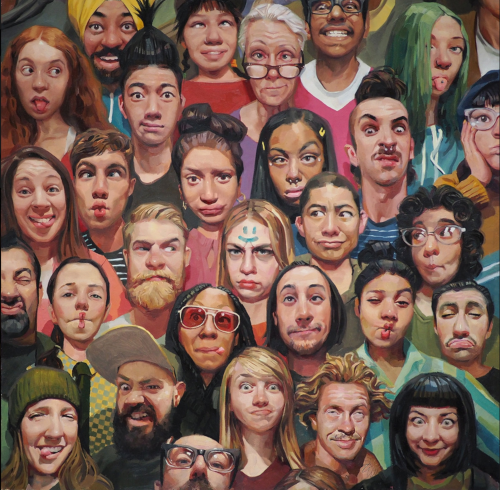 The portrait below is by Alex Tzavaras. He runs a good YouTube channel called SIMPLIFY Drawing & Painting where he teaches painting technique and does some artist interviews.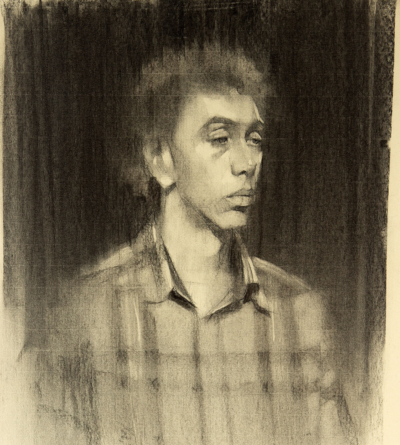 It woud be great if the various painting societys and groups could work out a way to take their exhibitions north of the border each year as well somehow.
Thu, 30 Apr 2020
RSA Annual 2020
The Royal Scottish Academy annual exhibition is on just now. In normal circumstances I'd be up there in person. Unfortunately, these are not normal times. Anyway, thank goodness for the internet. These are a few pictures I liked, but there are quite a few others worth seeing.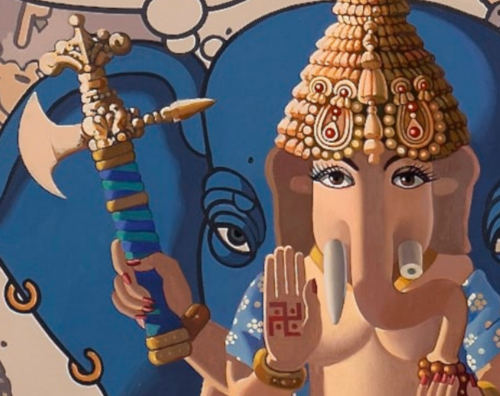 The above Alan Robb painting is very striking (and large). This is only a detail.
Like the RA Summer Exhibition, it can be a hit or miss affair but there's always something good in it and I won't be alone in missing being there in person. Although there are many good things about viewing art online, it's not the same at all, no matter how good the photograph. I feel a lot of sympathy for the organisers of the show this year, but in particular for the artists. Some would have been looking forward to their first RSA presence. They must be very disappointed.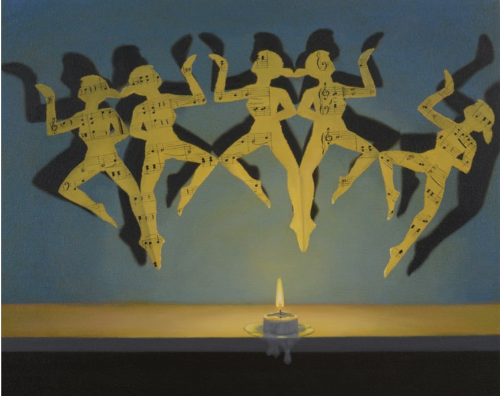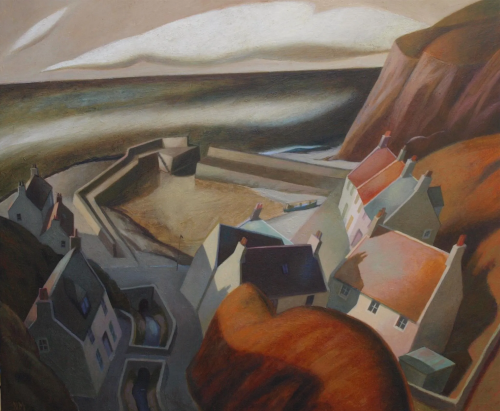 Sat, 25 Apr 2020
Light and Colour
In a past life, before the crisis (maybe that should be BC, Before-Covid), I would often travel up to Edinburgh on the train for a holiday in September. I'd take a day trip to Glasgow and visit the Kelvingrove Museum, and the Hunterian a short walk up to the university. Sometimes freshers week was on and I got a reminder of my student days.
The sun was shining in a good way on this beautiful tree in the university quad one time over there. It was one of those magical moments that sometimes happens and you're in just the right place, light and colour link up nicely. Definitely something to try and capture in paint later. I did one of my "studies", which I thought was successful, and then blew up to a larger canvas :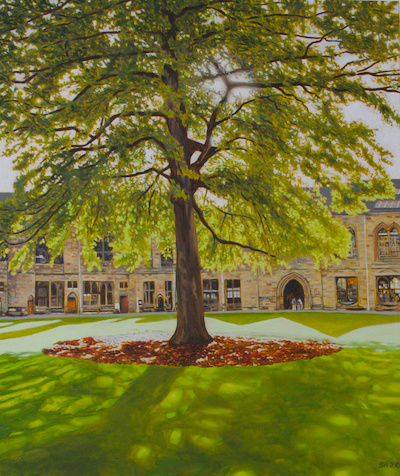 The sky is blue, the sun is out and it's a beautiful day.
Thu, 23 Apr 2020
And the Winner Is ...
Geraniums by Ruth Murray.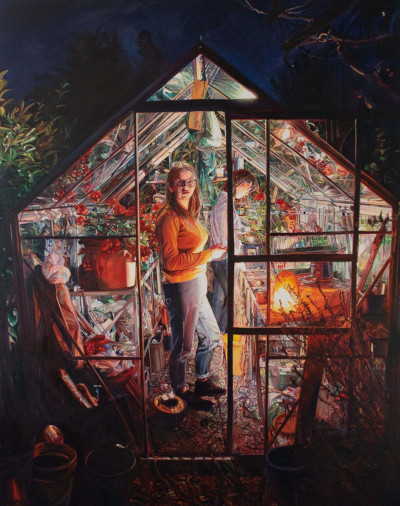 Ruth Murray has won the Jackson's Painting Prize with this amazing oil painting of a garden greenhouse at night. I wrote about this prize a week or so ago and remember opening this picture to have a closer look and thinking how good it was. Very deserving. You can see some other examples of her work linked on the Jackson's page.
Ruth's web site is here.
Wed, 22 Apr 2020
Still Not Boring
At the end of his interview with Tim Marlow, Hockney says that he might be boring others but he's not about to go and bore himself: he'll do what he enjoys doing. This is another great YouTube video from the RA, covering Hockney's 2012 show with his amazing Yorkshire lanscapes, and his 2016 show with all the portraits (and a still life).
I've gone on about how much I loved his colourful landscapes many times before. He is 82 now and currently "stuck" in Normandy due to the COVID-19 lockdown. Luckily he paints and draws, so I hope he's capturing some great spring weather over there.
Tue, 21 Apr 2020
Picasso on Paper
With the "lockdown" continuing, we can't go to the gallery. If I was still in London, I would definitely have gone to the Royal Academy to see their Picasso and Paper exhibition. The RA have created a virtual exhibition though and they've done an excellent job. Watch on their own site (link above) or on YouTube :