Tue, 18 Apr 2017
Original Undead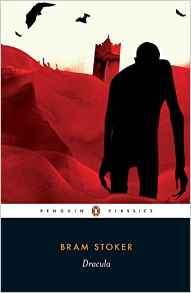 Dracula
by Bram Stoker
Score: 4/5
Dracula is a book impossible to come to without preconceptions today; it has been read, adapted and discussed so much that it has seeped into the modern imagination almost completely. I disliked almost all the film adaptations over the years, particularly the Hammer versions, and for many years these killed the character and any desire to read the book. However, a few weeks ago I found myself wanting to pick up the book for some reason and I am very glad I did : I thoroughly enjoyed it and it really is a classic.
The initial arc of the story: the eerie journey through the dark forest, wolves and strange coachman, the forbidding castle, creaking and rusting doors, superstitious peasants, all seem so familiar today. One might even groan a little inside recalling a satire like Mel Brooks' Young Frankenstein film. So much cliché; but the story soon forges on and becomes exciting. This was quite new and fresh when written all the way back at the end of the 19th Century.
This is at heart a great adventure book, with action and drama, and above all, fright. Surprisingly, given how much the story's been rehashed, it still has a huge power to shock and surprise with real horror. Some of this is due to the characters themselves; characters I actually cared for, particularly the stricken Mina Harker herself. A very good book with some great and powerful moments; and still not for any faint-hearts.