Sat, 25 Oct 2014
Great North Road
Great North Road
By Peter F Hamilton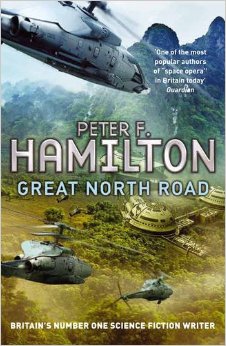 I read some Peter Hamilton books a long time ago and decided to check him out again.
I enjoyed his Commonwealth Saga series (Pandora's Star, Judas Unchained) and his Night's Dawn trilogy (The Reality Dysfunction,The Neutronium Alchemist,The Naked God). These books contain a detailed and well thought out future and some very exciting action. Pandora's Star includes a chilling and believeable alien race (with extra stress on alien).
On the negative side however, his books are extremely long, and well padded in places (tangential storylines and characters). This is also a big fault with Great North Road. The book is just far too long and not enough happens in it. The action that does occur doesn't grab you as much as it should, and happens too near the end, far too late. The rest is too pedestrian.
I haven't read his Void books but, with my reading list long, I am much less inclined to now.