Thu, 11 Jan 2018
Arachnophilia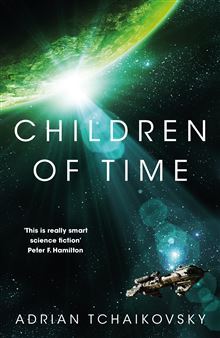 Children of Time
By Adrian Tchaikovsky
Score: 5/5
I was not far into this book before realising how good it promised to be and it did not disappoint.
One of the best books, let alone best "science-fiction" books, I've read. A story that spans a couple of thousand years, interrupted every now and then for the humans as they wake from suspension aboard their "ark" ship in deep space, and check up on things, or make their plans. Time is also a central character when you travel interstellar distances, with the possibility of generations being born and dying, sleepers aging at vastly different rates depending on their wakefulness and activity and lots of changes occurring. Both aboard a spaceship and on a planet.
Tchaikovsky's written a novel that really gripped from the start, in surprising ways. A novel that was exciting, thought provoking and beautiful, with more than one moment leaving me feeling astonished. This is really good. The ending itself was wonderful and inspired. Books like this come along rarely and I think I could easily recommend it to everyone, even the arachnophobes.