Sun, 31 Dec 2017
A Little Darkness in the Background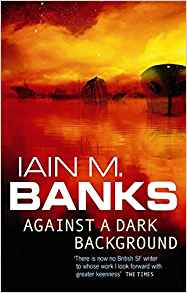 Against a Dark Background
By Iain M. Banks
Score: 3/5
A Banks science-fiction novel but not set in the Culture universe. An aristocrat and her team of ex-military adventurers chase a mysterious book that leads to an even more mysterious, and almost mythical, "Lazy Gun" (the last of eight). Not as stupid as it might sound when laid out like that because being Iain M. Banks it still has much style and some substance. Even if it is not one of his best in my opinion.
Basically a fairly fast paced quest, with action and explosions a-plenty, and a lot of to-and-fro team bonding and banter. Some of it is very good, and there are also good set piece fights and other situations, but the whole never quite gels for me. The ending, even as action packed as it was, disappointed and was somewhat expected. In many ways, the lead character is set up to be extremely unsympathetic: an aristocrat capable of cold and off-hand cruelty. But Banks pushes you to root for her and her gang, and she is written much more sympathetically later on. If you know Banks' politics and worldview, this is slightly odd perhaps.
An accessible Banks book then, but not one of his best or most interesting.