Thu, 11 May 2017
Submission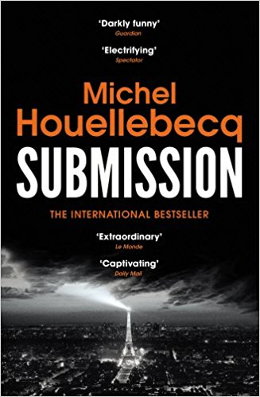 Submission
By Michel Houellebecq
Score: 3/5
Quite a timely novel, and it caused a bit of stir on release a year or so ago. In the near future (I think 2020 or so in the book), the French Presidential election run-off comes down to Marine Le Pen of the Front National and an Islamic Party. In this alternate election, both the Right and the Left in France have imploded and the Muslim Brotherhood party just pip the Socialists to the run-off. France looks to be headed to civil war and to stave off calamity, the Socialists and Islamists strike a deal, win the election and form a government. Crazy?
It's very funny in parts, and Houellebecq writes a very good, jaded French Professor, an expert in a particular 19th Century French writer. The ennui of an academic. He's apolitical and uninterested in much of what's going on, other than it distracts from chasing girls. In the end, big changes actually happen and the French establishment seem to accept it.
Maybe a bit far-fetched but Houellebecq has fun with it and the book's a quick and easy read. It's interesting reading a French perspective but also quite unsettling in the matter of fact way a societal change like this might get rationalised. On the big day, the media seems to have a bit of a blackout, and mobile communications go down. There's a hint of smoke in the distance, gun shots and one or two bodies seen; but then maybe we can get used to the new order?
For the Professor, a large pay rise is one welcome thing on the cards, but what really sets him thinking about the future is the dangling of the likelihood of an arranged wife, maybe more than one. All satire of course, and it is funny in parts, which makes up for the fact that it's only a slight "novel" and many characters are only hooks for him to hang some political and economic background..
So, finally Le Pen is crushed again and President Macron takes the crown. But as Peter Hitchens writes, what happens next time around?
Unless Emmanuel Macron really does have some brilliant plan for coping with all these difficulties, Ms le Pen (or someone like her), and the Front National (or something like it) will be waiting for him five years hence, bigger, more discontented, more experienced. Its day may well come.
His column is worth a read and very thought-provoking. Houellebecq's novel worries you in a similar way.