Sat, 18 Feb 2017
Wild Swans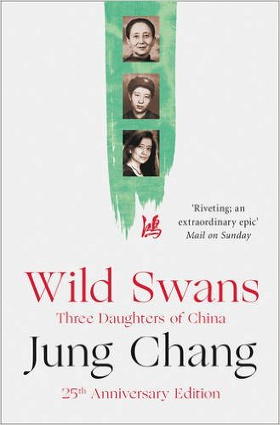 Wild Swans
By Jung Chang
Score: 4/5
In Wild Swans, Jung Chang tells the story of her family over the course of the 20th Century in China. This was a century of massive change and calamity in the Middle Kingdom: from "warlordism", to civil war, the cruelty and corruption of the Kuomintang and then the victory of the Communists under Mao. At first a lot of idealism as the Communists took over: stability returned, some prosperity. But over a short time things changed greatly for the worse again.
The book is a moving and fascinating account of China and the Chinese people and culture, and Ms Chang's love of the country and its history shines through, whatever the appalling hardships and cruelty she describes. Her youthful adoration of Chairman Mao slowly turns to anger and shock at the realisation of his central and personal role in the destruction of the country: its people, material and spirit.
Perhaps the saddest part of the book is about her father, a communist "true believer" in the ideals the party said it stood for. Incorruptible, and so straight and fair that he antagonised and caused many in his family (especially Chang's mother, his wife) to despair and anger Not willing to bend the knee as the party became deranged and things descended to chaos and brutality, he paid a heavy price.
In the end, once Mao was gone, things could open up a bit and Chang escaped to London and academia. Even though things are materially much better in China now, the country has not come to terms with the Mao legacy still and there are many people who still worship his memory. They are still denied a true account of their history.