Sun, 06 Jan 2019
A New Year
Well, it's 2019, so a Happy New Year to everyone. Except the bastards that stole my bike yesterday!
This is the second Brompton I've had stolen now. After the first, I bought a much better lock (Kryptonite New York Fahgettaboudit) but obviously not good enough :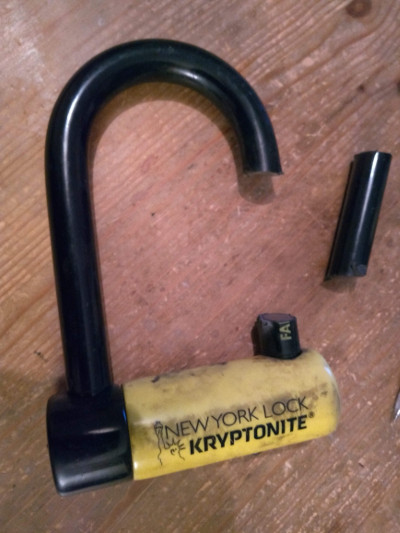 This was locked at the bike rails at the North West side of Cavendish Square, opposite the back entrance to the Oxford Street John Lewis. About 11 am and left for about 40 minutes, returned to find the lock cleanly sliced and no bike. Basically, I don't think it's safe, period, to lock a Brompton up outside. A busy area as well, with lots of cars, a taxi rank opposite and people around.
2018 was not a great year for me for various reasons. Apart from the bad start to 2019, I'm hoping 2019 will be better. So, staying positive!