Tue, 12 Nov 2019
Of Time and Place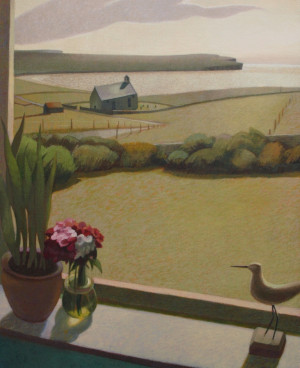 A very decent collection of paintings by Neil MacDonald at the Open Eye Gallery in Edinburgh, in an exhibition called Of Time and Place. Most are modest in size but have a certain feeling and atmosphere to them.
The Open Eye Gallery a usually very good. I'm lucky to live near a lot of great private art galleries that change their displays regularly. Keeps things interesting.
Thu, 24 Oct 2019
Power of Seeing
This is about something I went to a few months ago but never got around to mentioning. There may be a few more like this.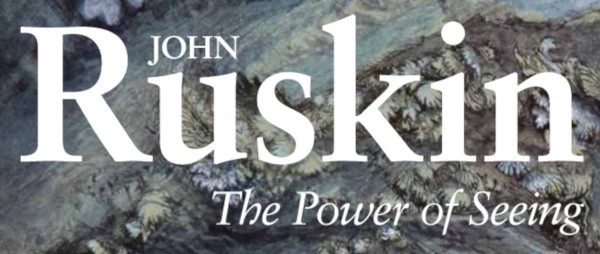 I went to Two Temple Place earlier this year to see an exhibition about John Ruskin called The Power of Seeing. This was the first time at Temple Place and it was quite eye-opening.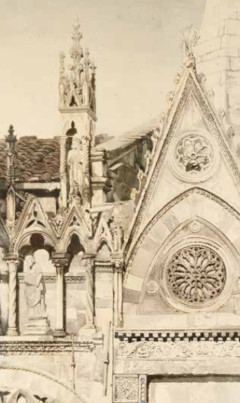 The venue is an amazing late Victorian house by the Thames, built in 1895 by William Waldorf Astor. It contains, what appears to be, acres of oak panels, carvings, stained glass and paintings: a sumptious interior that must have cost him a fortune. Luckily he had one, and it really shows. In fact, the artists and craft-people who built this gothic and literature-as-architecture palace had the backing of a bottomless wallet. Ruskin is a perfect fit for a place like this. Beautiful venue and a very good exhibition.
From the page linked above, you can download the exhibition flyer and PDF catalogue. Two Temple Place is not open for exhibitions often but I would definitely suggest visiting when it is.
Mon, 21 Oct 2019
50 Years to Make
Victoria Crowe in Edinburgh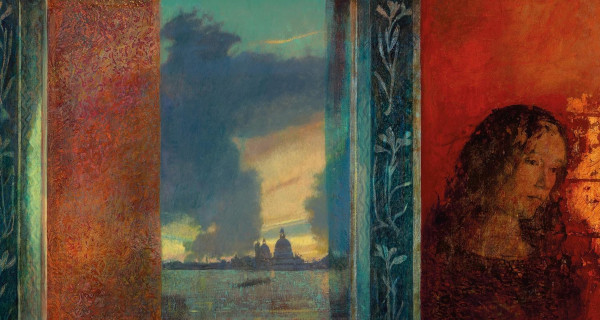 Victoria Crowe's big retrospective at Edinburgh's City Art Centre, 50 Years of Painting, has just finished after a long run over the summer. I must have visited six or more times over the last few months and enjoyed it a lot. An excellent exhibition by an artist I had not really been very aware of before.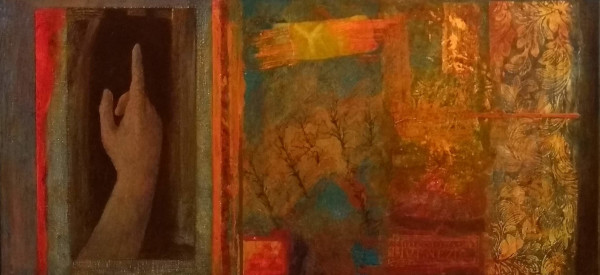 Laid out over three floors in chronological order, we see Crowe's development through the years; early works in the fields of Kittleyknowe (in the Scottish borders) and sometimes featuring her neighbour, the shepherd Jenny Armstrong, to later works of Venice and a more mystical and abstract feel. A slightly different style of art than I'm normally drawn to, but the work grew on me a huge amount as I absorbed it. Her work is as much about our inner landscape as the external world. Something she quotes is her old art teacher Prunella Clough telling her not to "make it real"; to avoid just painting a superficial, realistic representation of te subject. I struggle with this concept in my own painting.
Strong and beautiful colours with amazing surface texture and effects repeated. I spent time trying to understand how some of her technique is done: the way she overlays "print" work (whether photographs, text or other art works), the stencil like patterns and various textures on the paint surfaces.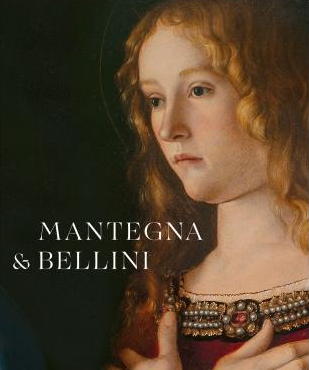 Some repeated motifs appear, including the Giovanni Bellini Magdalene, a star attraction for me at the National Gallery Mantegna and Bellini exhibition in late 2018. A beautiful portrait of the saint that Crowe lays over (or under) many of her works, sometimes barely seen.
Right: Mantegna and Bellini (catalogue cover detail)
The full painting by Bellini was made in 1490 and is called Madonna and Child between Saints Catherine and Mary Magdalene. See the full painting on wikipedia.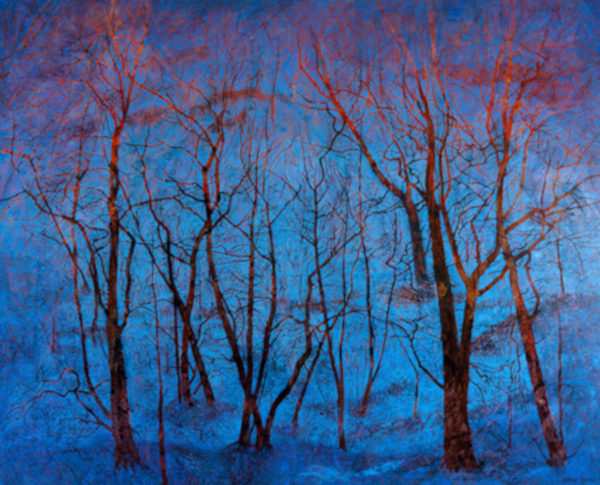 Now the exhibition is closed, it feels like a part of the city is missing. On to the next one: Mary Cameron.
Victoria Crowe's home page is here.
Thu, 10 Oct 2019
All By Himself
David Cobley at The Mall Galleries
Having let my blogging slip for a while, I now want to try and catch up on things I have seen or done. It's been a very good year actually. One recent show was David Cobley's one man exhibition at the Mall Galleries last month : All By Himself. This was on two days before I left for Edinburgh. I managed to have a chat with him as well : a very down to earth and pleasant guy.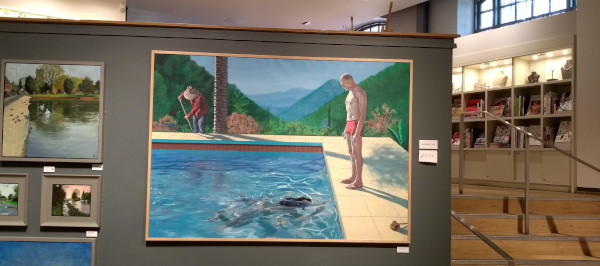 Like Mark McLaughlin, Cobley's an artist I have noticed in the past, liking his work and technique. Seeing them all together in one show was a great chance to have a proper look. The photograph above shows a work he was auctioning: an obvious homage to a very famous Hockney painting. A very good painting in its own right.
Hockney's painting Portrait of an Artist was sold at auction in 2018 for over $90 million, the most moeny ever made for a work by a living artist.
One of the pictures I really liked of his before was something called "Wordplay", I think shown at the Royal Society of Portrait Artists show earlier this year :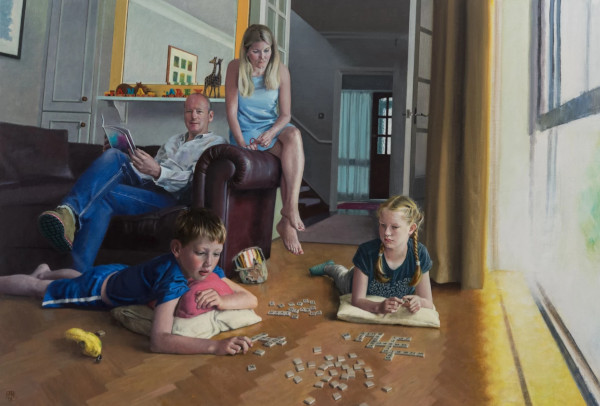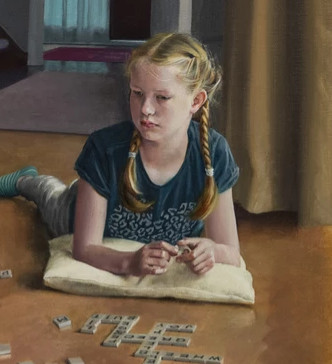 Above: Wordplay, oil, 76x112cm (detail right)
I imagine a very successful commission here. What I particularly liked was the expression on the girl's face as she watched her brother at work.
Cobley's web site showcases his work and it will be clear that he has a wide array of subject matter, and much imagination. Some very quirky stuff but all painted very well.
Below: Bandwagon To Oblivion, oil, 117 x 213.5 cm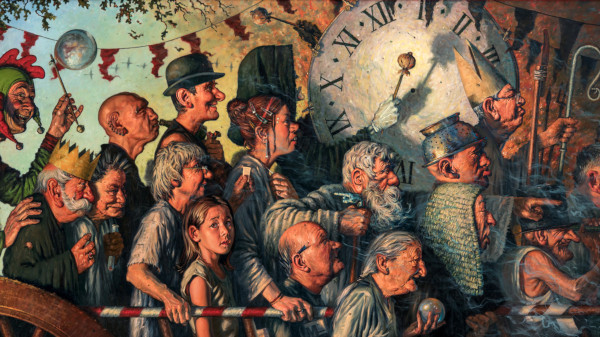 Wed, 09 Oct 2019
Light and Dark
I wanted to hop onto the computer and get back in the swing of the occasional blog post. A post on the Jackson's Art blog prodded me to do it today : an interview with artist Mark McLaughlin.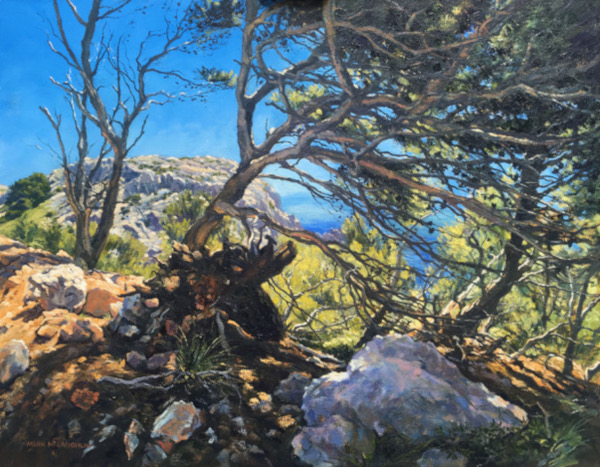 He's based not far from where I used to live in South London (Camberwell) and he's an artist I've noticed a few times, coming across paintings in the Mall Galleries mainly. He's very strong on the contrast of dark and light, with dark shadows often almost black. The paintings displayed in the linked interview are beautiful, and I'd love to see them in real life.
Tue, 08 Oct 2019
Hello Edinburgh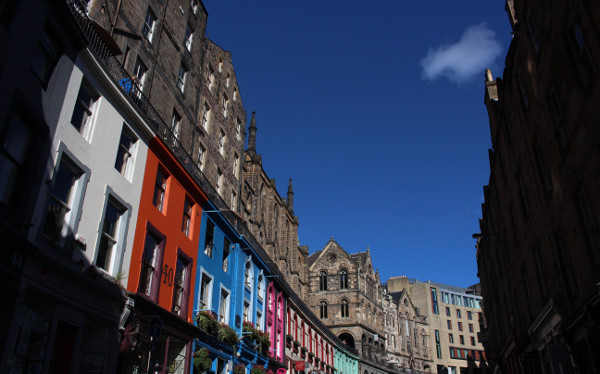 Now time to explore Edinburgh, starting from my base in Stockbridge, a lovely and central part of the city. There's plenty of life and a vibrancy to the area. Being by the river (Water of Leith) and a short walk to Inverleith Park and the Botanic Gardens, it's also possible to disappear into an almost rural setting, away from noise and cars. I feel this is a more liveable and walkable city than London; a lot smaller of course, but this is the reason for its attraction now. Not all upside: it's at the bottom of a hill, so I tend to get a work-out before I get to the gym (by bike) for my real work-out. Edinburgh's built on hills but at least it's downhill coming back! I've also been lucky with the weather so far. I'm to get settled and hopefully blog a bit more again.
Tue, 10 Sep 2019
Goodbye London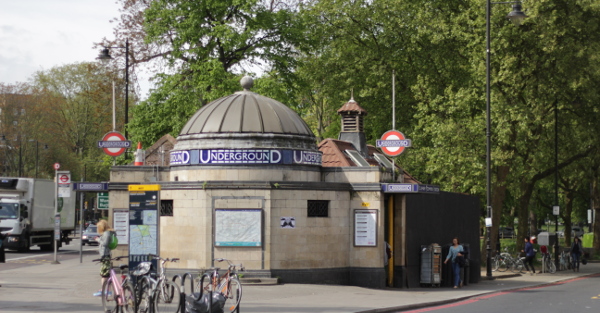 A few months ago, looking both backwards and forwards in my life, I decided that it was time for a change, and quite a large one. Not only leaving my job but also leaving London. I've known London since I was a boy, and lived here for thirty years, seeing many changes, good and bad. I'll miss many aspects of life down here, not least the cultural, and I've had some great times. I've decided to move back to Edinburgh, a place I know well and where I went to school and university. It also has many cultural attractions. I'm sad to leave but excited also to start a new chapter in a beautiful city.
Sun, 16 Jun 2019
Van Gogh in Britain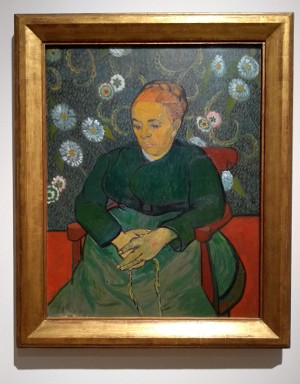 A second visit to the Van Gogh and Britain exhibition at the Tate. My first visit was a month or so ago, but not an entirely happy experience: too busy. This time was much better: still busy but at least I could get a proper look at the paintings and displays.
Left: Augustine Roulin (Rocking a Cradle), Oil on Canvas, Arles March 1889
I initially thought that the British connection was a little strained, but second time around I can see that there was a stronger link than I saw at first. This is shown in Van Gogh's letters, books, pictures and prints he owned. The curators have mixed in a lot of period media, including prints and literary sources (like Dickens).
I particularly liked the Gustav Doré prints, and Van Gogh's copy of one of them showing the exercise yard inside of Newgate Prison :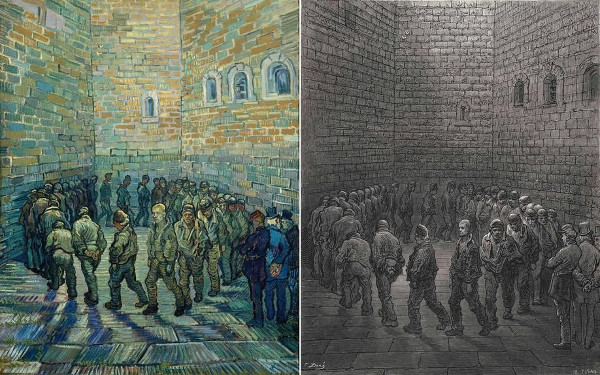 In the end, who can quibble with seeing Van Gogh paintings you've not seen before? On top of this, we are also shown art works with a debt to the Dutch master, including some lovely Peploe paintings.
Mon, 27 May 2019
Sorolla in the Sun

I've been to the Sorolla exhibition at the National Gallery a few times now (four?), including the warm and sunny Easter bank holiday last month. A perfect show for the weather because the paintings are bright and sunny as well; some wonderful work. I had never heard of Spanish artist Joaquín Sorolla y Bastida until the gallery started to trail this exhibition last year, using a painting (Sewing the Sail, 1896. Detail above) that immediately grabbed my attention.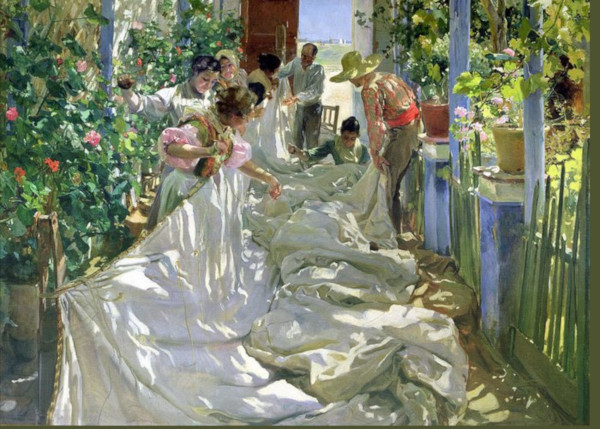 He can really paint: in the grand style of a John Singer Sargent and also an almost impressionistic capture of movement, light and colour. Some paintings have a very bold use of light and shadow; consider "Packaging Raisins" :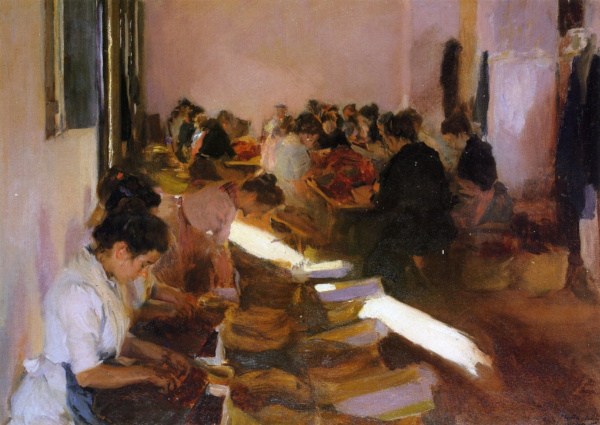 In some of his pictures the paint is spread in a very rough and thick impasto style: thick paint and large brushstrokes, surprising to see. Not an impressionist by any means but a modern painter, with some large canvases almost approaching abstraction. It's a shame we don't seem to have any of his work in this country, at least in public. I think he ranks with the greats.
Mon, 13 May 2019
Portraits 2019
Another year and another visit to the Mall Galleries for the 2019 Royal Society of Portrait Painters exhibition. There are a lot of really stunning paintings on display and the show is well worth a visit.
Below is some detail from a painting Floating Life No 2 by Jie Cai. The realism and level of detail is truly astonishing: the painting of the bubbles is beautifully done. I think bravura is the word.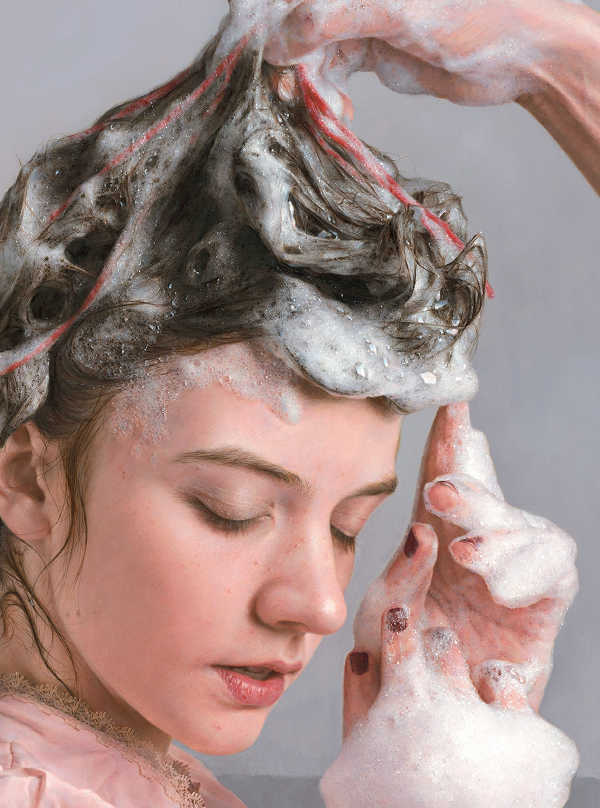 All the pictures can be seen here. As I say, some amazing works as usual. More this year I think.
Thu, 18 Apr 2019
Looking for Rembrandt

As well as visiting a famous museum to look at Rembrandt prints, I caught the first program (of two) the BBC have produced called Looking for Rembrandt. This is one of those productions that make the BBC so good, and the license fee worthwhile. It tells the life of the artist in his own words, with a backdrop of Leiden and Amsterdam, talking to curators, collectors and archivists. Wonderful and moving. I've yet to see the second program but look forward to it.
Sun, 14 Apr 2019
Angst in Oslo, Paris, Berlin

Angst and anxiety really came of age in the Nineteenth Century: the age of Nietzsche, Freud and Marx, as well as nihilism, anarchism and nationalism. A lot of "isms" and various pathologies we still live with today. The Norwegian apostles were Ibsen and Munch, two artists who stripped away a middle-class veneer of respectability and exposed something darker or lonelier underneath.
The British Museum has a very good exploration of the art of Edvard Munch just now, with a large number of his famous and less familiar prints, most from the Munch Museum in Oslo. Striking, spartan and often troubling, they seem to portend the cataclysms building up inside Europe, ready to explode in 1914.
Below: Woman with Red Hair and Green Eyes: Sin,1902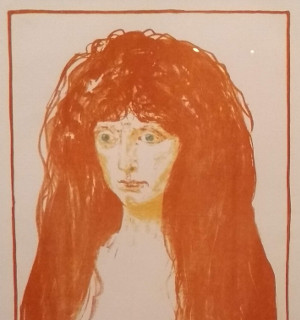 More Print Mastery
In Room 90, the Museum's print and drawing gallery, an exhibition of prints (and a few drawings) from Rembrandt, a master print maker as well. The prints are beautiful, but there is also a story in their creation and the techniques used. Drypoint and etching are two methods, with the print having various stages of production. A technical as well as artistic process, I would like to know more. I think watching the process would help.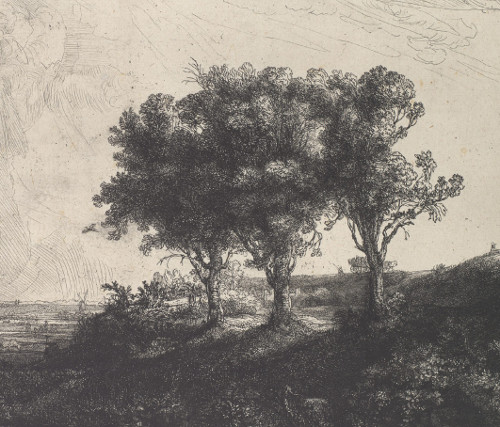 Not only Rembrandt: also in Room 90 is a small exhibition of Symbolist prints, some a good complement to the Munch show downstairs.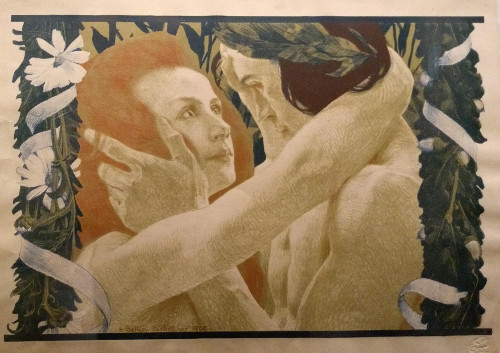 Room 90 is a gem, slightly hidden away at the top of the rear of the museum. It has had some wonderful displays over the past few years and its slight remoteness means it is a bit quieter and therefore a more pleasant place to be. Crowds are getting larger.
Sun, 27 Jan 2019
Golden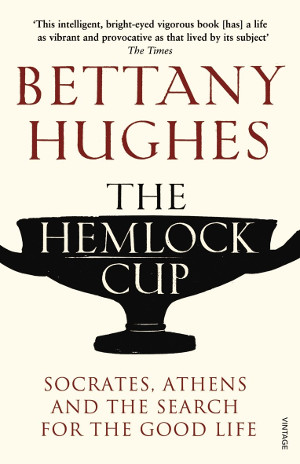 The Hemlock Cup
By Bettany Hughes
Score: 5/5
Bettany Hughes has written an excellent book about the tumultous, calamitous and glorious Athenian 5th Century BC "Golden Age". The age of Socrates, Euripides, the Parthenon, the Persian invasion and defeat by the Athenian and Spartan alliance, the flowering of new intellectual fields and the new experiment in "people power": demokratia.
What gives Hughes' book its power though is the way she doesn't shy away from describing the dark side of the Athenian century; and the dark side was terrible indeed.
I learned a lot reading this book and that has really enhanced my understanding of this period and place in our history.
A Cathedral Visit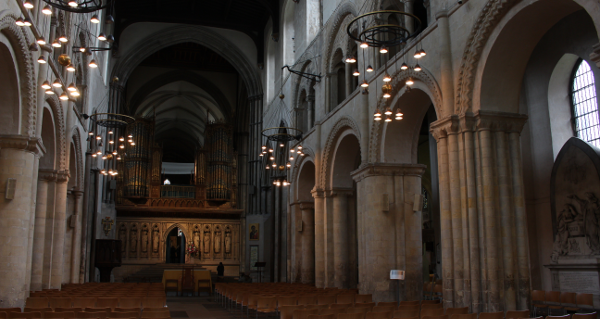 A visit to Rochester in Kent on Saturday led to an unexpected artistic discovery.
I knew the Cathedral was very old but didn't know it was the second oldest in the country after Canterbury. Founded in 604, by the Saxon King Ethelbert and Bishop Justus, it has had a number of rebuildings and contains Romanesque, Norman and Gothic architecture. The Lady Chapel is Tudor. A very impressive building. We were lucky to have a guide to show us around the place, starting off with some of the medieval graffiti.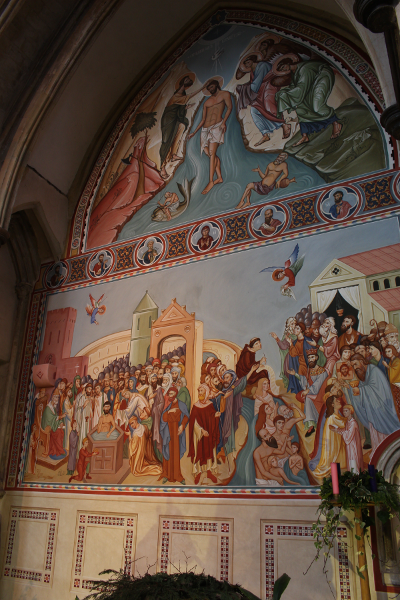 Right at the end of the tour, we were shown a new addition to the building: a wonderful fresco by the Russian artist Sergey Fyodorov. Large and beautiful, finished in 2004, it shows the baptisms of Christ, King Ethelbert and the Saxons in the River Medway This was completely unexpected. It is the first fresco in an English cathedral in 800 years. As you would expect from an artist called Fyodorov, it has a very Russian orthodox look (he is an icon painter). One of the things I noticed (and was even mentioned by the guide) was the lack of any smiles in the work! Beautiful nontheless.
More pictures and description of the fresco on the Kent Yesterday and Today blog.
I should also mention a great little cafe in the Cathedral Crypt. A lovely tranquil place compared to the Saturday crowds queing for a coffee on the high street.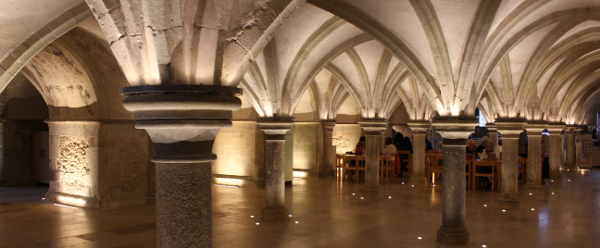 As the guide explained, a fresco is different to a mural. A fresco becomes part of the wall it is painted on because it is painted on wet plaster, and seeps into the plaster itself and dries. A mural decorates a dry wall with paint.
Sun, 06 Jan 2019
A New Year
Well, it's 2019, so a Happy New Year to everyone. Except the bastards that stole my bike yesterday!
This is the second Brompton I've had stolen now. After the first, I bought a much better lock (Kryptonite New York Fahgettaboudit) but obviously not good enough :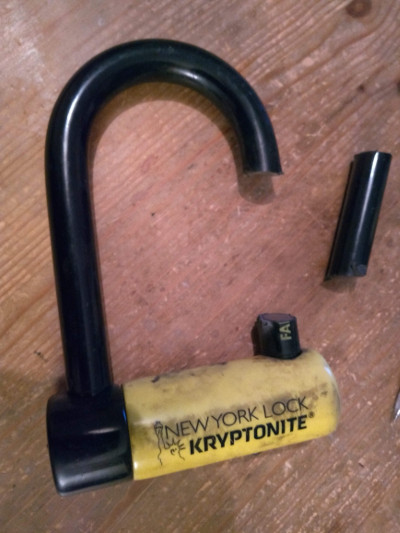 This was locked at the bike rails at the North West side of Cavendish Square, opposite the back entrance to the Oxford Street John Lewis. About 11 am and left for about 40 minutes, returned to find the lock cleanly sliced and no bike. Basically, I don't think it's safe, period, to lock a Brompton up outside. A busy area as well, with lots of cars, a taxi rank opposite and people around.
2018 was not a great year for me for various reasons. Apart from the bad start to 2019, I'm hoping 2019 will be better. So, staying positive!