Sun, 02 Apr 2017
Peach Blossom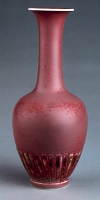 The British Museum has a world class collection of Chinese ceramics, the Sir Percival David Collection. Even I, almost completely ignorant of this art and craft, could see how good some of the pieces are. This vase was one small item that took my interest because of its very subtle painting and glazing. This is a Vase with 'peach-bloom' glaze and the museum has a page about it here. Qing dynasty, 1662-1722.
This innovative glaze was technically challenging. Potters covered the vase with a layer of clear glaze, followed by a layer of copper-rich pigment, possibly blown on, and added further layers of clear glaze on top. When fired in a reducing atmosphere, this sandwiched colour developed into soft mottled red and pink with flecks of moss-green.
I took a slightly less well composed and lit photograph of it and thought I'd try doing a painting.
Below:
Peach Blossom
, oil, 6x8"