Thu, 09 Mar 2017
Big Colour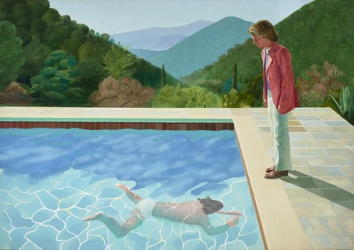 Portrait of an Artist (Pool with Two Figures)
, 1972
I went to the Tate Britain Hockney show, a retrospective of his work from his early art school days to his recent works on tablet. From its first announcement last year, this was going to be a very popular show.
As I've mentioned before, I've come to like his work a lot, his newer works in particular. These are often very large, very colourful paintings, sometimes made up of multiple canvases placed side by side. I think his Yorkshire woods and hills are wonderful, and his big Grand Canyon pictures amazing. He's getting on now (almost 80) but showing no signs of slowing down. Extremely prolific, he can knock them out: and long may he do so.
Back in 2014, I suggested this might be his golden age. Looking back now, I think I was right. I also think he's still at a peak.
Below: The Road Across the Wolds, 1997, Oil.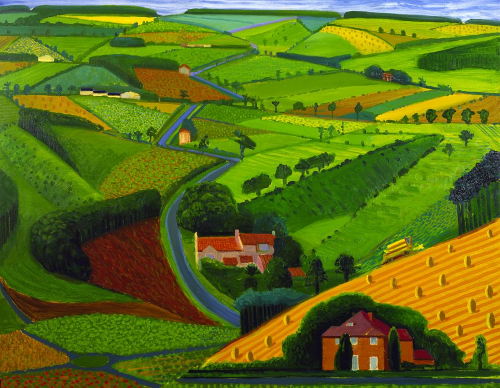 Below:May Blossom on the Roman Road, 2009, Oil.

Below:9 Studies for the Grand Canyon, 1998, Oil.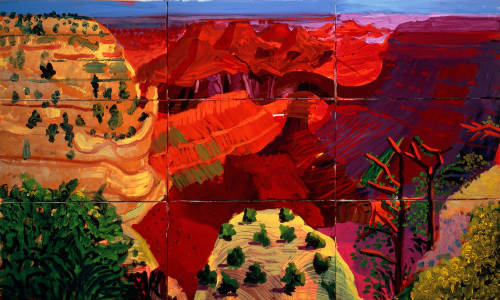 A recent BBC documentary (BBC iPlayer) has one of his artist friends mention that Hockney was playing with the colour knob of his recently bought colour TV and cranking it right up: You can have it Fauvist if you want, he said.
It's ironic that, having spoken about his bright colours and these being such a big part of the impact many of his works have, I found that some smaller, black and white drawings he made are so powerful. These Arrival of Spring drawings are arranged in rows on the wall and I found them to be a highlight of the exhibition.
Below:Drawings of the Arrival of Spring

Below:The Arrival of Spring, Charcoal, 2013.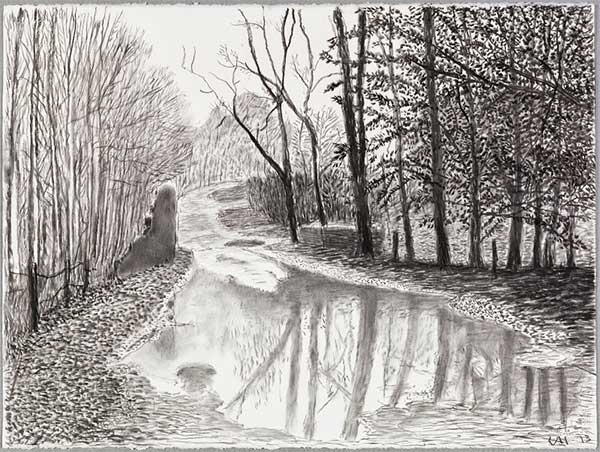 Below:The Arrival of Spring, Charcoal, 2013.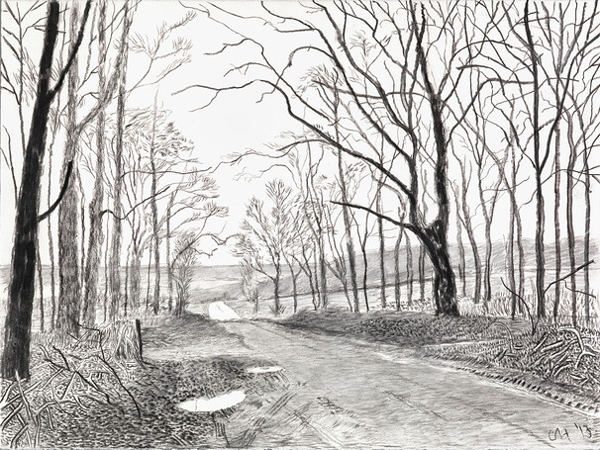 One could go on about him a bit now because he really has become a bit of an icon, a "national treasure" even and a lot of people love what he does. He is as articulate in words as he is in paint, and perhaps the greatest living artist. I hope he keeps going as long as he can.