Fri, 06 Jan 2017
Location Location Location
A post on Thrillist (as linked on Ann Althouse's blog) is about a bubble in the US restaurant market that might be about to pop. It mentions some problems of running a business and made me think of many bits of London, and in particular Soho.
There's a Massive Restaurant Industry Bubble, and It's About to Burst
In the restaurant world, rent always sucks. Unless you manage to play it perfectly, as a restaurant owner you're either moving into a sketchy or "emerging" neighborhood where the rent is cheap but few want to go there, or you're overpaying for an established 'hood and need to be a runaway success from day one. And even if you do manage to make it in the former type of neighborhood, your success often ends up pricing you out of the 'hood you helped revitalize.
In Miami, Michelle Bernstein's Cena by Michy helped rebirth the MiMo historic district but was forced to close this year, after the landlord attempted to triple the rent. And even Danny Meyer had to close and move Union Square Cafe in New York, which, since 1985, had served as one of America's culinary landmarks, when he couldn't rationalize paying the huge rent hike the landlord proposed.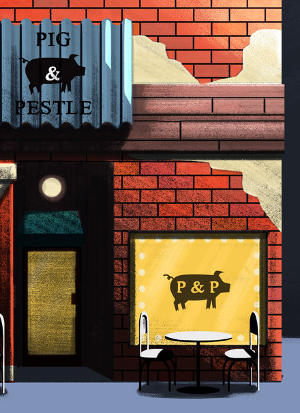 Rent (and rates) is just one of the problems but it's a big one, and affecting a lot of people in London as well. This seems to be especially true around an area like Soho, which has been "improving" for years now, cleaned up and much shinier than it used to be. A glut of new restaurants, food and coffee places come and go regularly, and I often wonder when "peak" food will hit. The rent has exploded as well and forced a lot of closure, or relocation. There is still so much new building and renovation going on and coming online; who is affording all this?