Thu, 05 May 2016
Cadmus Marries Harmony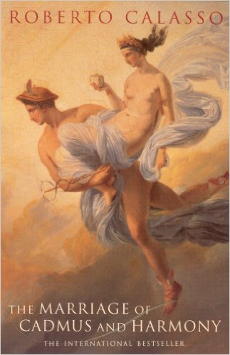 The Marriage of Cadmus and Harmony
By Roberto Calasso
These things never happened, but are always.
Sallust. Of Gods and of the World
But how did it all begin? On a beach in Sidon, Europa is enchanted by a bull.
Calasso's book is one of the most beautifully written, and most poetic prose books I've read. He tells the various intersecting stories of the Greek Olympian Gods in a way that brings a fresh perspective on their lives and loves. These stories of Gods, Goddesses, Titans, Heroes and Humans are from a long lost world before history started.
We shouldn't be to concerned about having lost many of the secrets of the myths, although we must learn to sense their absence, the vastness of what remains undeciphered.
This is a wonderful book but on my second reading, I had forgotten about how impenetrable some of it was. Beautiful to read, but sometimes difficult to understand. With that said, the attempt and the journey through the words are always rewarding though.
I only noticed this second time that the translator is Tim Parks, a British writer living in Italy. I've read and liked him in the past. The poetry of the Marriage of Cadmus and Harmony must also be down to Parks' great translation.