Fri, 15 Aug 2014
Tom Keating on Painters
Their perspectives on art were as disparate as their backgrounds. "Although Renoir's first impulse to paint came from an almost naïve sensuous delight," Clark wrote in the Burlington Magazine, "he never imagined that the mere representation of agreeable objects was the end of painting." Keating begged to differ. "He loved young girls," Keating told TV viewers. "Don't we all?"
The above quote is from Jonathon Keats in Forbes comparing Keating's outlook on art to someone like Kenneth Clark (Baron Clark), of Civilisation fame. Tom Keating, the famous art forger, was pretty down to earth, one of the reasons people liked him.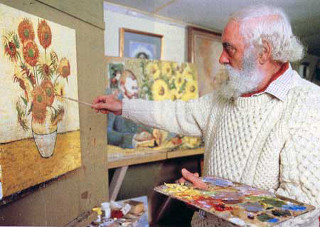 Keating died over thirty years ago but before he died he recorded a short series of TV programs for Channel4 called "Tom Keating on Painters". I think we are very lucky that he did these, and luckier that most have been uploaded to YouTube because they're fantastic programs for those interested in the techniques of the old masters.
The uploaded videos look like VHS quality, so not great. They also have poor audio (I need to crank the volume quite high) and bad subtitling unfortunately.
Leaving aside the transfer quality, what comes through is his enormous depth of knowledge on how these painters worked, often an extremely laborious process hardly used at all anymore (and with the knowledge increasingly lost). He knows what he's talking about and talks about it with great wit as well.
It's amazing how bad the paintings he does look at some stages, before clearing and becoming recognisable. At some points, it seems hard to believe the artist can recover the work having seemingly destroyed it!
A couple of good articles by Jonathon Keats describe his life and work (apologies for the poor interface in these pages) :
And the YouTube videos :