Sun, 26 Jan 2014
New Tate Britain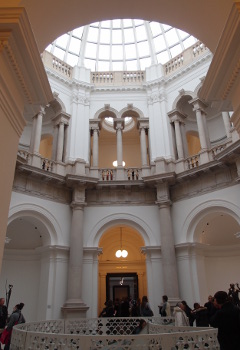 I had to fit some new brake pads on the bike at the weekend and to test them I went out for a ride. So down to Millbank to have a look in Tate Britain. I knew there had been some changes recently.
New brake pads: what a difference they make! I should definitely fit them earlier in the future. One of the four I replaced was almost bare metal ...
The Tate has recently re-opened a lot of new and renovated areas, including its rotunda and staircase. It's a beautiful and light space at the front. The gallery also feels larger (it's always seemed much bigger on the inside) and shows more of its art. A really great improvement to a great gallery. The Whistler resturant downstairs (named for the murals created by artist Rex Whistler) also looked very stylish and swanky (from the outside). Must visit!
I took some pictures. This is another big positive at the Tate: pictures are allowed and no one's bothering you about having a backpack on your back, unlike other galleries.
Atkinson Grimshaw, Liverpool Quay by Moonlight, 1887 (link) :