Sun, 15 Dec 2013
Whistler at Dulwich

A few weeks ago, I bought a National Art Pass. This gives me a discount on the price of entry of a lot of art galleries and museums and over the course of a year, the £40 it cost me will be worthwhile in savings. It also contributes to the work they do saving and restoring art.
I used the pass for the first time visiting the Dulwich Picture Gallery for their exhibition Whistler and the Thames.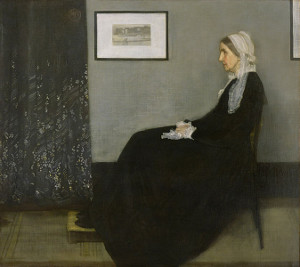 James Abbott McNeill Whistler was an American artist who worked mainly in London during the middle and late part of the 19th Century.
I'm not very familiar with his work other than his most famous painting Arrangement in Grey and Black No.1, colloquially known as Whistler's Mother (see opposite). A great painting I think, with its subdued, almost monochromatic tones and good composition. I also appreciated his titling skills. Note: not exhibited at the gallery.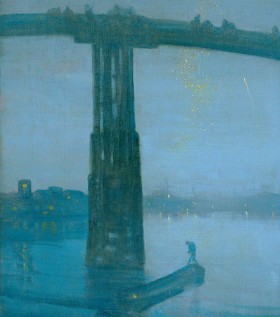 A painting that was exhibited is on the left. Nocturne: Blue and Gold - Old Battersea Bridge (1872) is a picture more interested in form and colour than any realistic image of a bridge and there's a real atmosphere to it. The Nocturnes are amongst his most famous paintings and one of the best parts of the exhibition.
However, most of the show was of his etchings and lithographs of the river environment. Although of some interest, especially the historical interest of a river side changing dramatically, this work was of much lesser impact than something like a large Nocturne painting.
So not a bad exhibition but not as good as I had hoped: too many drawings and too little nocturne. Many of the paintings that were shown struck me as a little dull, both in subject and execution. Whistler has some great paintings in his canon but I'll have to keep an eye open for them in the future rather than find too many in Dulwich just now.