Sun, 17 Jul 2011
In Our Time - My Favourite Program
I mentioned the BBC Radio 4 program In Our Time in the post about my visit to Lambeth Palace.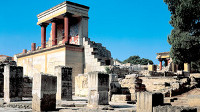 A lot of BBC journalists were striking this Thursday and this impacted a few BBC radio programs (e.g. the Today program was off the air). So, when the podcast of the latest episode of Melvyn Bragg's intellectual chat show failed to appear, I assumed it was due to this industrial action. It turns out that the show is just having a break until later this year.
If you like an informed conversation between people with a good knowledge of the subject, then this is the best discussion program on radio. Perhaps the best anywhere. Melvyn Bragg manages to ask good questions, gets out of the way and gives people the room and time to speak. The subject can be anything from ancient history to modern physics.
In an age where the level of discourse often sinks very low, this type of programme is an endangered species.
Samples :
See the complete archives.