Wed, 06 Jul 2011
X220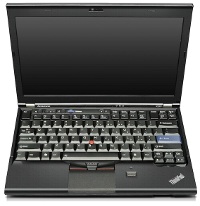 So, I bought a new laptop. It's a Lenovo X220 Thinkpad and a pretty nice machine. An Intel Core i7, 8 GB RAM and a great keyboard. A shame it's got a touchpad since I only use the trackpad (like on my X60s): I disabled the touchpad in the BIOS.
I initially tried to install Debian Stable (Squeeze) on the machine, but the display resolution was wrong because X wasn't new enough. So, I installed Debian Testing and ran with this for a few days. Mostly OK but at least one solid lock-up a day and no error reports in systlog or Xorg.log.
This is very new hardware, and from scanning Phoronix (for example), I know a lot of Intel DRM work (both driver and kernel) is ongoing. So I downloaded Linux 3.0 (rc4, then rc5) and made a kernel package in the Debian way :
cp /boot/config-2.6.39-2-amd64 .config
make menuconfig
make kpkg clean
make-kpkg --initrd --append-to-version=hecate --revision=01 kernel_image
So far, so good. No nore lockups.
The display's great (crisp and bright)
Keyboard's very good, as usual
Suspend to RAM and disk works
Audio works
WIFI works
Webcam works