Sun, 29 Mar 2015
Experiments in Paint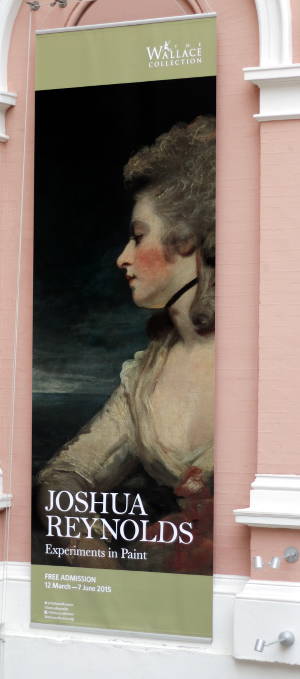 I've never been a great admirer of Sir Joshua Reynolds, the 18th Century English painter/portraitist, and first president of the newly created Royal Academy. A look around the small exhibition of his work at the Wallace Collection has made me somewhat more sympathetic though.
His paintings often appeared a bit flat, or "dead" to me. I knew his work is well-known as being badly affected by time, deteriorating a lot over the years, but I had not realised that a lot of this was due to his experimentation with the medium. Oil painting is sometimes as much a science as an art, hence the experimentation. It's also another reason many people find oils hard to use.
Some of the pictures are very good but sadly quite faded. Still, there is some beauty here and this (free) show is worth a visit to the superb Wallace Collection to see.
A few pictures I took below, including : a Reynolds self-portrait (downloaded, no photography in the exhibition), some Greek nymphs, a lovely French 18th Century weather gauge ("Beau Temps"?), Pluto abducting Proserpine, The Lace Maker by Caspar Netscher and finally, Madame de Pompadour by François Boucher.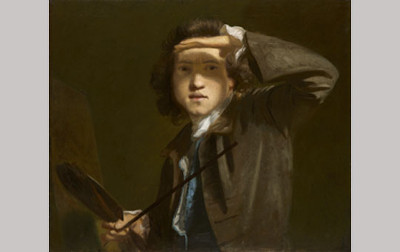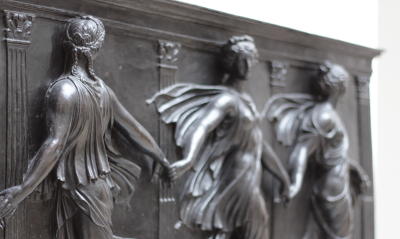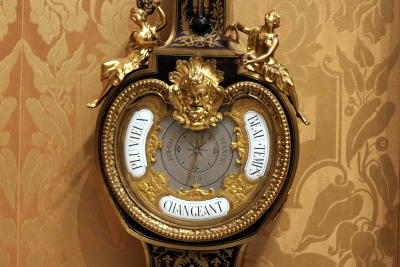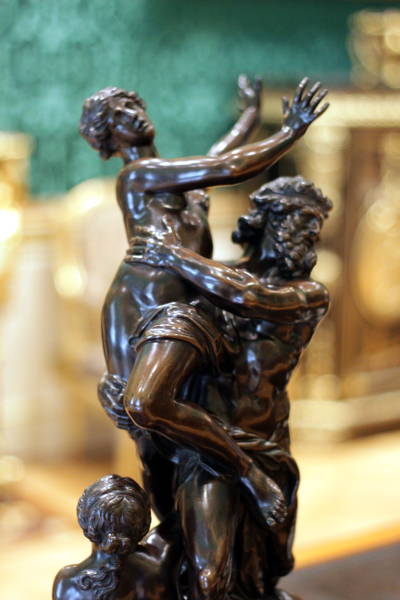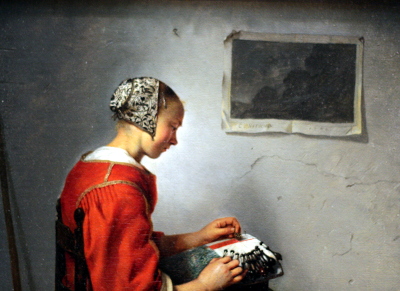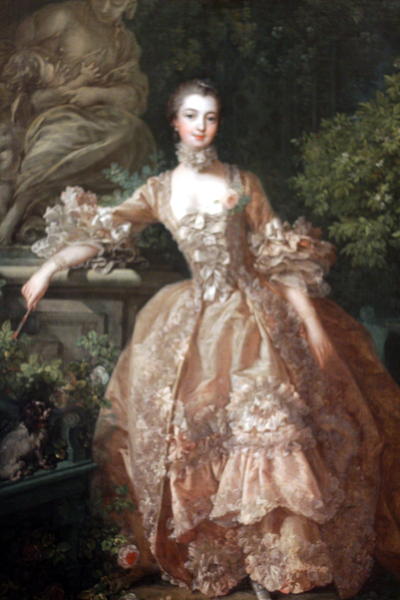 Wed, 25 Mar 2015
Hell Defiled
Matthew Paris, the great medieval chronicler did not think very highly of King John, the English King whose bad behaviour was the catalyst for Magna Carta :
With John's foul deeds England's whole realm is stinking - Hell itself is defiled by the foul presence of John
The new exhibition at The British Library, Magna Carta: Law, Liberty, Legacy takes us through the various ways John was a bad King before following the legacy of this document over the years, from the English Civil War, to the American War of Independence and finally our own troubled times.
If you like medieval manuscripts, the first two rooms are worth waiting for. The actual documents themselves are hard to decipher, impossible if you don't know your latin, but being so close to them is much better than any digital reproduction. On top of the language difficulties however, the writing is often tiny. They must have had good eye sight in the 13th Century.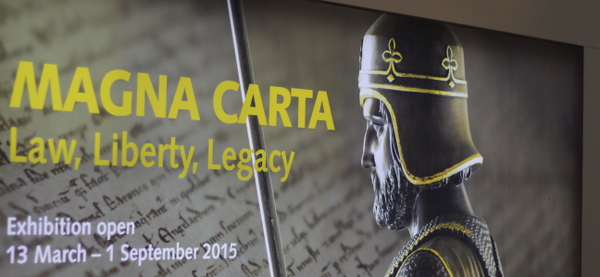 If you want a short introduction to Magna Carta and its history, the British Library has a good introduction. The "Great Charter" is not unique, and was not the first such document between a monarch and his subjects, but its fame rests on the way it was held up and used in the centuries afterwards. It was important in the transition from the "Kings Law" to the "Common Law", codifying some of the things we take for granted today, such as trial by a jury of peers and no arbitary detention.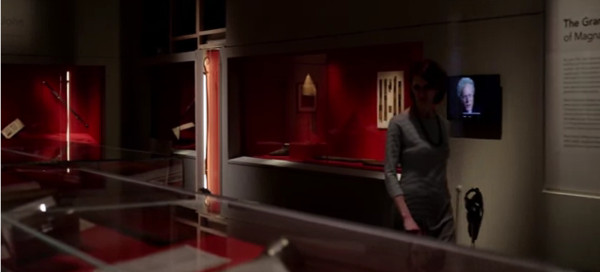 Magna Carta is still a rallying cry, and that's a good thing.
Wed, 11 Mar 2015
Doña Isabel de Porcel
Speaking of Goya, this is one of my favourite paintings.
Doña Isabel de Porcel
before 1805, Francisco de Goya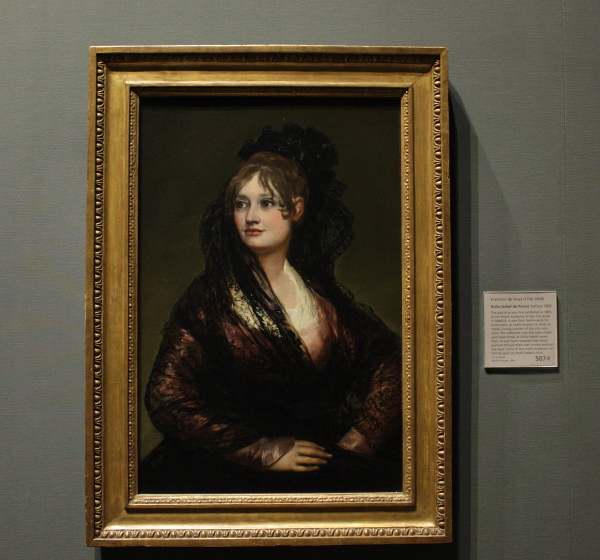 A long time ago, when I first tried my hand at painting in oils, I think I tried to copy this picture. A moment of hubris. I gave up my oil painting attempts quite quickly in fact, and the copy wasn't great as far as I remember. I love the Goya painting though, even though the subject matter is fairly routine in portraiture. There's a vibrancy about her I think and she looks alive.
More about the painting here.
Mon, 09 Mar 2015
Horse of the Apocalypse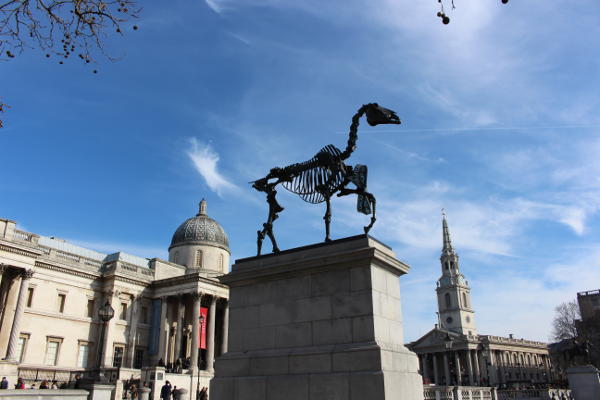 London's still toying with the idea of fixing the Fourth Plinth. For a long time, it's been a blue cockerel and now it's a skeletal horse. I have to say that I missed the :
... implied critique of the relationships between power, money, art, privilege and history
I quite like the new plinth for a change.
Sun, 08 Mar 2015
Dark, Very Black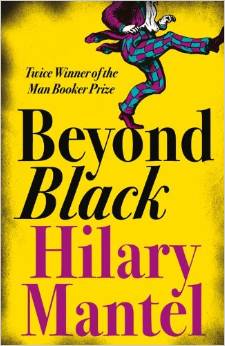 Beyond Black
by Hilary Mantel
True to its title, this is a dark book, but also very funny. But as well as containing well observed comment, great characters and a look at the often mundane nature of life, even for those on the "psychic circuit", there's a lot to unsettle. A ghost story should have a bit of a bite. It's also another beautifully written Mantel novel.
The two main characters are Alison, a psychic, with more than just body problems (she's very large) and her "assistant" Colette, sharp, cold and known as "the monster" at school. Alison Hart had a very murky and extremely painful and brutal childhood, something recollected in snatches throughout the book. A bad past that haunts her present in a literal way, and seems to be getting worse. People can be kind, nasty, maudlin and very cruel. Even when dead.
Very funny, but also very painful to read sometimes. A good book and highly recommended.
Tue, 03 Mar 2015
Grotesques
Goya, at The Courtauld

This small, two room exhibition of Francisco Goya drawings shows his fantastical side. Dozens of small pencil and ink drawings (and some lithographs) are brought together at The Courtauld under the title : The Witches and Old Women Album.
Done for his own amusement, no commissions here, they are uniquely "Goya". Perhaps his most famous drawing in this vein is El sueño de la razón produce monstruos :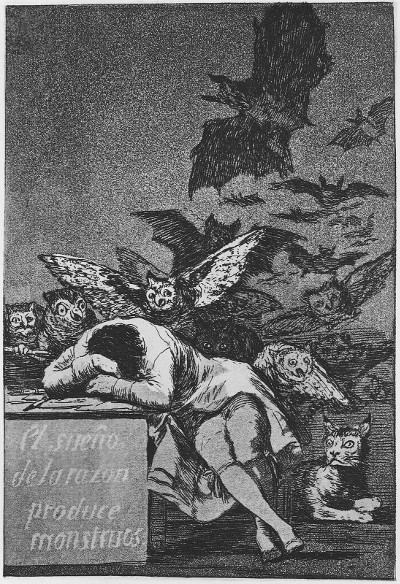 This picture has been much discussed and analysed, with it usually considered as meaning that the absence of reason results in bad things happening. I recently came across a contrary view however, by "Spengler" (David Goldman), a conservative, Jewish commentator, who writes :
Francisco Goya's 1799 etching "El sueño de la razón produce monstruos" usually is mistranslated as "the sleep of reason produces monsters." The word sueño typically (and clearly in this context) means "dream." The mistranslation implies that monsters emerge when reason ceases to be vigilant; what Goya meant, rather, is that "monsters are what reason dreams about."
This is an anti-enlightenment, anti-revolutionary viewpoint, in opposition to the often anti-religious currency common today, and born of the French Revolution. Without Goya around to tell us, it is difficult to know what he meant for certain. However, as human beings, we know that we can produce monsters whether we are reasonable or not (as John Gray would point out).
The drawings on display in this exhibition are of a similar, nightmarish vein. An obsession with age, death and horror. Some quite grotesque, many odd. Quite a strange artist.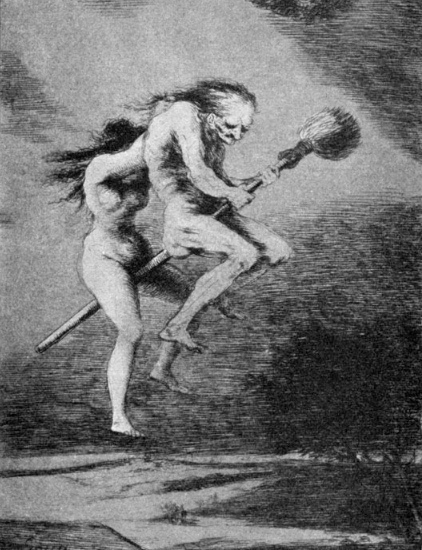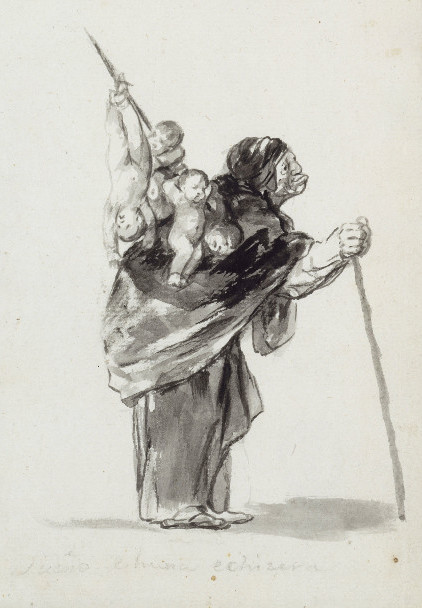 Sun, 22 Feb 2015
Sargent in his Studio
This is a photograph of John Singer Sargent in his studio in Paris :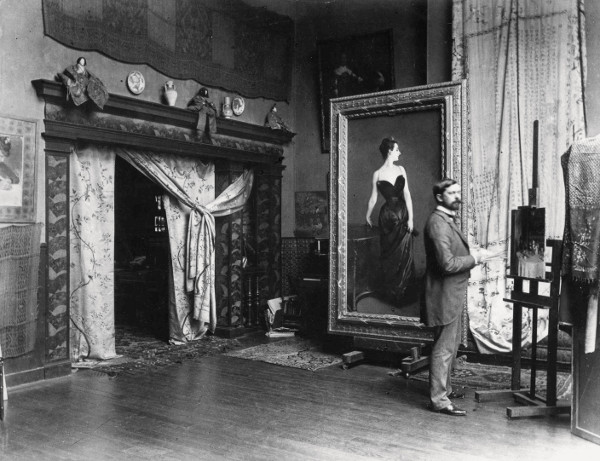 The year is 1884.
If you visit the Artfund website, the photograph has "hot spots" overlaid on top. If you hover over the picture, you can click a "hot spot" and read something about things you can see e.g. the Japanese dolls on the shelf above the fireplace. See them?
The large painting behind him became notorious and the cause (partly at least) of him leaving Paris for London. This painting is called Madame X :
Sargent's famously controversial painting.
Read why, and more, at the Artfund site.
Wed, 18 Feb 2015
Sargent at the NPG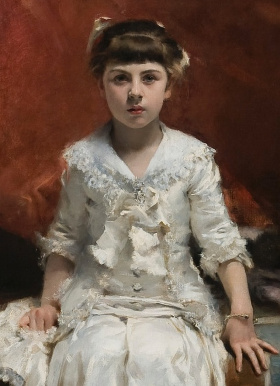 The John Singer Sargent exhibition at the National Portait Gallery is very good. So good, I suspect I'll visit again, like I did with the recent Rembrandt show.
Sargent, an American expat born in Italy, mostly worked in Europe and moved in the highest society circles. He's most well known for his portraits of high society, but also incuding other artists (including Rodin and Monet), writers, poets and actors. Very prolific, he is truly a master painter, very gifted. Beautiful and awe-inspiring work.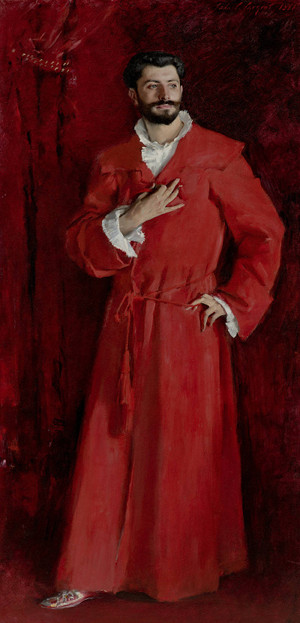 Samuel Jean Pozzi was a famous Parisian gynecologist, and bit of a dandy, although a skilled surgeon. From wikipedia :
Due to his handsome appearance and cultured demeanor, other pupils nicknamed him The Siren.
Sargent depicts him in his dressing gown but looking very much like a Cardinal of the church. The painting is large, a life size person and towers over you.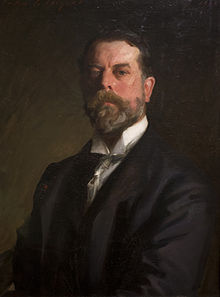 One of his most famous paintings is Carnation, Lily, Lily, Rose, which usually hangs at the Tate.
In 1885, while Sargent was on a boating trip on the Thames, he saw what he described as a "paradisiac sight": two little girls lighting paper lanterns at dusk in a garden planted with roses. This vision was the direct inspiration for this picture, painted during the late summer and autumn of 1885 and 1886 in Broadway, Worcestershire.
A beautiful painting and one of the Tate's most popular :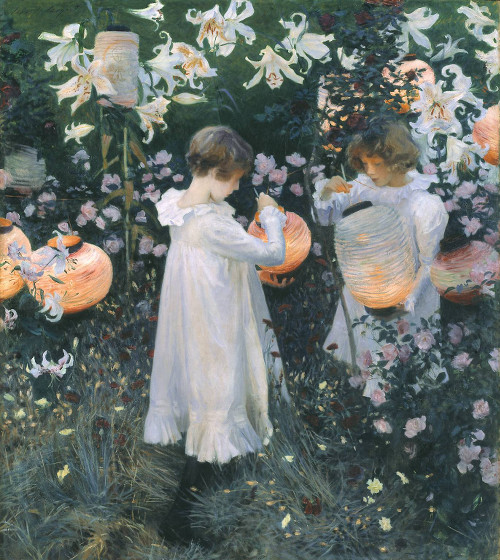 Last time I was at the Tate, it wasn't hanging (due to the Sargent show preparations probably) and a little girl visiting with her father was very disappointed.
Fri, 30 Jan 2015
Being Human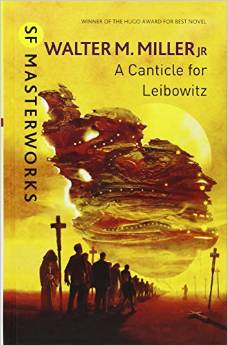 A Canticle for Leibowitz
By
Walter M. Miller
Miller saw war and the dawn of the nuclear age first hand. He signed up to the US Army at the start of the Second World War and took part in bombing missions over Europe, as a tail gunner. Perhaps his role in the destruction of the famous Benedictine monastery at Monte Cassino played a part in the genesis of his great novel A Canticle for Leibowitz. The bombs that exploded over Japan made the threat of a nuclear armageddon clear.
I've known of this book and how highly it was regarded for a long time. Having finally got round to reading it, It's not what I expected, but much better for that. It deserves its "masterwork" label and its awards.
The monks of the Albertian Order of Leibowitz safeguard and transmit knowledge down the ages like the Medieval monks of the past for us. Not always aware of the meaning of the artifacts in their care, they understand how important it is to keep the flame of knowledge burning, so one day humankind can rebuild the world after the cataclysm of nuclear war (the so-called "Flame Deluge").
The novel is in three parts, each separated by (possibly) hundreds of years as the monks see the world slowly start rebuilding and growing, coming to resemble the world of before finally. Each age shows many changes over the previous but the question at hand is how changed are we?
Miller is good describing the tension between science and religion and it's refreshing to see that both seem to be given a decent hearing. The play of politics, war and human aggrandizement make very uncomfortable bed-fellows with reason and science here though. Miller's religious conviction seems quite clear but not overbearing and his philosophical debate is fascinating and ell written. The latin passages interjected throughout even had me browsing a "Teach Yourself Latin" text book at one point. Such is the life of the church.
Latin is not required to love the book. Moving and poignant, and very memorable.
Thu, 15 Jan 2015
Silver Goblet
This is my version of a Will Kemp Silver Goblet, painted from following a tutorial video.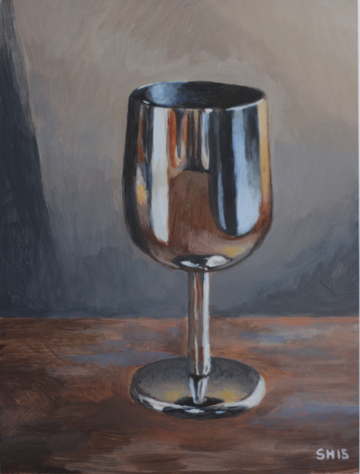 Silver Goblet
Acrylic on board, 2015.
It is also the first painting of 2015 and I'm fairly happy with the way it turned out. Considering I didn't like it at all until very late in the process, a good result. It also proves, once again, you really need a bit of faith to keep going and see things through sometimes.
I painted this on a wooden MDF board, an Ampersand Artist Panel Smooth Primed from Jackson's Art. A very different surface to what I'm used to: very smooth, almost like formica, even with two layers of coloured ground. The paint moved around a bit more than expected, and my rough, spiky no. 6 filbert brush definitely left brushmarks!
I'll use the board again, but perhaps try a canvas textured version. I'm finding it harder to sit down, and sit still, this year so far. Having said that, I still hope to overcome the January deflation and start something new: either another Kemp tutorial, or perhaps something of my own for a change.