Wed, 04 Dec 2013
Brough 2013
In 2011 I visited the Imperial War Museum and saw T.E. lawrence's motorbike, a Brough Superior SS100 from 1932. Great bike.
A few days ago, the Daily Telegraph reported on a new Brough Superior created by Mark Upham, who bought the rights to the name in 2008.
New :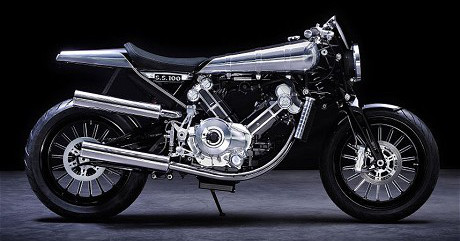 Old :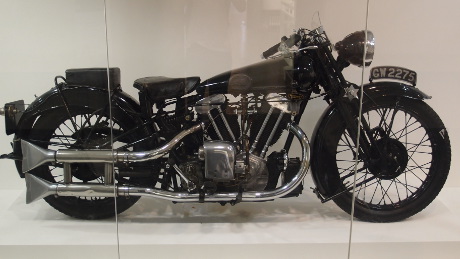 I prefer the old one and it's backend, petrol tank and wheel size but the new model's OK, just a bit expensive at £50,000. I think I'd have to rip out the seat and backend though. I really prefer the "classic" bike style and would buy a Triumph or BSA over a Kawasaki anyday.
Brough's web site.
Sun, 01 Dec 2013
Existence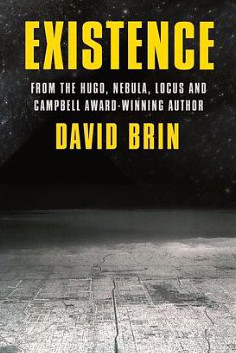 Existence, David Brin.
Existence is a science-fiction book set in the near future. The seas have risen, migration and inequality are big problems, an ultra-rich trilly ("trillionaire") caste inhabit the upper reaches of society and the interconnectedness of everything and everyone is orders of magnitude greater than today. In addition, privacy doesn't exist anymore, for anyone.
That privacy is no more appears to have been the result of a pact with society after a great disaster (referred to as Awfulday), a mechanism to dampen desire for violence and revolution through transparency. Some of the background in the novel is never fully described and has to be picked up through clues.
It's a long book and, in parts, slow. However, pushing through some of the slower and duller sections (earlier) isn't too hard because chapters are often short and it is so full of interesting and sometimes offbeat technology (including AI, massive crowdsourcing, brain/computer interfacing, genetic engineering, virtual realities and others).
The main part of the book concerns the discovery of an alien artifact in Earth orbit, what it is and how it affects us. In large part, a discussion of Fermi's Paradox :
The Fermi Paradox is the apparent contradiction between the high probability extraterrestrial civilizations' existence and the lack of contact with such civilizations.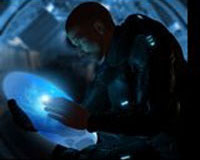 If the universe is so big, and the probability so high that it contains sentient life, where is everyone? This is not an uncommon field of interest to the science-fiction author but Brin manages to add his own interesting take. The later parts of the book set in the asteroid belt with discoveries and chatter very pertinent to this question are superb.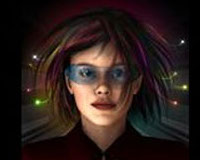 Apart from being set in a very uncertain future world racked by a lot of problems and containing a fair amount of apocalyptic background chat, the book is definitely not downbeat or depressing. Brin's a good writer (although some bits should have been excised) and the overall arc is upbeat and positive, even if one has to be somewhat nervous with some of the potential implications.
I enjoyed the book and will definitely add his Uplift books to my queue.
Brin's Existence site seems to be full of material, including sections of the book and discussion.
Sun, 24 Nov 2013
Listening In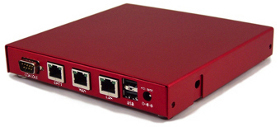 I've never been happy with relying on a cheap ADSL router/modem for firewall security on my home network, but this is what I've been doing for a long time now. How secure is its firmware, does it get updates? Control and configuration is often poor.
Basically, a little "white" box running [1] who knows what.
[1] Usually some version of Linux, often old and perhaps with "patches". Security updates either non-existent or hard to find.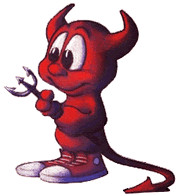 So I bought a cheap but much superior solution from LinITX: an Alix based device running the pfsense firewall.
This runs FreeBSD wrapped up in a very nice web-based GUI to manage a pretty sophisticated firewall/router. A little red box running a known quantity.
What this means in the first instance is I've had to familiarise myself with firewall rules and logs again, something I've not done for a long time (when I used to run one or two Linux firewalls). I've set the box up to be a perimeter device and also plugged in my WIFI as its optional interface. Staring at logs and trying to tweak rules to minimise logs, in some cases scratching my head over odd packets, or hard to hide logs ...

As a slightly paranoid system administrator, the easy availability of firewall logs and rules can keep me up a bit later than usual now.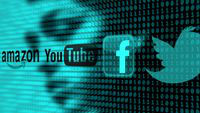 Intersecting this interest was a report I saw about a test Channel 4 TV are doing just now called Data Baby. They are monitoring the information mobile phones are sending out, which turns out to be a lot, even when they're doing "nothing".
As the phone sat, apparently silent, contacts were in fact being made with 76 different servers around the world, in countries from the US to Europe to China and Singapore.
Mr Miller said: "the interesting thing is, and (it) might be surprising to a lot of people is, that (the) phone is always active. It always has an internet connection, and so the applications, if they choose to, can continue communicating after you've put it down."
My Nexus7 Android tablet sits in my kitchen and I sometimes use it for streaming radio (Tune In), Skype or browsing. It's idle for most of the time, but there is constant traffic to Google's servers, and even the BBC. I haven't captured the traffic to look at it in detail, no doubt it's all quite innocent and normal. But now we all carry these little networked multimedia computers in our pockets, do we need to have some assurance on what information it sends out? What is your phone doing? What permissions do you give an application when you install it?
Not only the phone. Recent reports detail how LG televisions might be logging information about files you are using and sending data back to the manufacturer. Spying basically. Not the sort of thing people would expect of a TV, but all of a piece when consumer electronics converge to be multimedia networked devices. Time to get the wire sniffer out ...
Sat, 09 Nov 2013
Kelvingrove, Glasgow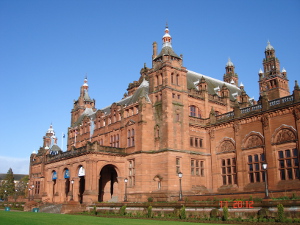 I visited Glasgow a couple of months ago, taking the short train over from Haymarket in Edinburgh to Queen Street. From there it was only a 30 minute walk up Argyle Street to the Kelvingrove museum.
If you visit galleries or museums, you'll probably start noticing how big and imposing the buildings sometimes are. They were often built in the 19th Century at the peak of the Victorian public building and engineering boom, and many are very impressive.
A big grand building, the Kelvingrove was built in a Spanish Baroque style according to wikipedia, opening in 1901. It's easy to see the baroque looking at it and the red sandstone (typical of many buildings in Glasgow) is quite striking.
The inside is pretty good as well.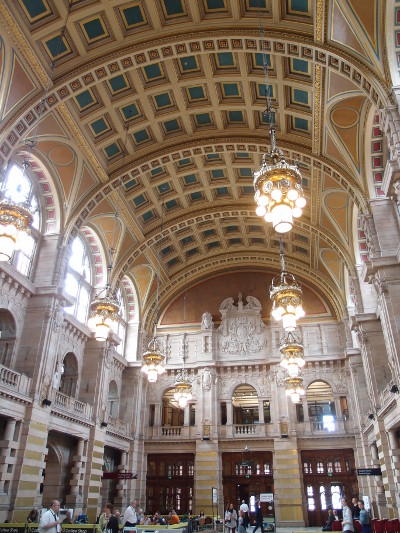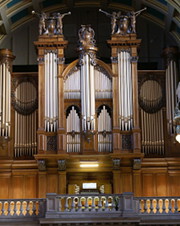 This large central space has a huge pipe organ at one end, demonstrated at 1pm every day when an organist plays to the audience of staff and visitors. An impressive sound (Technical Specification). Bach would be a very fitting use for such an instrument.
Around the hall and spreading out to the other parts of the building on the ground and first floors are the museum's collection, everything from paintings and sculptures to all sorts of objects: dinosaurs, spitfires and even steam engine models. As you would expect, there's a good civic history here as well, especially of the International Exhibition in 1888.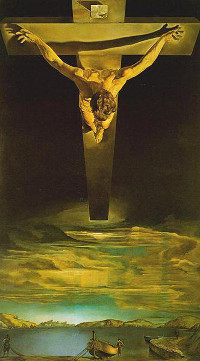 A surprising discovery inside was a very famous Dali painting, Christ of Saint John of the Cross, housed inside its own chapel like room.
This is a very famous and beautiful painting. something people have very deep feeling about. Dali's well known for being a surrealist, and a bit of a clown sometimes, but paintings like this show just how great a classical painter he actually was. His technique is amazing.

As I was leaving the museum, I passed a big Lawn Bowling event. This was the Bowls Scotland 8 Nations Commonwealth Invitation Championship and as I walked by I caught some England versus New Zealand.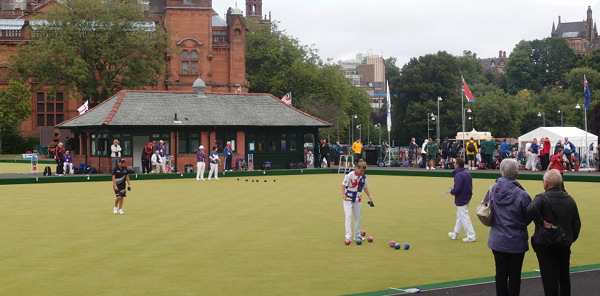 Tue, 05 Nov 2013
MicroServer Update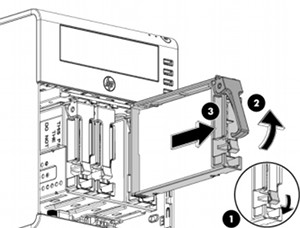 I own an HP ProLiant MicroServer, a great little box I bought a couple of years ago to act as my main file server/NAS machine. It's held up very well and it was very cheap because I got £100 cashback in a deal (and it was cheap already).
It's not a powerful computing machine by any stretch but a very decent server: I've put 8GB RAM in it and 4 2TB disks in RAID5. It's also very decently built by HP, with some care and attention you'd except on a bigger server. Hence the Proliant badge.
One reason I prefer it to my QNAP T419P is that it's got a display connector. The QNAP is serial only, so a bit more fiddly.
To maximise the available storage capacity, I installed Debian on an 8GB USB stick and use the 4 hard disks for the RAID only. Generally, this has been fine, but I have started noticing some fairly severe I/O latency hits recently and this has started causing more frequenet pain elsewhere. Combine this with some USB filesystem corruption a few weeks ago and I wanted to switch away from this configuration.
However, I also learned that the stock HP BIOS does not enable all the system features, including a "spare" SATA port on the motherboard, supposed to be used for a DVD or CDROM. Without another SATA port, it's impossible to add another drive for the OS.
Luckily, I came across a great web page by Joe Miner describing how to update the HP BIOS and enable these hidden features. The usual caveats apply: this is not an officially sanctioned "update" (in fact, it isn't adding anything, but "un-hiding" things. The version remains the same).
Having done the update, I now have an extra motherboard SATA port and have also made all the ports default to 3Gps. I've also stuck a spare 2.5" SATA hard drive in the empty CDROM space.
With this extra disk installed, I used debootstrap to install a new version of Debian on the disk and configured this new install, adding boot loader etc., while the "old" system was running. On Sunday morning I rebooted into the new system, fixed up a few missing bits and pieces and now have a brand new OS installed on a proper disk. So far, so good.
Sun, 03 Nov 2013
Comica Comiket

The 2013 Comica independent comic and art fair Comica Comiket took place at Central St Martins Art College behind Kings Cross and St Pancreas in London on Saturday. I was at Comica in 2011 in Bishopsgate and blogged about it.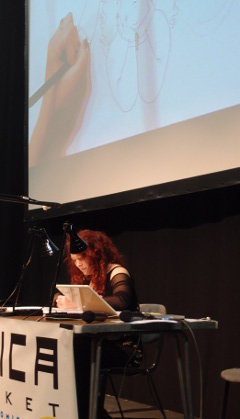 As before, lots and lots of tables with individual artists or independent publishers displaying their wares: graphic novels, hardback or softback comics, small or large, colour and black and white, screen prints, postcards, buttons and many different bits and pieces. Quite fascinating walking around and seeing the sort of thing people create.
One table featured Zoom Rockman, a 13 year old artist and his "proper" comic called The Zoom. I bought a copy. Apparently, he's also "writing stuff for the Beano" , according to (I assume) his Mum, who was sat beside him. I don't generally buy "Beano" style stuff (honest) but made an exception here. Impressive for such a young man.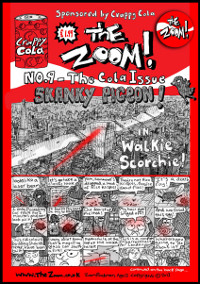 Like the last time, artists were invited to sit on stage and draw in public, with the work projected on a large screen so people could watch the process.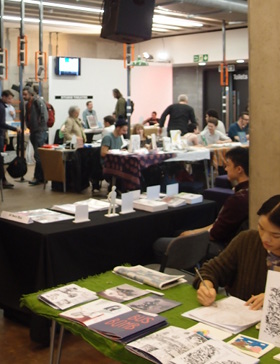 It's always quite inspiring strolling amongst so many artists and writers, stopping and talking about their work and how it's made. There's some fantastic stuff here and, as I noticed before, the print quality is often amazingly good: a lot of hardback and good paper.
Many small presses producing this quality work but I talked to one artist who described how he published his book via Amazon. This was new to me, possibly using Createspace. The comic book was called The Frumps and was a high-quality, colour paperback (again, not something I generally buy though).
An Italian artist thought that the independent scene in London was booming and special just now, perhaps because the UK never had much of a culture of comics for adults before, unlike France and Italy. Perhaps true, although there have been small press comics and books for decades here. Maybe the cost of producing has dropped so massively, due to computer production, printing technology and internet distribution. A lot of creative people with time on their hands.
I'll mark my diary for the next Comica show!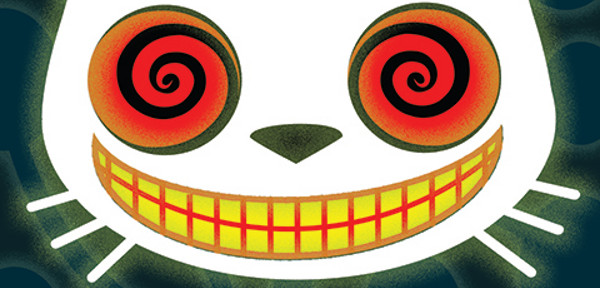 Thu, 31 Oct 2013
Possession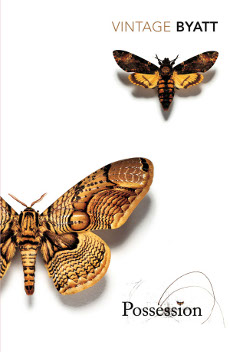 Possession, by A.S. Byatt.
Possession ranks as one of the best books I have read and is one of those rare works one doesn't want to finish.
A great novel has a level of writing skill far superior to the average one and this becomes clear quite quickly in a book. Not only is the writing itself beautiful but the whole structure of the story itself.
This includes two wonderfully realised worlds: the 19th Century where Randolph Henry Ash falls in love with Christabel LaMotte, both poets but Ash very famous, and the 1980's world of academic literary scholarship, picking apart his life and poems. The sometimes dry and musty, sometimes strange and funny ivory tower of college and library work feels real and is surely drawn from the author's own experience.
The book also contains many poems from both Ash and LaMotte, each one in a style to match their own muse. We also have lengthy exchanges of letters between them, and even some myth and fairy tales.
Both couples, Ash and LaMotte in the Victorian world, and Roland Mitchell and Maud Bailey in the modern are very sensitively and believably brought to life. You really care about the characters in the end. This is a great book and very moving.
I am slightly ashamed to say that I did not manage to get through a lot of the longer poems, although I managed the shorter ones. I really need to learn how to read poetry properly.
Mon, 28 Oct 2013
Keeping Humans in their Place

Computers can be pretty frustrating, even when you think you understand them fairly well. This understanding might make things worse in some ways, as you'll go the extra mile, persevere a bit longer, do the extra debugging and perhaps end up no better off (except even more frustrated).
What's brought this about? Well, over and above the usual nitpicks :
Mozilla Thunderbird IMAP Issues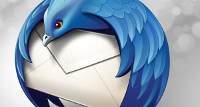 My domain email stopped working a few days ago. Initially I thought it was just an email dry spell, but some more concerned digging showed a problem connecting to my IMAP server (dovecot).
Some potential complexity here ...IMAP itself but especially the SSL layered over it (imaps). So a fair amount of anxiety about what might have been broken - server update? expired certificate? problem ertificate? or a problem on the client computer, or client mail application?
Suspicion settled on the client application, Mozilla Thunderbird, and I went through a slightly painful process of regressing some major releases and finding that version 23.0 broke things.
Somehow I had managed to get through v23.0, 24.0 and 24.0.1 via the automatic updates with a working mail capability. At least until last week. I am not sure how!
Posted some notes and asked for comment on mozillaZine, and then ended up logging a bug. Should have expected this, but then tasked to find the nightly regression point, a potentially painful process. "Luckily", being on holiday meant I have had some time to do this ...
Mozregression didn't seem to work well for me, not finding any break point, so I took the manual route of downloading some releases close to the last version that worked for me (release 22.0) and seeing where it failed :
2013/05/2013-05-24-00-40-21-comm-aurora/ ----- BAD
2013/05/2013-05-23-00-40-20-comm-aurora/ ----- BAD
...
2013/05/2013-05-20-00-40-04-comm-aurora/ ----- BAD
...
2013/05/2013-05-16-00-40-19-comm-aurora/ ----- BAD
...
2013/05/2013-05-14-00-40-02-comm-aurora/ ----- BAD
2013/05/2013-05-13-00-40-21-comm-aurora/ ----- OK
2013/05/2013-05-12-00-40-18-comm-aurora/ ----- OK
...
2013/05/2013-05-06-00-40-01-comm-aurora/ ----- OK
...
2013/05/2013-05-02-00-40-01-comm-aurora/ ----- OK

So, IMAP to my domain broken with the 2013-05-14 build. Let's see how things go.
Bug : 930878
IMAP with SSL/TLS,normal password fails to retrieve mail after v22.0
One always wonders ... it's probably my fault somewhere. Still Diggin' :-)
Software RAID Failure
Did I mention holiday? A couple of days ago I got an email with subject line :
Fail event on /dev/md/2:shuttle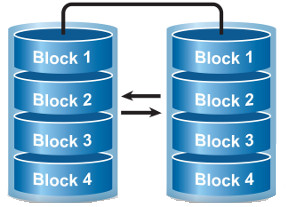 That's a disk failure with a RAID mirror I have in a system (where I normally stage the blog). Something to look forward to fixing when I get home. Hopefully the remaining disk stays well, always a slight concern with something like this.
On top of this issue, I have smart complaining on another system about "unreadable sectors" but this is something I've been momitoring for a couple of months, the number not increasing for now. RAID is not a backup, but it helps mitigate hardware failures.
A quick followup to this. The 500GB 2.5" SATA disk I was going to use as a replacement might not be healthy itself. I did a quick smartctl health check on it and it spat our some warnings :
==> WARNING: These drives may corrupt large files,
see the following web pages for details:
http://knowledge.seagate.com/articles/en_US/FAQ/215451en
http://forums.seagate.com/t5/Momentus-XT-Momentus-Momentus/Momentus-XT-corrupting-large-files-Linux/td-p/109008
http://superuser.com/questions/313447/seagate-momentus-xt-corrupting-files-linux-and-mac

I didn't know smartmontools did this. What a great feature. So, looks like I need to flash the Seagate firmware.
Update
Disk firmware updated, replaced in RAID and syncing the mirror ...
Laptop Random Hibernations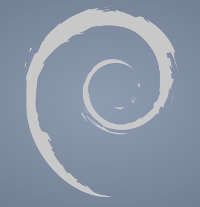 I'm trying Debian Testing (Jessie) on my Thinkpad x220 and it's generally been fine. In fact, in many ways it's the best and fastest version yet (and the laptop's pretty good as well)
However, I've had it decide to hibernate itself when I'm not looking. This wouldn't be so bad except it has a problem resuming (libgcrypt message, similar to bug 724275), so this turns into a hard reset. As usual, a number of places I could look to solve this (initramfs, acpi, uswsusp etc.) and I'll see if I can find some time and do some debugging. Chasing this sort of issue is particularly tough because of the need for rebooting/hibernating to test things.
I was going to followup a post on the Debian Users web forum but it looks like my account has been "deactivated" manually by an admin and I can't re-activate or re-register (username in use!). A large bit of friction having to send a mail to the admins about it and a bit of a crappy policy if you ask me ...
So ...
Maybe I have too many computers, and too many computer related activities going on. I'm juggling different virtual machines running different versions of Debian, doing different things and occasionally thinking about synchronisation. Silly things such as whether to run the development system VM on KVM or switch to VirtualBox? If I use both, best ways to sync them up? Converting raw KVM disk to a VDI etc.
No wonder the odds increase that I end up in pain sometimes. The aim is always to get things sorted and arranged in such a way that I can actually do some work, or something worthwhile. Not spend all day fixing or configuring things before managing any of that!
Sat, 19 Oct 2013
Millions of Markets
I've had to re-write and re-post this after accidently losing the (completed) original (another post perhaps). It's always a bit soul-destroying when this sort of thing happens, but nothing to what happened to Thomas Carlyle's first volume of the manuscript of his book on the French Revolution, burnt by accident.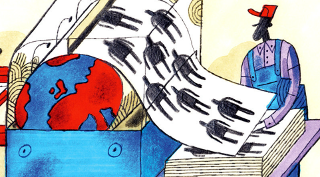 Peter Day's been reporting the world of business for the BBC for 30 years and he's recently written a BBC magazine article and presented a BBC radio show looking back at his experience over the years. Not only is he a good interviewer, asking intelligent questions, he's often concentrated on the technical changes in business. Mass production, new market strategies, the internet (particularly) and, more recently, the promise of 3D printing. On 3D printing (also known as additive manufacturing) :
I was in the offices of a company called Bespoke Innovations, with a designer called Scott Summit. He had gone into partnership with a surgeon to make individualised artificial limbs, using a 3D fabricator. Bespoke can match an existing arm or leg, or design a prosthetic limb to be eye-catching in its own right.
We'll also see these techniques making things like heart valves, bones and other internal organs in the future.
As a retrospective, he's talked to a surprising number of interesting people, sometimes before they and their companies became better known. People like Larry Page of Google (pre-CEO), Gordon Moore of Intel (of the famous Moore's Law, Peter Drucker, a management guru and Joe Kraus, co-founder of the now defunct early 90's search company Excite.
Excite was extinguished by Google a long time ago because Google figured out a way to make money from a much larger percentage of their customers than Excite could.
Reviewing this jolting experience a year or so later, Joe Kraus had by then acquired a significant insight into why Excite had failed and Google had triumphed. He talked about how Excite had been a 20th Century company seeking all its revenue from the top 10 companies in America, as media businesses had been doing for decades. But - and this is the upside-down revolution - Google structured its business around attracting the top million, or ten million, advertisers in the US.
He said: "The 20th Century was about dozens of markets of millions of consumers. The 21st Century is about millions of markets of dozens of consumers."
This leads to a mention of Chris Anderson's long tail, a market phenomenon made possible by the reach of the global internet.
Day thinks that we might be reaching the end of the first industrial age and that a new one is starting. Its first gasp was the dotcom boom (and bust) in the late 1990's and millenium. But a lot of lessons have been learned since then and a clearer picture of the promise of much of this new networked technology is coming into view now.
Read and hear more :
Tue, 08 Oct 2013
Supernatural Green from Japan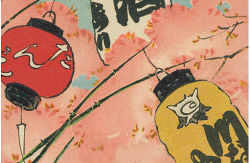 I bought a lovely fresh green tea at Postcard called Supernatural Green. This is made in Japan by someone called Master Matsumoto :
Master Matsumoto, a 4th generation tea maker who is well known for continuing to use old tea trees (his trees are around 90 years old) and no pesticides, herbicides, fertilisers or even manure - hence the tea grows 'supernaturally'. Only 30 kilos of this tea is made each year.
It's light and sweet and as the page linked says, it is "less grassy than sencha". Very recommended and makes a great change from the usual Darjeeling. The best green tea I've drank.