Mon, 05 Oct 2015
Metalpoint

I joined the British Museum, which gives me free access to their shows, members' lounge and a few other things. My second visit as a member was to the exhibition Drawing in silver and gold, a look at the metalpoint drawing style (my first was to the new Celts show but more on that later).
On the north side, up the stairs, this is in the museum's print and drawing display space, a lovely big room, well set up to show off works by Leonardo, Raphael, Dürer and other masters.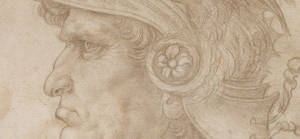 Metalpoint (link to silverpoint) is a drawing technique used from medieval times, through the renaissance and even to the present day (with a 19th Century revival). It uses a metal stylus (sharp or blunt) to "draw" on a prepared surface (slightly abrasive ground): the stylus leaving a small amount of the metal on the paper, giving the drawing.
I wasn't sure why the artist would use metalpoint over a pencil (graphite) but a helpful page of information in the Cornelissen art shop window (round the corner from the museum) explained. Graphite pencils were not invented until the 16th and (properly) 17th Centuries, and artists wanted something more permanent for their drawings than charcoal.
Some beautiful, detailed and delicate drawings on display. Some favourite artists below. I was particularly struck by how good the work of Hendrick Goltzius was.
Below: Hendrick Goltzius, Young Woman Reading a Book (Portrait of Sophia Goltzius, Sister of the Artist?), Seen from Above, 1591, metalpoint (probably silverpoint) on prepared paper or parchment.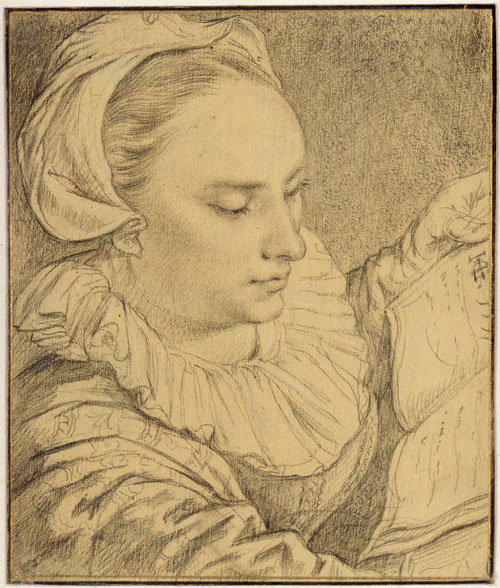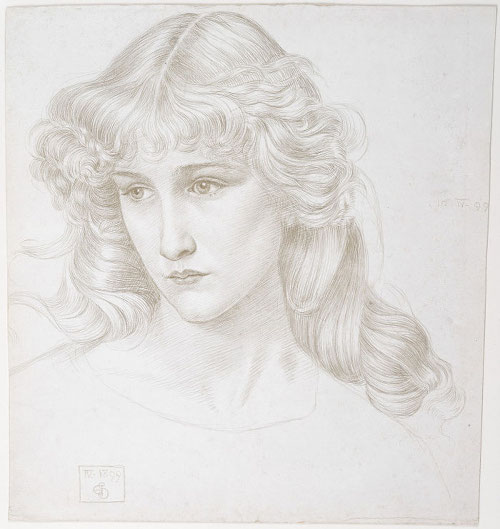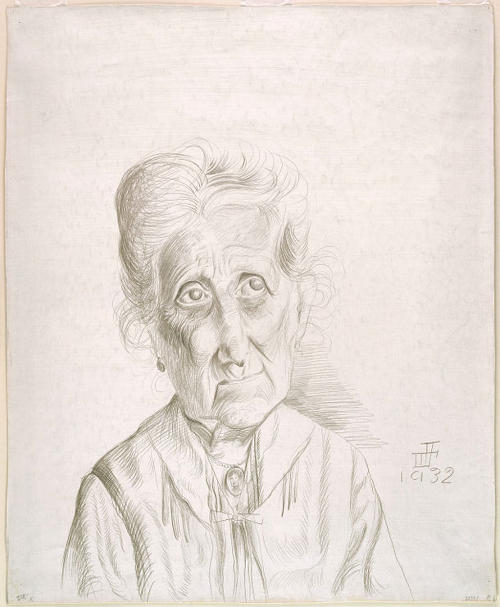 Dix is perhaps better known as a one of the Nazi's least favourite artists, someone who created some horrible depictions of war, wounds and disfigurement. This picture has a lot of charm, even wistfulness about it however, a true character.
More interesting detail can be found on the British Museum's blog.
Sat, 03 Oct 2015
Rothschild Artifacts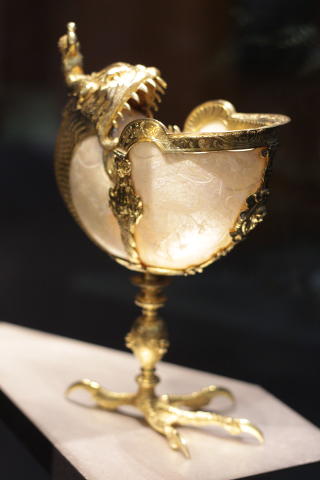 The British Museum's Waddesdon Bequest is a new gallery showing off a lot of real treasures Baron Ferdinand Rothschild accumulated in the 19th Century. It's free and contains some beautiful things, from medieval holy reliquaries to gothic jewellery. It even has a glittering 17th Century "robot" (an automaton).
The British Museum page shows off some of these stunning objects.
Mon, 28 Sep 2015
No Offence Allowed
Have a look at this piece of art :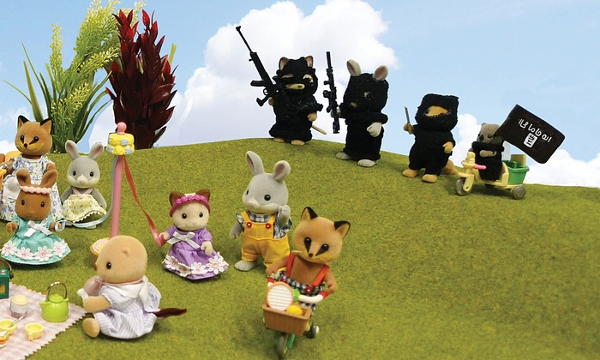 It is called Isis Threaten Sylvania and created by someone called Mimsy, on display in an exhibition called Passion for Freedom at the Mall Galleries last week. From The Guardian :
It was removed from the Passion for Freedom exhibition at the Mall galleries after police raised concerns about the "potentially inflammatory content" of the work, informing the organisers that, if they went ahead with their plans to display it, they would have to pay £36,000 for security for the six-day show.
Take a close look. As Mick Hartley says :
Imagine, in the late 1930s, if a gallery was banned from showing images of Nazis doing horrid things because it was deemed to be potentially inflammatory.
Note that no horrid things are even being displayed.
I really like the Mall Galleries, one of my favourite in London, and I would have visited this show on Saturday if other things hadn't intervened. So, it is very disappointing to see this happen. What makes this worse in my view is that the police can make this sort of declaration, in essence making something impossible to print, show or see (it's called censorship).
It is also ironic that the exhibition was dealing with the concept of freedom, something that seems to be diminishing somewhat in this country. Diminished often in the interest of preventing offence, hurting people's feelings or bringing up anything uncomfortable to various groups. What type of people are we becoming? Perhaps the sort of people who will eventually lose our freedom.
Sun, 27 Sep 2015
St Finan's Tip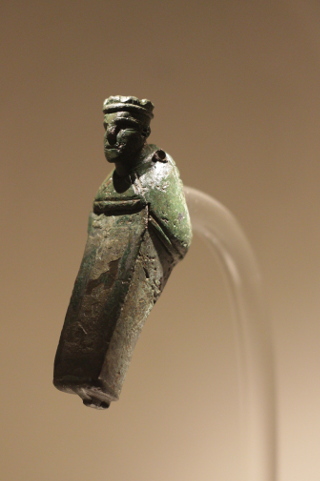 Introducing St Finan, an early celtic saint thought to have come over from Ireland in the 7th Century. No, he's not much to look at!
This is a photograph of a Bishop's crozier tip, on display at the National Museum of Scotland, and perhaps from the 12th Century. Found near Loch Shiel, Moidart, on St Finan's Isle. It's not much to look at, being quite primitive, but this is some of its odd attraction.
Finan was the second bishop of Lindisfarne, after the famous Aidan, and trained on Iona on the West coast of (what was not yet) Scotland. This was the great time of the spread of Christianity to the east coast Angles of the Kingdom of Northumbria, and the great debates over Easter between the Roman and Irish churches.
Mon, 21 Sep 2015
Cope on the Celts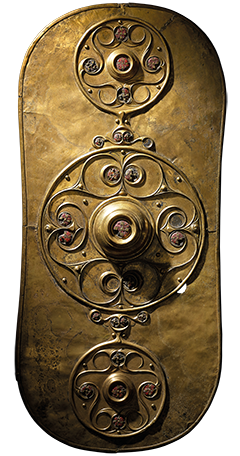 Julian Cope, ex-frontman of The Teardrop Explodes, the 1980's rock/indie band, has a piece in The Guardian. From the world of rock, and going slightly off the rails for a period, he went on to write a very unusual, but well regarded book, on pre-modern history, The Modern Antiquarian. He seems to have an abiding interest in archaeological and historical investigation, so a kindred soul perhaps.
In the newspaper, he has had a preview of the forthcoming show at the British Museum, The Celts: Art and Identity, Cope is at pains to mention how wide the curators might have drawn the Celtic identity line, but it's been stretched widely for a very long time now. It's really just a label for anything pre-Roman almost. However, it has still strong connotations when identity comes to the fore, especially of the national variety.
I'm looking forward to the show.
Sun, 06 Sep 2015
Auld Reekie 2015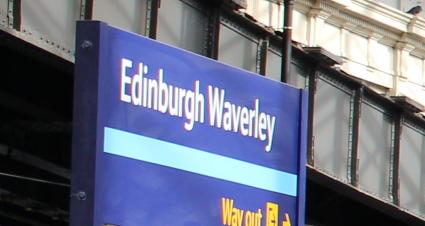 Back in town ... and the sun was shining!
Sun, 30 Aug 2015
Traffic Calming
It's not everyday you come across a "car" that looks like this, parked up near London's Mall. Looks like a 70's era Batmobile to me and it definitely drew some attention.
I overheard the owner (or driver) telling someone how they had to plan their route carefully to avoid any speed bumps (the car rides low), and how it wasn't very waterproof. Maybe not a good combination in London. Better in Gotham!
I didn't hear the engine running, perhaps just as well.
Tue, 25 Aug 2015
The Future Self
Anatoly Karlin writes about starting blogging again and about dealing with motivation and productivity. Regarding procrastination, something we all do sometimes but can become a big problem for some of us, he has an interesting comment :
When you are procrastinating, you are essentially trusting your future self to do the work that your present self does not want to. But if you make a habit of procrastination, of being unreliable, would it then be rational of your present self to depend on your (presumably equally fallible and unreliable) future self to do that what your present self is too lazy and slothful to do today? It's grossly irrational and irresponsible!
In Why We Procrastinate, Alisa Opar posits that procrastination is something that we do because we do not consider our future self as being the same person we are. The background to this is the British philosopher Derek Parfit's view of a person's identity as something that changes as they move through time. We are not the same person in 10 years time as we are today: we see our future selves as strangers.
This idea of people becoming different people as they age, and their changing identity, is something that the writer and philosopher John Gray has brought up in his writing. Gray's an interesting writer but I had to pause my reading for a while to recover a bit of optimism about the human condition.
Sun, 23 Aug 2015
Building a City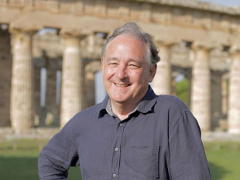 I watched the BBC's Building the Ancient City and was relieved it was a good, straight-forward history program presented by a proper Professor (Professor Wallace-Hadrill of Cambridge University).
History programs are quite popular and the BBC is well known for doing them well, but in my experience they have been getting worse with far too much emphasis on fancy graphics, portentous presentation and celebrity pomposity. Sometimes, half the show seems as much a "trailer" (for the next 10 minutes) as useful content. Give me Wallace-Hadrill or the great Kenneth Clark any day.
Wed, 12 Aug 2015
Flapping and Squawking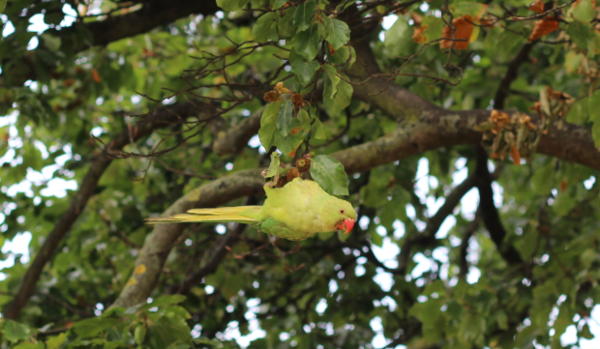 I didn't expect to come across a parrot in a tree on Clapham Common a couple of weeks ago, and it actually turned out there were three parrots in the same tree. I haven't seen them since in my walks but have definitely heard them! Luckily, I managed to get a fairly decent photograph to prove it.