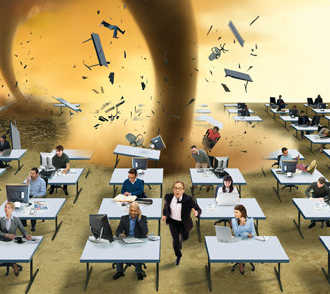 The future of work has been in the news off and on for a while, especially as AI and robotics start to make more of an impact. Lorry drivers are one profession said to be threatened by self-driving vehicles, but many white-collar employees are also at serious risk. For instance, computers can do very efficient legal discovery (and a lot more cheaply). We might start seeing higher unemployment, more underemployment, lower wages and the need to work much longer. Tornadoes weaving a path of destruction through the workplace?
A couple of years ago, The Economist magazine talked of :
Just as robots became ever better at various manual tasks over the past century—and were therefore able to replace human labour in a growing array of jobs, beginning with the most routine—computer control systems are able to handle ever more of the work done by human administrative workers. Jobs from truck driver to legal aid to medical diagnostician to customer service technician will soon be threatened by machines. Starting with the most routine tasks.
The article above starts off quoting David Graeber on his labelling many jobs as "bullshit jobs" (Strike Magazine), massive swathes usually administrative jobs in areas like health administration, human resources and public relations. A very different type of economy from the "classic" one of people designing and making things. I might argue that this has really always been the case however, at least since the Industrial Revolution.
David Graeber (author of Debt: The First 5000 Years and LSE Professor) :
While corporations may engage in ruthless downsizing, the layoffs and speed-ups invariably fall on that class of people who are actually making, moving, fixing and maintaining things; through some strange alchemy no one can quite explain, the number of salaried paper-pushers ultimately seems to expand, and more and more employees find themselves, not unlike Soviet workers actually, working 40 or even 50 hour weeks on paper, but effectively working 15 hours just as Keynes predicted, since the rest of their time is spent organising or attending motivational seminars, updating their facebook profiles or downloading TV box-sets.
Maybe the French have a word for this :
ennui : a feeling of listlessness and dissatisfaction arising from a lack of occupation or excitement.
I was at the V&A on Sunday looking at some ceramics and glassware. The sixth floor was almost empty, apart from me and three or four other people (later). But there are still guards around, all day, every day. Lots of interesting things to look at and read, but the job seems to be very very dull.
Some glass ornaments and sculptures were extremely striking :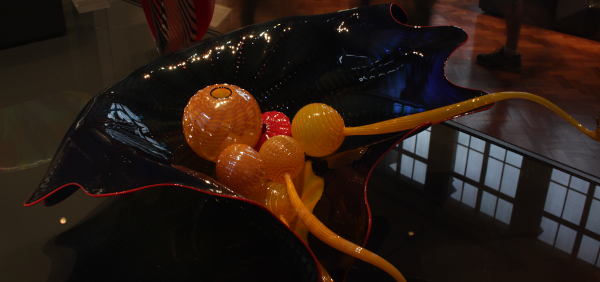 Above: Deep Blue and Bronze Persian Set by Dale Chihuly, 1999.
From the museum label :
Originally reminiscent of the tiny core-formed bottles of ancient Egypt and Persia, the 'Persians' series was begun on 1985. Since then Chihuly has developed the series into a range of different shapes , the outer ones often of enormous size.