Sat, 04 Mar 2023
Garage Classic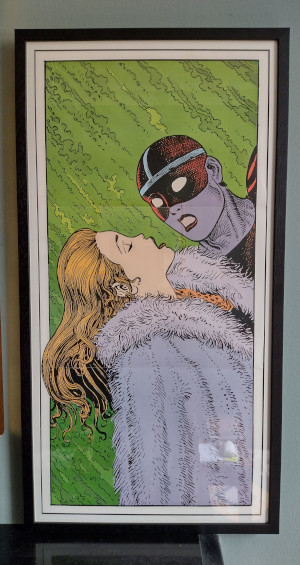 Going through some of my old comics and comic books, I came across a hardback French edition of Moebius' Le Garage Hermétique, the first version in colour. A true classic of French bande dessiné and a strip I first came across in the American Heavy Metal magazine in the late 1970's. This colour version was published by Les Humanoïdes Associés in October 1988.
Inside is a colour poster insert: a blow-up of one of the most striking panels in the strip. I had completely forgotten about his but what a wonderful surprise to rediscover. It is revealed that it was a woman under that hat all along, not a man!
This is not something to leave hidden away inside a book anymore. It deserves a frame and to be hanging on a wall. RIP Jean Giraud a.k.a. Moebius.
Fri, 06 May 2022
Ba' Girl Mar'cela

A long time ago I bought a new comic magazine called Love and Rockets in my local comic shop and discovered the amazingly talented Hernandez Brothers, Jaime and Gilbert. This comic was a real watershed in my appreciation of the art of the cartoon strip.
I've recently been looking through some of these and re-reading a few of Gilbert Hernandez's Palomar stories. Palomar is a fictional and old-fashioned Mexican town inhabited by an odd variety of people (some real eccentrics), dysfunctional families and a cast of children and adolescents that can steal the show. A bit of a soap opera with a latino telenovelo feel to it. Often a bit magical or weird. Now I want to re-read a lot more.
Gilbert Hernandez is very good with the women and children. Here, little Casimira is learning what it takes to be "mom" in her house; much to the horror of her sister Guadalupe. Funny, but also a bit sad (I mentioned dysfunctional already). This is from Human Diastrophism in Love and Rockets no. 24 from 1987.
Click on the images for larger versions.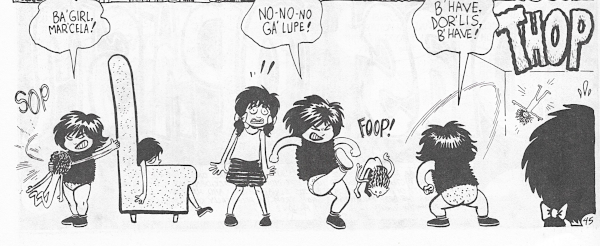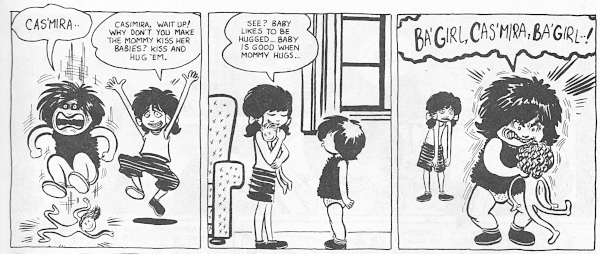 I would like to return to these pages and my love of comics in the future.