Fri, 22 Apr 2022
Black Haired Girl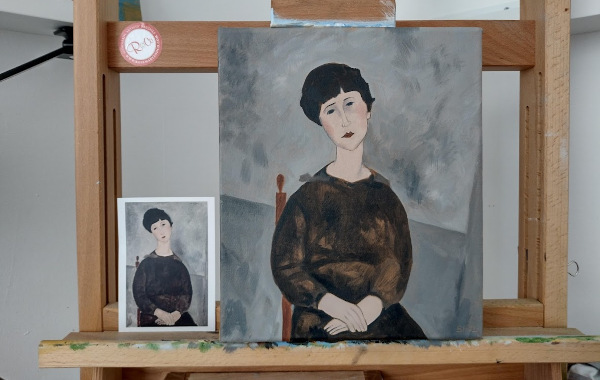 Above we can see my copy (on right) of Amedeo Modigliani's 1918 oil painting Black Hair (Young Dark Haired Girl Seated). I did this from a postcard (on left): the original oil painting is 92x60cm, mine is 25x30cm. I like the stylised, doll-like quality of his work. This piece seems very sympathetic to me.
This was also the first time I used a proportional divider tool to get the copy proportions correct. It worked well and is a little less time consuming than using a grid.
I bought the postcard at the Tate's Modigliani exhibition back in 2018. I wrote about the VR studio reproduction they put together.
Thu, 17 Feb 2022
The Pond and the City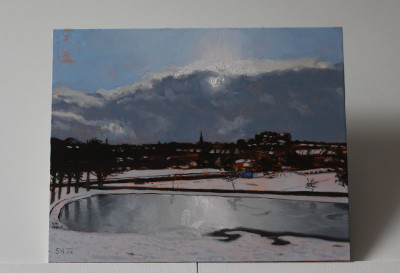 A small (8x10") oil study painting done a week ago. The source scene was from last year when the pond at Inverleith Park was mostly frozen. The swans sometimes seem to manage to keep an area clear of ice for themselves, but other birds are reduced to standing around on the ice looking a bit forlorn (if they hang around at all). Back when the pond had water.
Fri, 04 Feb 2022
Exuberant Colour
As I posted a few days ago, Lorenzo Mattotti certainly knows how to paint exciting, energetic and colourful pictures. Also found in the book Altre forme lo distraevano continuamente are portraits of some colourful and fashionable women. A quirky set. For a change of pace to my usual practice, I thought I'd try copying one.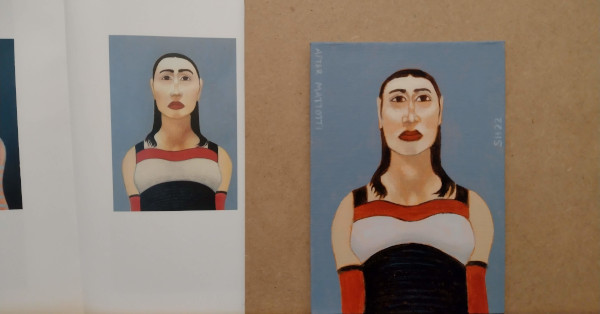 I decided to dig out my acrylic paints for a change as well. No solvent required (not that they are a big deal to me) and also fast drying. A curse sometimes, but at others a blessing. Small 18x13cm canvas boards.
I've now done four copies, each done quickly. I haven't got the likenesses right (portrait likeness is hard, and a skill I need more practice of) but they came out well I think. I'm happy and had a lot of fun doing them. That's the most important thing to me right now.

Further proof of how amazing and colourful pastels and pencil can be, jump over to the Mall Galleries for the Pastel Society 2022 exhibition. These shows are always a reminder to me that any medium can produce great art. Even a graphite pencil.
Below: Evening Pond, pastel, 46x35cm by Sheila Goodman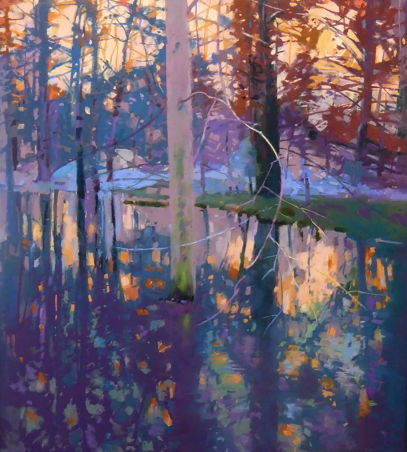 Wed, 19 Jan 2022
Seat By The Loch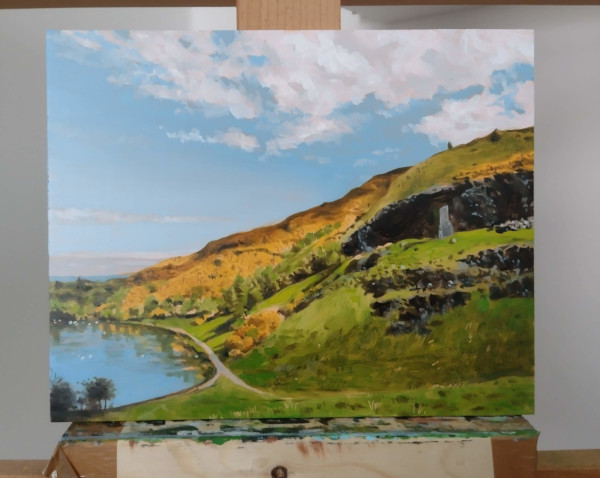 Another small painting with a bit of orange in it. I'm worrying a little that the painting is a bit too "nice" now. Too colourful, too bright? Maybe one for the tourists. Or maybe just paint a really big version and go all in on the sweetness? I have another two similar paintings I should also dig up.
Edinburgh is blessed with many beautiful views, a few can be found close to its own extinct volcano, Arthur's Seat. The picture above shows the view Eastwards over St Margaret's Loch near Holyrood, with the ruins of St Anthony's Chapel on the brow of the hill on the right.

Although Arthur's Seat does not compare to the mountains of the Highlands, let alone the Alps, it is a very impressive and monumental place in Edinburgh. It has a grand scale when you walk around it's base or climb to it's summit. Make sure you dress properly though - especially decent walking or climbing boots.
Thu, 13 Jan 2022
A Cold and Frosty Morn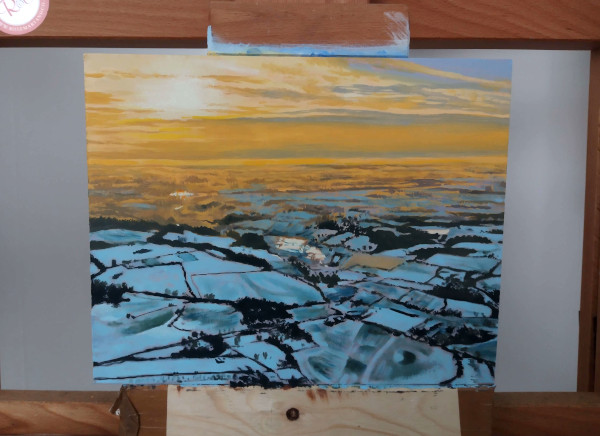 The new year has got off to a quiet start, as they often do. The pestilence is still hanging around unfortunately but this wave seems to be less pestilential than previous ones. Apparently, this version is much milder if caught, perhaps as bad as a case of the hiccups. Better safe than sorry though: no one wants to risk long hiccups.
I did the small painting shown above using a TV screenshot as a reference (a BBC nature program I think). That was the first of the year and I'm also getting to the end of my next one, hopefully completing it without disaster. I was looking at some of my old pieces I've stuck up on this blog, and see a few clunkers. Maybe I'll look back on this one and think the same? Anyway, here's to a year of few clunkers.
Mon, 27 Dec 2021
Field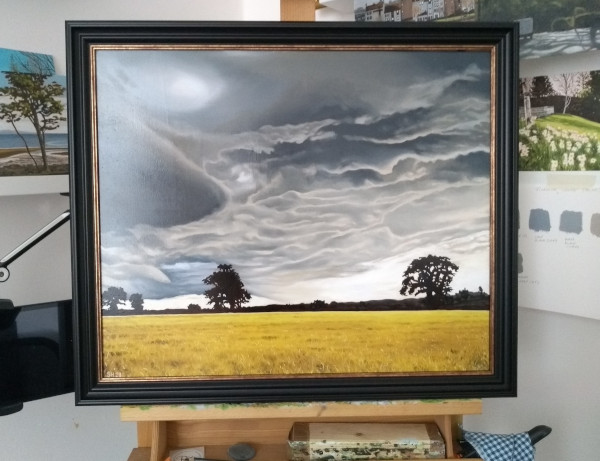 A bigger picture completed a few months ago. This is a 50x60cm oil painting in a decent frame. A very basic composition but it works well I think. Hopefully looks good on a wall.
Tue, 31 Aug 2021
Drawing In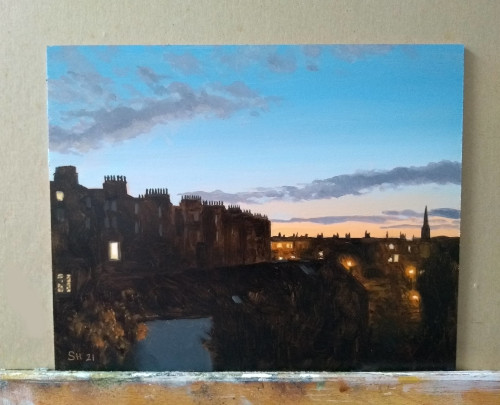 The weather's been quite good up here so I have been spending more time outside than in the studio painting. But I can feel the days drawing in a bit now so that will change.
You have to be a bit careful with sunsets (or rises). I enjoy painting them but it is important to not end up with a something the wrong side of sickly sweet. Edinburgh's had some great colour in the sky on occasion; some would be hard to pass off as natural if not for a photograph. It may not pass as a decent painting though. This is a small work that might grow into a large one if the feeling comes over me. For now, maybe another small sunset!
Sat, 27 Jun 2020
Park in Summer
Another slight one completed a while ago. An overwhelming sense of green-ness on a sunny day in the park. I am working on a bigger painting but very slowly. In Edinburgh, summer comes and goes ever few days.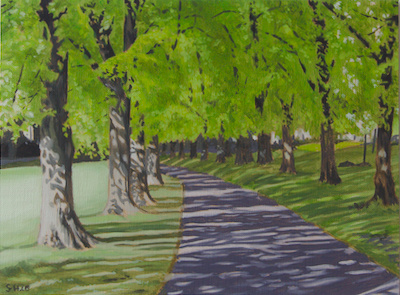 Wed, 10 Jun 2020
On The Beach
A slight one but at least completed and presentable.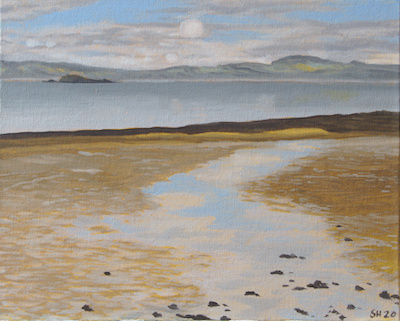 Sat, 06 Jun 2020
Murky Water Sunny Tree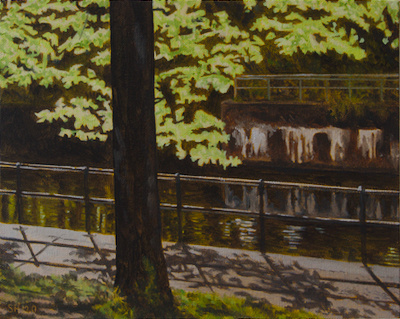 Thu, 04 Jun 2020
Near Cramond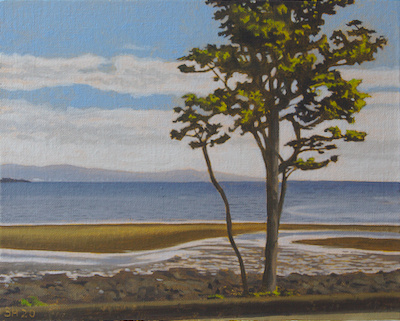 You don't see "100% Extra Free" boxes of blueberries in the supermarket now, which is a shame (although I had to struggle to get through them). On the other hand, summer is here. But the news is still bad. A never-ending supply as I've noticed before.
My posts have dropped off a bit and my artistic endeavour has also taken a hit. Such is life sometimes. I've had a lean period with my painting for two weeks really, with a so-so picture, preceded by a couple of abandoned works. It's not the end of the world and occasionally it's necessary to take a step back, wait and rebuild motivation. You can't force inspiration and there's no point worrying about it.
I still have quite a few paintings completed over the last few weeks to show, and even from last year. Maybe some not as worth the display. But I'll leave that judgement open for now.
Here's one I did a few weeks ago. I've spent a lot more time biking and walking, discovering some of Edinburgh's paths and parks. It's easy to forget Edinburgh is on the coast, with a northern as well as an eastern aspect. This picture is somewhere along the northern coast from Silverknowes to Cramond.
Wed, 13 May 2020
Cast Shadows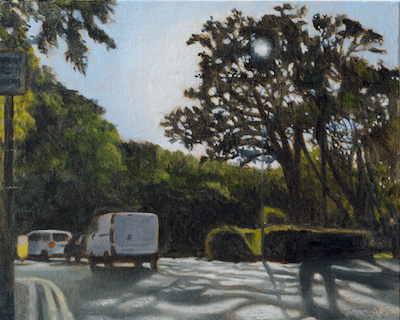 Above: Queensferry and Learmonth Shadows, oil, 8x10", April 15 2020
I painted this a few weeks ago, the "hook" being the light through the large tree casting a great mosaic of a shadow on the road. Not a particularly complicated picture and it came out fairly well. Unlike some other paintings recently though. In fact, a week or so ago I was having a lot of trouble sitting down and getting anything done. Some days are like that, and it can definitely cast a bit of a depressing shadow itself. Very frustrating. Luckily, I managed to break the spell last week. Hopefully for a while.
Mon, 04 May 2020
And Another Fresh View
From the same day as the previous work. I liked the view a lot and did another small oil painting of the view of the city over Inverleith Park pond.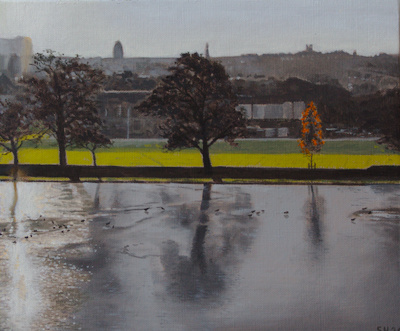 Sun, 03 May 2020
A Fresh Morning
This is a study I painted in December 2019, based on a reference photograph from earlier in the month. A lovely cold and fresh morning, frost on the ground. The pond was mainly frozen and birds were standing around on the ice. It came out well I think :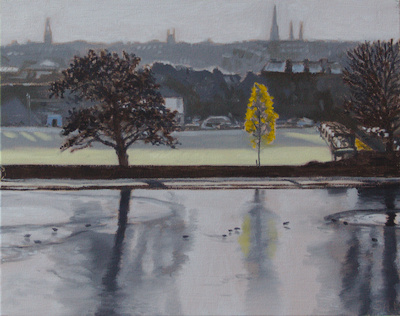 Sat, 25 Apr 2020
Light and Colour
In a past life, before the crisis (maybe that should be BC, Before-Covid), I would often travel up to Edinburgh on the train for a holiday in September. I'd take a day trip to Glasgow and visit the Kelvingrove Museum, and the Hunterian a short walk up to the university. Sometimes freshers week was on and I got a reminder of my student days.
The sun was shining in a good way on this beautiful tree in the university quad one time over there. It was one of those magical moments that sometimes happens and you're in just the right place, light and colour link up nicely. Definitely something to try and capture in paint later. I did one of my "studies", which I thought was successful, and then blew up to a larger canvas :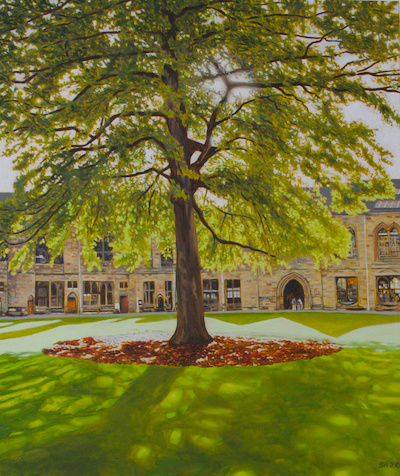 The sky is blue, the sun is out and it's a beautiful day.
Wed, 15 Apr 2020
St Vincent
A painting of the front of the St Vincent Bar and the corner of St Vincent Street and Circus Lane, done a few days ago. I've not been in the bar but it's always seemed an attractive picture, as is Circus Lane.
This painting is only "OK" as well but I think it might do better on a larger canvas. We'll see (I have no plans).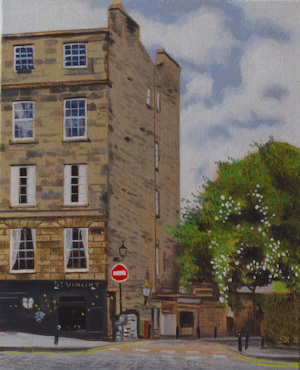 Sun, 12 Apr 2020
Two More Studies
I'm not just showing my "good" stuff, I'm also calling things "studies" to try and emphasise that I'm not spending too long on the paintings. I'm not going to display anything I think's terrible though! These two studies are not great: let's say I think they're OK. However, on occasion, I've initially hated a painting only to change my mind after a few days, so I try not to rip stuff up too quickly.
These were both done in the past week. The beach scene was rubbed out and re-done once. It's done on an MDF board, not canvas textured, so much smoother than I'm used to. I had some trouble adjusting.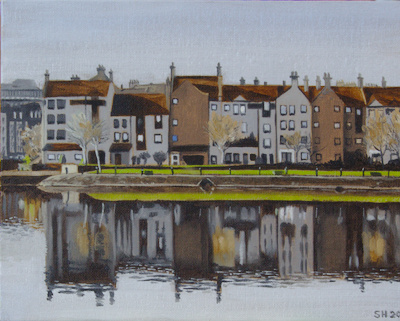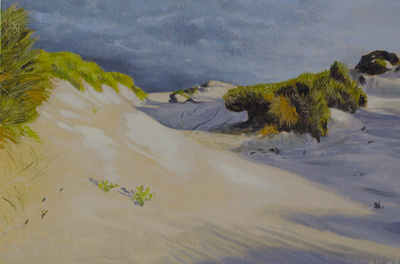 Wed, 08 Apr 2020
A Walk in the Park
Luckily, we're still allowed a walk in the park, for exercise. Once a day anyway.
Living in Stockbridge, I'm lucky to be near the Botanics and Inverleith Park. The Botanic Gardens are closed just now unfortunately but the park is open. It's a lovely great big open space, with an outlook over the Edinburgh skyline from far East to far West, including Arthur's Seat and the Pentland Hills. Lots of bird life around as well, not least around the pond. Spring's here, the sun is out and we're (mostly) stuck inside ...
In frostier weather last year, I did an early morning visit and managed to take some decent photographs. From one I did a small study. And earlier this year I expanded it to a large canvas. This is the largest canvas size I've used so far and I think it came out well.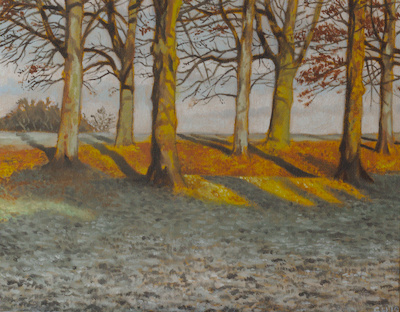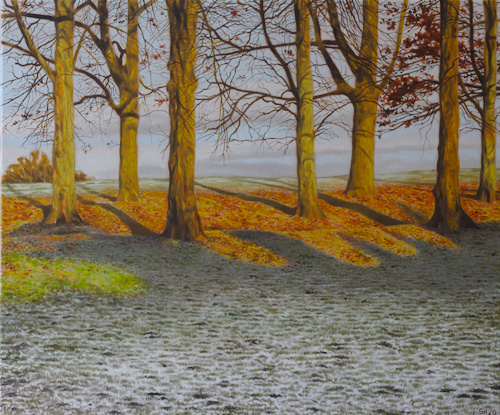 Sat, 04 Apr 2020
Graveyard Shift
Swaffham, Norfolk, has a lovely church in the centre of town, SS Peter and Paul. This is where I experienced a beautiful rendition of Handel's Messiah a couple of years ago.
Last year I painted this study of a scene in the graveyard, looking towards the church with the early morning sunshine strong but low in the sky. I thought I'd try and expand this onto a bigger canvas, starting the larger painting today. Early days. It has one of those complicated trees in it, something I always have to stop and think about how to do. Background first, then paint on top? Or foreground, and paint background around? I'm going to try the first option and see how it goes.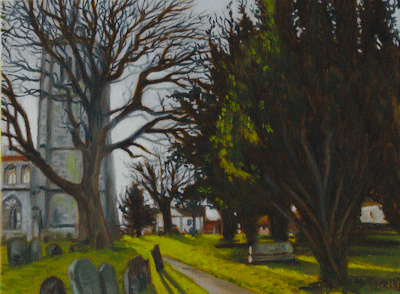 Thu, 02 Apr 2020
A Cloudy Day
The Mound again. This time in full sunshine with a bright blue sky and a lone cloud that seemed to park itself over the castle. Yes, this was a real scene. I liked the strong contrast and bright colour here and did a small study last year. In the painting, I reduced the people and car traffic, leaving things a little lonely. Earlier this year, I blew the study up onto a larger canvas.
Below: Mound with Cloud (study), 18x25cm, oil, Oct 2019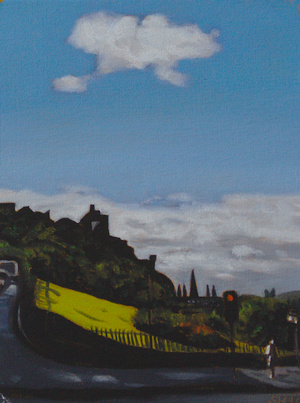 Below: Mound with Cloud, 40x50cm, oil, Feb 2020