It's finally open. It's been a long and frustrating wait in many ways, but Scotland's new National Gallery of Art opened its doors to the public for the first time last Saturday. Many delays, some due to the pandemic, and a lot of money spent. But we have something to visit at last and the bottom of the Mound is beginning to look somewhat presentable again (although I have a bit of a complaint: see below).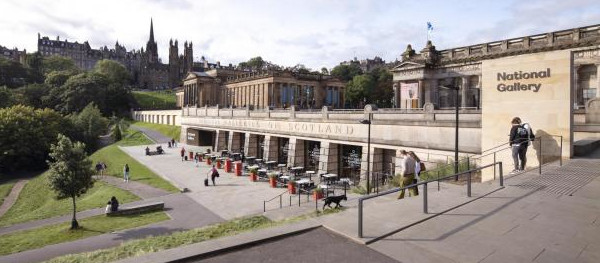 The new gallery is laid out along the length of the main gallery building, but underneath it. In the photo above, the new extension is all the way at the back, stretching away under the National Gallery building at the far end. Unlike the old spaces for the Scottish collection, the new area doesn't feel so much like a basement now. It's lighter and better laid out.
I like the new gallery and I am very happy that it is finally open. Like many, it was dragging on a bit but you can't argue with the great art work we can finally see again. It makes a big difference to see the paintings in a well lit and more open space. And even though it is hard to integrate with the rest of the gallery space, it's a huge improvement.


Above: St Bride (detail/full), John Duncan, Tempera, oil and gold leaf on canvas, 122.30x144.50cm
The gallery site has a fuller section on Celebrating Scotland's Art.
You can also have a look at a YouTube video which walks you through the space.
I wish they actually cleaned up the mess and litter outside the gallery in real life, rather than just virtually. Council or gallery problem ownership? Also, hooray that the Playfair Steps are also open again.