Fri, 04 Feb 2022
Exuberant Colour
As I posted a few days ago, Lorenzo Mattotti certainly knows how to paint exciting, energetic and colourful pictures. Also found in the book Altre forme lo distraevano continuamente are portraits of some colourful and fashionable women. A quirky set. For a change of pace to my usual practice, I thought I'd try copying one.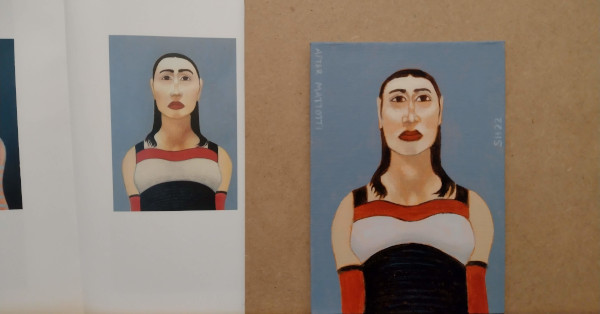 I decided to dig out my acrylic paints for a change as well. No solvent required (not that they are a big deal to me) and also fast drying. A curse sometimes, but at others a blessing. Small 18x13cm canvas boards.
I've now done four copies, each done quickly. I haven't got the likenesses right (portrait likeness is hard, and a skill I need more practice of) but they came out well I think. I'm happy and had a lot of fun doing them. That's the most important thing to me right now.

Further proof of how amazing and colourful pastels and pencil can be, jump over to the Mall Galleries for the Pastel Society 2022 exhibition. These shows are always a reminder to me that any medium can produce great art. Even a graphite pencil.
Below: Evening Pond, pastel, 46x35cm by Sheila Goodman