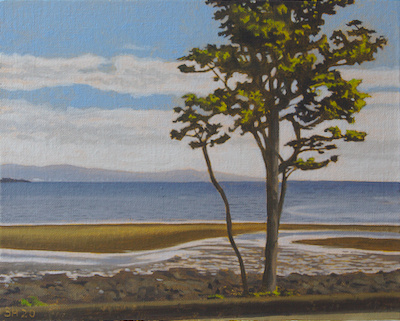 You don't see "100% Extra Free" boxes of blueberries in the supermarket now, which is a shame (although I had to struggle to get through them). On the other hand, summer is here. But the news is still bad. A never-ending supply as I've noticed before.
My posts have dropped off a bit and my artistic endeavour has also taken a hit. Such is life sometimes. I've had a lean period with my painting for two weeks really, with a so-so picture, preceded by a couple of abandoned works. It's not the end of the world and occasionally it's necessary to take a step back, wait and rebuild motivation. You can't force inspiration and there's no point worrying about it.
I still have quite a few paintings completed over the last few weeks to show, and even from last year. Maybe some not as worth the display. But I'll leave that judgement open for now.
Here's one I did a few weeks ago. I've spent a lot more time biking and walking, discovering some of Edinburgh's paths and parks. It's easy to forget Edinburgh is on the coast, with a northern as well as an eastern aspect. This picture is somewhere along the northern coast from Silverknowes to Cramond.