Wed, 25 Mar 2020
Two to Start
These are two small oil paintings done recently on canvas boards. Both 8x10" and completed in an afternoon. This is a photograph using my mobile phone camera :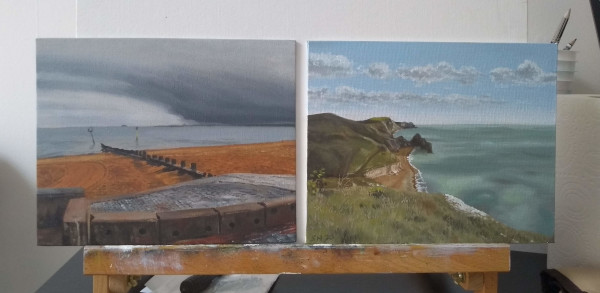 All the rest of the photographs are from my Canon EOS 700D but using the built-in JPEG (not RAW), then slight "auto" white-balance in an image editor, then a scale and re-export ... and I'm usually unhappy with the way my paintings come across on the computer! I need to fix a workflow that makes them look more correct.
This was done on 2020-03-19 after a visit to the beach at Portobello :
Portobello Beach, Receding Rain, 8x10", oil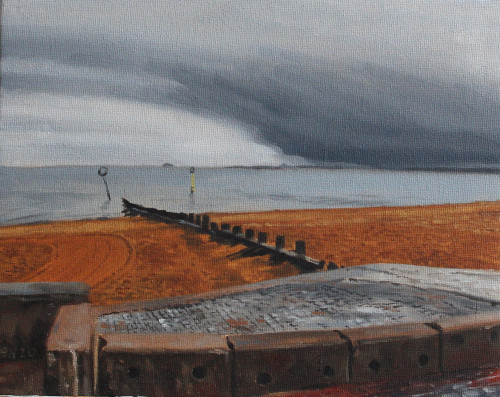 This was done yesterday, 2020-03-24, and is from a screenshot from a YouTube video (see below).
Cliffs in Cornwall, 8x10" oil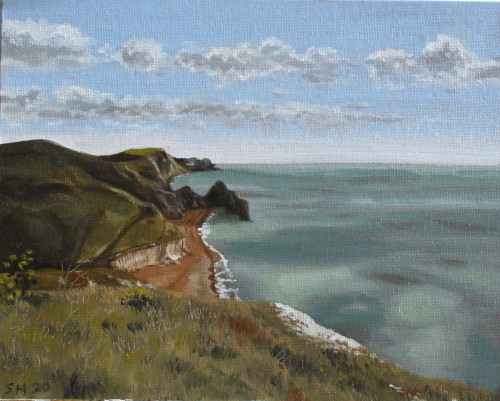 Thoughts on Painting
I've been watching quite a lot of the artist Tom Hughes on YouTube via his channel Thoughts on Painting. He is a Bristol based plein-air oil painter and it's been interesting watching him work, and travelling around the country. No fuss or magic, but down to earth and personable. It's made me start considering trying outdoors painting myself and buying a similar "pochade" box. The painting above was done from a screenshot taken off a video he shot in Cornwall: after finishing a painting, he panned his camera around and I thought it looked worth a go myself! I like his work: it also reminds me of work by another painter who is out and about all the time, Peter Brown. Brown's painting of George Street, Bath, in the rain was worth a big mention in a post I made in 2017.
Tom Hughes' web site is : https://www.tomhughespainting.co.uk/