Thu, 19 Dec 2019
Even More Advanced
And from the History Blog again, a post about more discoveries from the Mycenean site of Pylos in South Western Greece. These are digs close to the so-called Palace of Nestor (Nestor being King of Pylos and having fought on the Greek side of the Trojan War).
One of the original finds include a small agate sealstone made on Crete, so of Minoan manufacture. This is the "Pylos Combat Agate" and is described in more detail here. It is under 4cm long and exquisitely carved into the very hard quartz agate. The detail is stunning.
This is 3.6 cm long (click to enlarge) :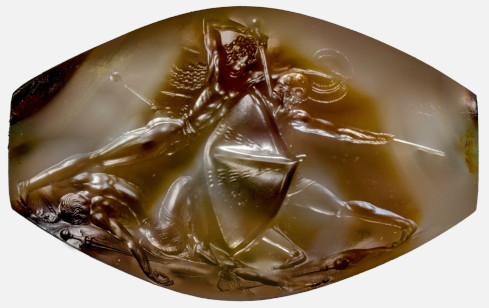 From the post :
one tiny agate sealstone of Cretan manufacture emerged from its thick lime accretion to reveal itself as one of the greatest masterpieces in ancient Greek art, far more advanced in craftsmanship than anybody realized the Minoans were capable of in 1,500 B.C.
Tue, 17 Dec 2019
Christmas Cheer
The History Blog is a superb site that does daily posts on an interesting piece of history in the news, as chosen by "livius". Well chosen and interesting content with decent pictures. The blog is always worth a visit and is very well curated.
Recently, we have had a post about the first Christmas card created in 1843 by Sir Henry Cole, a British civil servant, organiser of the Great Exhibition at Crystal Palace in 1851 and postal reform advocate. There were 1000 cards made and some were also sent to America. However, as the post says, the "American bourgeois sensibilities" were not so happy with the depiction of the whole family enjoying a Christmas drink, including the toddler. A bit different today.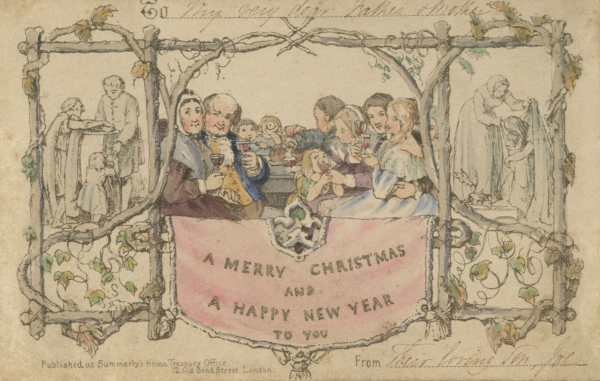 For a better view, see the original post on the History Blog (where you can click the image to expand).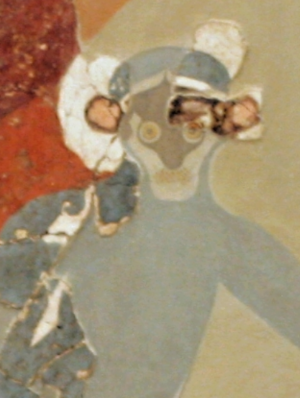 A more recent post is about some famous Minoan frescos on the island of Thera. Dating from the 17th Century BC, the colourful pictures show monkeys playing and hanging around. They have now been identified as grey langurs, a species native to southern Asia e.g. the Indus Valley. As the comments mention though, it is a little surprising no one tried to identify them before. In addition, no one should be surprised at how much long distant trade occurred in the bronze age. It is an open and interesting question on why most of it stopped.
Thu, 05 Dec 2019
Rego Retrospective at Modern Two
Just before I left London I saw that there was a Paula Rego exhibition on in Milton Keynes and I decided to try and travel up there and see it. Paula Rego is a Portugese artist long resident in the UK and I've come across her work a few times, finding it strange and very memorable.
Needless to say, in the time I had to sort out my move to Edinburgh, I didn't make it up there. I was therefore very pleasantly surprised to see the the Edinburgh National Gallery of Modern Art was hosting the exhibition in my new home city. It's called Obedience and Defiance and I went to have a look last week.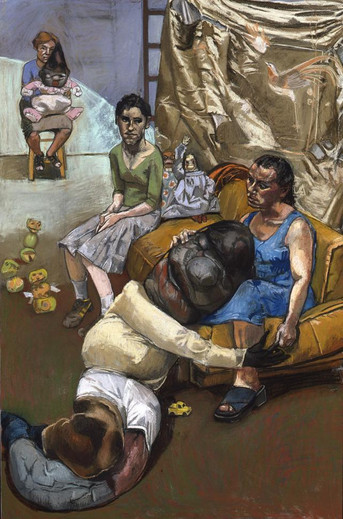 Rego uses her studio like a theatre set: she has props, sets them up and dresses it up. The result is often strange and uniquely hers.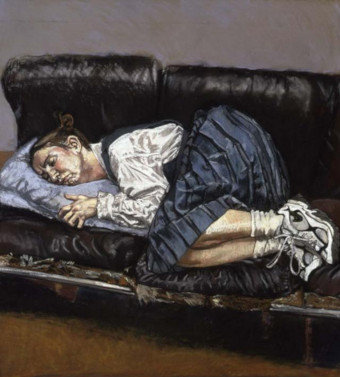 I don't like her earlier work much but her later, more representational art is very good and instantly recognisable. She has a striking style and works at a large scale in pastel (in itself, a bit different). The same faces appear, with odd and unsettling scenes in some. Some works are definitely harder to look at: they're at the opposite end of the spectrum to the sweet or pastoral. She's done some work that shows she is in the same tradition as Francisco Goya. A good artist getting some proper recognition now.