Thu, 10 Oct 2019
All By Himself
David Cobley at The Mall Galleries
Having let my blogging slip for a while, I now want to try and catch up on things I have seen or done. It's been a very good year actually. One recent show was David Cobley's one man exhibition at the Mall Galleries last month : All By Himself. This was on two days before I left for Edinburgh. I managed to have a chat with him as well : a very down to earth and pleasant guy.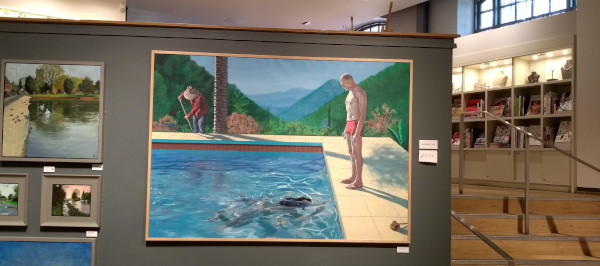 Like Mark McLaughlin, Cobley's an artist I have noticed in the past, liking his work and technique. Seeing them all together in one show was a great chance to have a proper look. The photograph above shows a work he was auctioning: an obvious homage to a very famous Hockney painting. A very good painting in its own right.
Hockney's painting Portrait of an Artist was sold at auction in 2018 for over $90 million, the most moeny ever made for a work by a living artist.
One of the pictures I really liked of his before was something called "Wordplay", I think shown at the Royal Society of Portrait Artists show earlier this year :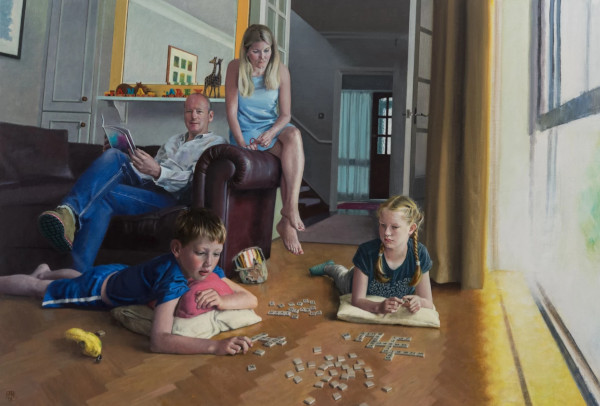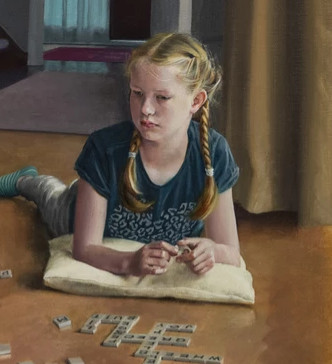 Above: Wordplay, oil, 76x112cm (detail right)
I imagine a very successful commission here. What I particularly liked was the expression on the girl's face as she watched her brother at work.
Cobley's web site showcases his work and it will be clear that he has a wide array of subject matter, and much imagination. Some very quirky stuff but all painted very well.
Below: Bandwagon To Oblivion, oil, 117 x 213.5 cm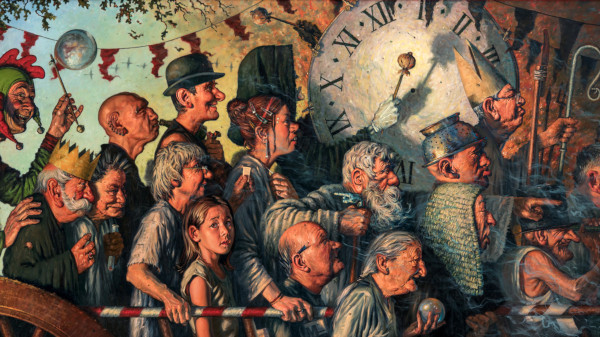 Wed, 09 Oct 2019
Light and Dark
I wanted to hop onto the computer and get back in the swing of the occasional blog post. A post on the Jackson's Art blog prodded me to do it today : an interview with artist Mark McLaughlin.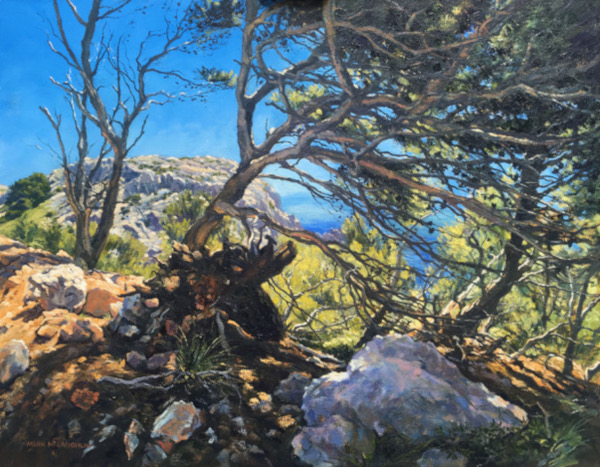 He's based not far from where I used to live in South London (Camberwell) and he's an artist I've noticed a few times, coming across paintings in the Mall Galleries mainly. He's very strong on the contrast of dark and light, with dark shadows often almost black. The paintings displayed in the linked interview are beautiful, and I'd love to see them in real life.
Tue, 08 Oct 2019
Hello Edinburgh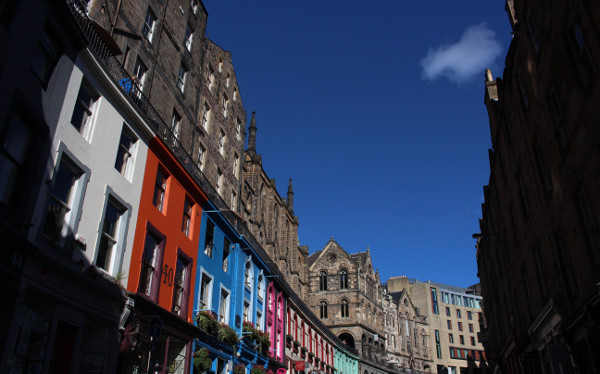 Now time to explore Edinburgh, starting from my base in Stockbridge, a lovely and central part of the city. There's plenty of life and a vibrancy to the area. Being by the river (Water of Leith) and a short walk to Inverleith Park and the Botanic Gardens, it's also possible to disappear into an almost rural setting, away from noise and cars. I feel this is a more liveable and walkable city than London; a lot smaller of course, but this is the reason for its attraction now. Not all upside: it's at the bottom of a hill, so I tend to get a work-out before I get to the gym (by bike) for my real work-out. Edinburgh's built on hills but at least it's downhill coming back! I've also been lucky with the weather so far. I'm to get settled and hopefully blog a bit more again.