Mon, 27 May 2019
Sorolla in the Sun

I've been to the Sorolla exhibition at the National Gallery a few times now (four?), including the warm and sunny Easter bank holiday last month. A perfect show for the weather because the paintings are bright and sunny as well; some wonderful work. I had never heard of Spanish artist Joaquín Sorolla y Bastida until the gallery started to trail this exhibition last year, using a painting (Sewing the Sail, 1896. Detail above) that immediately grabbed my attention.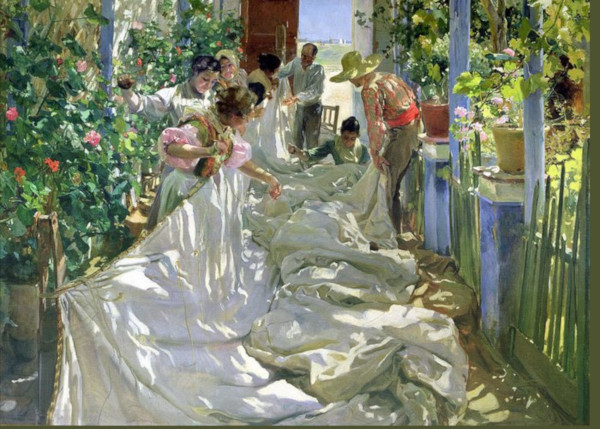 He can really paint: in the grand style of a John Singer Sargent and also an almost impressionistic capture of movement, light and colour. Some paintings have a very bold use of light and shadow; consider "Packaging Raisins" :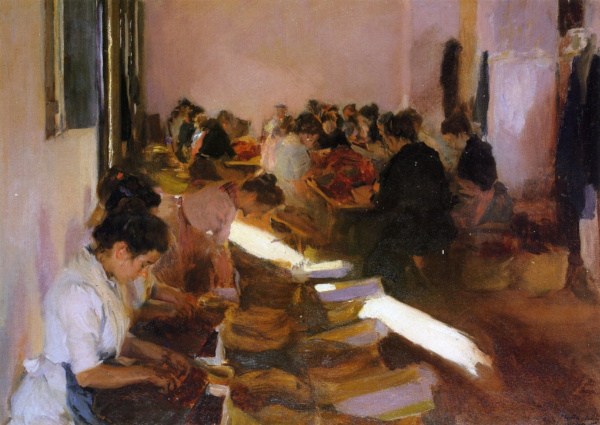 In some of his pictures the paint is spread in a very rough and thick impasto style: thick paint and large brushstrokes, surprising to see. Not an impressionist by any means but a modern painter, with some large canvases almost approaching abstraction. It's a shame we don't seem to have any of his work in this country, at least in public. I think he ranks with the greats.