Thu, 22 Dec 2016
Adorable?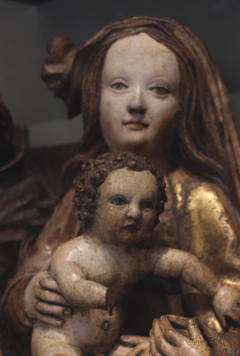 The Victoria and Albert Museum is always worth a visit, and at Christmas they usually have some good decorations up as well. It's a very large stone building, with lots of space, so it can be a bit chilly in winter however.
On the left is a detail of a wooden carving of Jesus, Mary and Adoring Kings of about 1510 from an Austrian church. Unfortunately, as well as missing a hand, the infant Jesus has a decidedly demonic appearance now. The wooden work has not aged well (one assumes the child was more angelic originally, one would hope).
The nearby Jesus, Mary and Family (below), also Austrian from about the year 1510, has a much more presentable Jesus :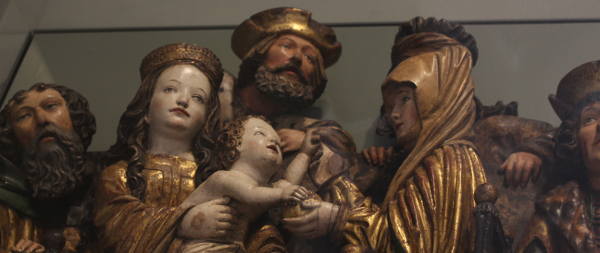 If you like the Christmas story, a visit an art gallery or museum is a good way to see it pictured. The National Gallery in London has an exhibition of two massive nativity paintings by an almost unknown (outside Spain) Spanish artist called Fray Juan Bautista Maíno. His paintings here are very beautiful and extremely impressive, not least the size. The paintings are on loan from the Prado in Madrid until the end of January: the link is to the museum's page on the Adoration of the Shepherds and lets you zoom in. In life, the paintings are over 3 metres high!