Thu, 19 Nov 2015
Benjamin Hope at The JP Gallery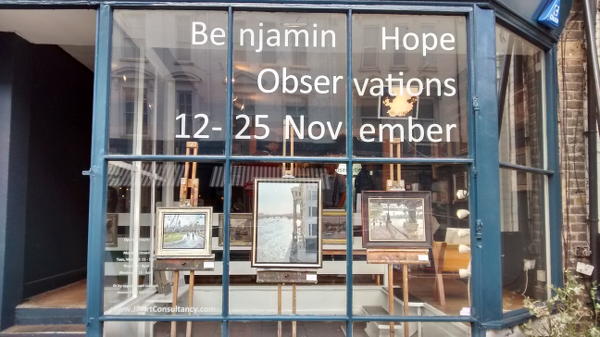 I noticed a new art gallery on Saturday down on Battersea Rise (Clapham Junction), called the JP Art Gallery. A new artist called Benjamin Hope has his debut solo show here and I popped in to have a look.
Hope mainly works in oil and paints en plein air usually (meaning "outside" basically). Many of his paintings are in and around central London, including parts I know well, like Clapham and Westminster. He was at the gallery and we spoke briefly about his work and technique; I'm always interested in how an artist works.
I really like his paintings, which are generally muted and impressionistic. He captures a weak winter sunlight very well and doesn't fill the frame with to much detail or fuss.
Some of the work I liked most at the gallery does not seem to be displayed on his website, but this selection is fairly representative and pretty good. Coincidentally, I remembered seeing (and liking) the first one (Blackheath) at the Mall Galleries a few months ago.