Mon, 28 Sep 2015
No Offence Allowed
Have a look at this piece of art :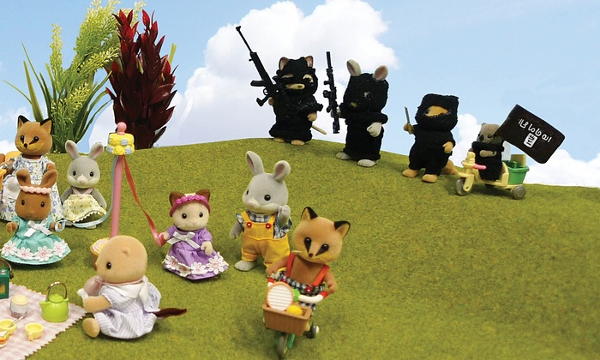 It is called Isis Threaten Sylvania and created by someone called Mimsy, on display in an exhibition called Passion for Freedom at the Mall Galleries last week. From The Guardian :
It was removed from the Passion for Freedom exhibition at the Mall galleries after police raised concerns about the "potentially inflammatory content" of the work, informing the organisers that, if they went ahead with their plans to display it, they would have to pay £36,000 for security for the six-day show.
Take a close look. As Mick Hartley says :
Imagine, in the late 1930s, if a gallery was banned from showing images of Nazis doing horrid things because it was deemed to be potentially inflammatory.
Note that no horrid things are even being displayed.
I really like the Mall Galleries, one of my favourite in London, and I would have visited this show on Saturday if other things hadn't intervened. So, it is very disappointing to see this happen. What makes this worse in my view is that the police can make this sort of declaration, in essence making something impossible to print, show or see (it's called censorship).
It is also ironic that the exhibition was dealing with the concept of freedom, something that seems to be diminishing somewhat in this country. Diminished often in the interest of preventing offence, hurting people's feelings or bringing up anything uncomfortable to various groups. What type of people are we becoming? Perhaps the sort of people who will eventually lose our freedom.