The Royal Academy have their annual Summer Exhibition at the moment, not that we seem to be having a summer this year.

A great show. Art from floor to ceiling and a massive number of things to see, from paintings and drawings, to sculpture, photography and architectural designs and models. I actually wished I'd had some binoculars when I strained to see a bit of detail on some pictures hanging high up. It's good to see so many different works from so many different artists.
One room was devoted to six large Grayson Perry tapestries called The Vanity of Small Differences: very impressive and funny although slightly depressing as a window on the modern world.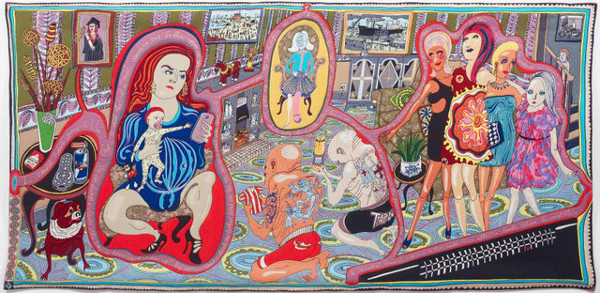 Above: Grayson Perry, The Adoration of the Cage Fighters, 2012
Each of the six images, to a greater or lesser extent, pays homage to a religious work. Including Masaccio's Expulsion from the Garden of Eden, Matthias Grünewald's Isenheim Altarpiece, Rogier Van de Weyden's Lamentation and three different paintings of The Annunciation by Carlo Crivelli, Grünewald and Robert Campin. The images also reference the pictorial display of wealth and status in The Arnolfini Portrait by Jan Van Eyck and Mr & Mrs Andrews by Thomas Gainsborough.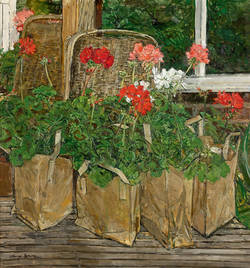 I only spent a couple of hours there but could have spent all day. It would be great if the Academy allowed re-entry like the Queen's Gallery does.
I also wish it was easier to link to a few pictures I really liked but the RA seems very keen on securing the art, so no photographs inside and few found online. One artist I was unfamiliar with was Olwyn Bowey, who paints rough but detailed pictures of plants, and plant arrangements. She has a few paintings on display, all impressed me.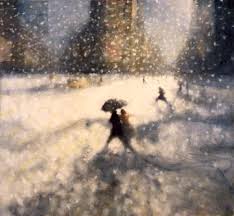 Another was Bill Jacklin, who paints a diffuse form of light and movement, perhaps Grand Central, or Times Square in New York. Very evocative and atmospheric.
I got to the show on opening (10am) on a Friday and it got quite busy by 10:30. A very popular show and I bet it can get a bit crowded at weekends.