Sun, 29 Apr 2012
Troy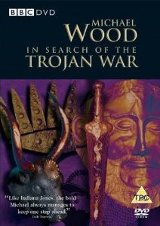 I think the BBC are still the best in the world for many types of programs, both radio and television. Nature programming is probably one, documentaries another. They can produce the odd good piece of drama as well.
Having always loved reading about history, both ancient and modern, I've been spending time watching some BBC history recently. I've been reminded about how good they can be sometimes. They are also a reason I would happily pay a BBC subscription fee (not that I like the compulsion of the TV license).
I've been watching both Ancient Worlds and In Search of the Trojan War, loving both. However, Michael Wood's In Search of the Trojan War just edges Richard Miles' Ancient Worlds in my opinion.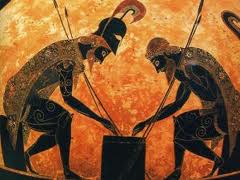 The Trojan War story has such a focus however, that it fascinates just a little more. Michael Wood travels from Turkey to Greece to Berlin and even to Ireland for his historical detective work, covering history, archaeology, myth and language.
The trip to Ireland was to hear an Irish
bard
tell traditional stories, as told through the generations. Much like the bards of ancient Greece, of which
Homer
is considered the culmination with the
Illiad
and the
Odyssey
.
Even though it was shot in the early 80's, and shows its age in places (it is not HD quality unfortunately), it is up to date on much archaeological evidence and research.
The war for Troy is supposed to have taken place in bronze age Greece, centuries before Homer and long before the Greek language and script we know from the classical period. Such timescales lead to a great accretion of myth and legend. The evidence that links Hisarlik in Turkey to ancient Troy is not conclusive, but for all the faults made by Heinrich Schliemann and his successors, this is a very likely place to find the city. Michael Wood makes this case quite convincingly and in a hugely entertaining manner.
Both series are very highly recommended. You can buy In Search of the Trojan War on DVD for only £5.