Tue, 06 Mar 2012
Lucian Freud at the NPG
So, Sunday was a rainy day and I did a trip to the National Portrait Gallery for the Lucian Freud exhibition.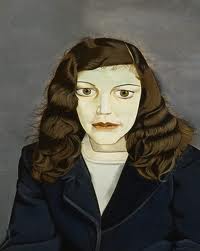 Although booked in advance, and some attempt at restricting the numbers viewing at any one time (time slots), it was quite busy, so I had to edge around some paintings carefully (at least in the first main rooms). The layout was in chronological order but the room map was hard to decipher, so also a little confusing.
The early works shown were from the 1940's and early 50's, including the picture on the left, Girl in a Dark Jacket, Freud's 1947 portrait of his first wife Kitty.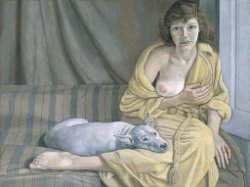 On the right, Girl with a White Dog (1950-51), Kitty again. Of this painting, the Tate says :
The style of the painting has roots in the smooth and linear portraiture of the great nineteenth-century French neoclassical painter, Ingres. This, together with the particular psychological atmosphere of Freud's early work, led the critic Herbert Read to make his celebrated remark that Freud was 'the Ingres of Existentialism'.
The sense that Freud gives of human existence as essentially lonely, and spiritually if not physically painful, is something shared by his great contemporaries, Francis Bacon and the sculptor Alberto Giacometti.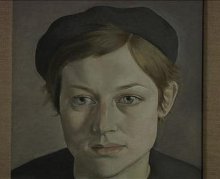 An obituary of Kitty (Godley now) appeared in The Telegraph. Her mother was Kathleen Garman, one of the infamous Garman Sisters, a part of the bohemian bloomsbury set in London. Lots of fairly typical upper-crust english immorality, including her mother being shot.
I found many of these early portraits delicate and beautiful.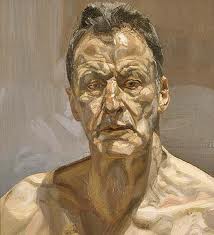 His later pictures, the ones he is most well known for, are very different. The painting is looser and the flesh becomes almost overwhelming. Some of the subjects almost repulse with their fixed and unsympathetic gaze, the sagging flesh and underarm hair. One can only take so many large Nude Portrait after Nude Portrait.
At £14, this exhibition costs almost six times the RBA (see last post). Was it worth it? To me, not quite, but the early Freud almost made it so.