A bit of rain in the mid-morning but it cleared up into a lovely sunny afternoon, even if a bit blustery. So I hopped on the bike and trundled my way up to The Mall and the RBA Annual Exhibition for 2012. Saturday afternnon on the bike is a little bit more sedate but you still have to watch out for the cars and buses. Not quite so many speeding bikers around.
I thought that the only gallery on the Mall was the ICA but the Mall Galleries are just up the road, a little closer to Trafalgar Square. The show is a real bargain at £2.50, and I would highly recommend a visit if you're around central London (it's open until Saturday 10th March).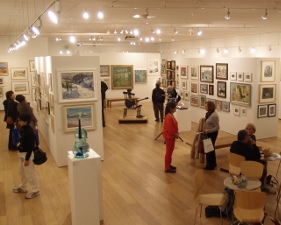 The great thing about a show like this is the variety. Lots of different artists on display, young and old, mostly oils but also a lot of watercolour, pastel, drawing, sculpture and print. Available to buy as well if you feel like an alternative investment.
There are some really stunning works here and I took a few notes of the names, but also bought an exhibition guide. For a sample of some of the works, visit the web site.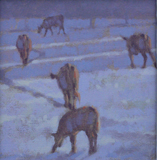 Ann Heat
has some lovely small oil paintings, mostly farm scenes with cows, but all suffused with a beautiful early morning light that she captures wonderfully.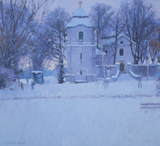 Nicholas Verrall
has a very evocative painting of a snowed in church in Prague. There is a good biography at the
Catto Gallery
. The painting
Church in the Snow, Prague
is listed for £2500 at the RBA but £3500 at the Catto Gallery. Not sure what's going on there but it would be a beautiful painting to hang on my wall.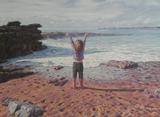 Peter C Warden
and
Wave
is an acrylic painting. It looks better and brighter in real life. A snip at £1200.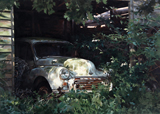 Michael Grey-Jones
has a painting of a
Morris Minor
that has seen better days. In acrylic and looking almost real, the play of light and shadow is superb.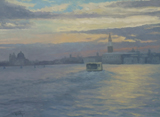 Julian Halsby
is another artist with a great skill at capturing light, whether midsummer afternoon haze or the long shadows of dusk and dawn. The painting on the left is called
Evening Vaporetto, Venice
. Quite a few artists seem to take inspiration from Venice. Another common theme was the snowy landscape.
I could go on a long time because there were so many good pieces to see. Of particular note were also the number of young artists on show, from various schools and colleges up and down the country. The show is on until Saturday 10th March and well worth the trip.