Sat, 10 Dec 2011
L. Cornelissen & Son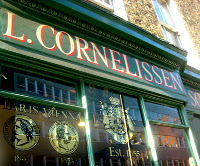 When you step into L. Cornelissen & Son, it's like stepping back in time.
The shop's not large, but full of everything an artist might want: with floor to ceiling shelves, cupboards and drawers, all in a dark wood.
To top it off though, and what makes that extra difference in any shop, is the helpfulness and knowledge of the staff. Someone I can only assume was Mr Cornelissen senior, took time to help and educate me on a number of things I wanted to buy, including brushes, paint and medium. It's the personal touch that has all but vanished in many places, and one of the reasons I'll go back.
The shop is on Great Russell Street, on your way to the British Museum : map