Sun, 16 Jan 2011
Glasgow Boys at the RA

I popped up to the Royal Academy yesterday (Saturday) morning because I wanted to see the Glasgow Boys exhibition before it finished on the 23rd Jan 2011.
The short review - very good. Beautiful paintngs by artists getting some deserved attention again.

I visited family in Edinburgh in October 2010 and the Glasgow Boys came up - a well known painting by one of the group's members on the wall. This is Sir John Lavery's "The Tennis Party", shown below.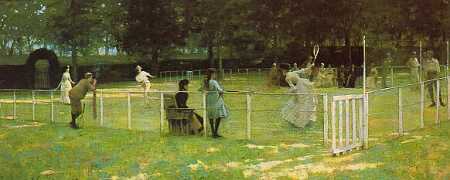 The exhibition was quite busy and I had to edge my way around the wrong way in order to see the pictures. Perhaps busy because it was the weekend but I think because of popularity as well (the catalogue is sold out).
The range of subjects shown are mainly country and urban landscape, with a very naturalistic representation of nature and people. One of the most striking things I found was the beautiful depiction of light and the arresting and natural way people are shown. The painting of Auchenhew on Arran by James Nairn is shown above and has a wonderful warm pink glow as the sun goes down across the shore. Also see the bright dappled spots of afternoon sunlight on the grass of Lavery's painting.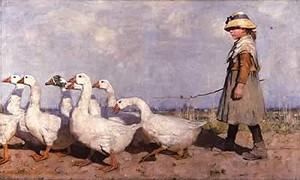 A surprising discovery was how good some of the watercolours were. Nothing wishy-washy about them, but strong and deep colours. Again, a lovely understanding of light and shadow.
Talent wise, I think it is very apparent that little, if anything, separates many of these artists from the much better known Impressionists.
The artists of note :
John Lavery
E A Walton
Arthur Melville
Joseph Crawhall
James Guthrie
George Henry
E A Hornel
William Kennedy
James Paterson
The Glasgow Boys on Wikipedia.
These artists were all men but there are also Glasgow Girls with a recent exhibition. Keep an eye out.