Tue, 28 Mar 2023
Still Here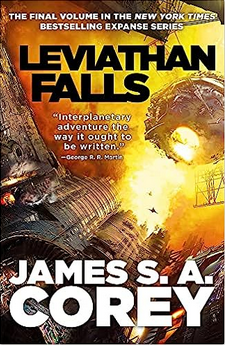 Leviathan Falls
by James S. A. Corey
Score: 5/5
As written on the frontispiece of the last in the series :
Nine books later and you're still here, so this one's for you.
Nine books is very impressive. They're chunky as well, but the biggest deal is how consistently good they are. And nine books later I get to the end of The Expanse and close the final book, Leviathan Falls. I've waited a long time for the last book to appear: the paperback version seemed to take forever to get released.
This has been the best action/adventure series I have read, consistently good and usually great. The series started well and stayed that way: if anything, it got better. Quite a believable future mapped out by the two authors, Daniel Abraham and Ty Franck ("Corey" is a pen name), with the solar system politics and fighting looking a bit parochial as the story expanded into a huge galaxy spanning collection of worlds.
In the end though, what made these novels special were the characters, who we get to know, understand and love. With the vast distances involved, the characters age and by the final few books, they're decades older, and showing it. We've grown besides them.
It's always hard finishing a book you love reading and even if the end is somewhat bitter-sweet, Leviathan Falls does not disappoint.