Sun, 01 Jan 2017
Making a New World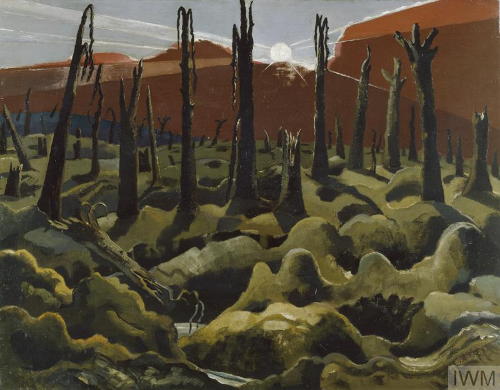 Well, happy new year everyone.
The above painting is We Are Making a New World by Paul Nash, painted in 1918. Nash would go on to do some great paintings during the Second War as well (see Totes Meer below). A new world was surely made.
These pictures are part of the Nash exhibition at Tate Britain, a big retrospective of his work. I don't bother with staying up celebrating the new year anymore and for the past few years I've made it a habit of visiting the Tate every January 1st and seeing the current show, having lunch in the cafe and turning my thoughts to the coming year. Nash reminds me of another English artist, Eric Ravilious, someone I wrote about in 2015. Their styles have some similarity and their working lives overlapped; to me, both impart a pre and post-war nostalgia of a lost era. A bit elegiac actually.
Nash's war paintings made his name, but he went on to do much more, including some surrealism (and was influenced by Giorgio de Chirico). I liked the exhibition, and you can see more at the Tate site.
Below: Totes Meer (Dead Sea), 1940-41. Oil.