Mon, 24 Oct 2016
Peach Bloom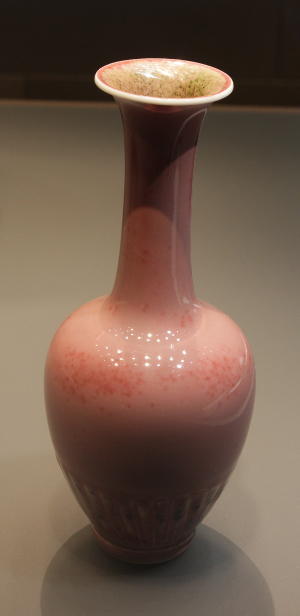 Having watched and enjoyed the recent BBC program about Chinese Ceramics, China in Six Easy Pieces, I thought I would like to see the Percival David collection at the British Museum myself.
The gallery houses a very impressive set of ceramic pots, plates, cups and much else. They range in age widely, some going all the way back to 300 AD. They all seem very well preserved, which is amazing considering the age. I assume they had few, but careful owners.
What is most beautiful to me is often the simplest forms that have the most perfect symmetry and the clearest and most delicate finish. The vase on the right is one example but there are many others. As household objects, most would not look out of place today in the discerning kitchen or living room. Really timeless.
Right : Vase with "peach bloom" glaze, Jingdezhen,Jiangxi Province. 1681-88.

The innovative "peach bloom" glaze was difficult to achieve. Potters covered the vase with a clear glaze, followed by a layer of copper-rich pigment, possibly blown on, and added further layers of clear glaze on top. When fired in a reducing atmosphere, this sandwiched colour developed into a soft mottled red and pink with flecks of moss-green.
As the label goes on to say, Chinese connoisseurs called it "cowpea-red". I think it's good to stick with "peach bloom".
British Museum catalogue page.