Sun, 25 Oct 2015
To Mars and .. Back!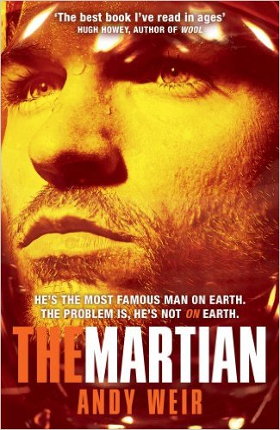 The Martian
by Andy Weir
Mark Watney's the best botanist on the planet. Also the best engineer, programmer, geologist, astronomer and pretty much everything. Unfortunately, he's the only person on the planet ...
With the film publicity in sight, I bought the book on the spur of the moment and thought I'd read it before a visit to the cinema. I'm glad I did because the book's excellent: exciting and also very funny. In fact, it's laugh-out-loud funny on occasion as the marooned astronaut Mark Watney tries to figure out how to get back home.
Watney's not only very resourceful but a bit of a comedian, and early on in the book I was a little unsure about its humour and lightheartedness, not normally my cup of tea. But I persevered and am so glad I did. This is a wonderful adventure story, with great characters as well as believable science. If the math and science is not a strong point for you, let it wash over you, and it never distracts from the story.
Now I want to see the film, which I hear is good as well. Maybe this sort of book/film combination is an antidote to some of the more mindless stupidity around nowadays at the cinema.