Tue, 21 Oct 2014
The Other Art Fair

I didn't know anything about this until Friday, and was reminded about it when I was in the area on Saturday morning and saw some people queing for it outside the Old Truman Brewery ( "London's revolutionary arts and media quarter" ...) on Brick Lane. I popped over on Sunday to have a look around.
The Other Art Fair is billed as a "platform for emerging artists", and it definitely veers to the newer, contemporary and "street" side of art. That's not to say that there weren't a lot of things I liked.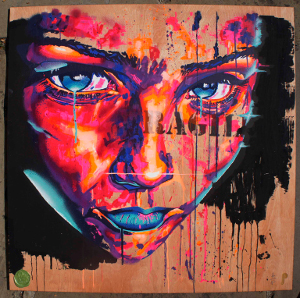 On the right, a painting from Rowan Newton, a South London artist in a "street" style. Big, colourful and pretty good.
This picture's on wood, there was another version on paper at its side (both for sale, I forget the price).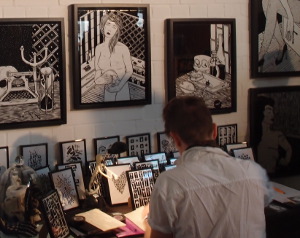 On the left, Benjamin Murphy at work. What appeared to be bold black and white brush work is actually cut out electrical tape. Looks like it must be a painstaking business putting the pictures together.
His art actually reminds me a little of Charles Burns, a comic artist. Do a Google image search to see what I mean (but warning: some weird stuff e.g. see the The New Yorker strangely enough).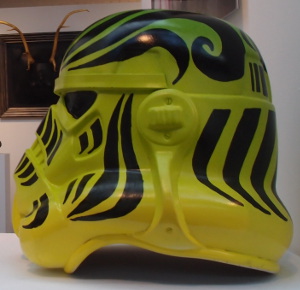 And a whole booth seemingly devoted to Star Wars Stormtrooper art. I'm sure there are plenty of people interested in this sort of thing (I've known a few).

I also liked some of Bridget Davies long watercolours. Some are long as in a metre or so, but look good framed on the wall. Stylish.