Wed, 16 May 2012
Making Watercolour Look Easy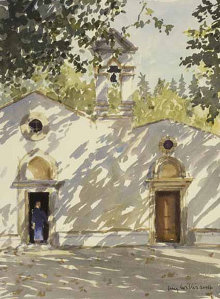 Watercolour is a very distinctive medium and can produce some fine works of art.
I was passing the Curwen Gallery the other day and went in to look at a few paintings by Lucy Willis. I was very impressed by many, almost all of Malta, Gozo and Syria ("in quieter times"). She captures the sunshine and shadow well.
Ms Willis will be giving a talk at the Gallery on Saturday 19th at 2 pm. I might pop up and listen to what she says, and perhaps ask a question on technique.
It is worth having a look through her online gallery and also to note that there are many pictures for sale. I'd love to own one or two.